Description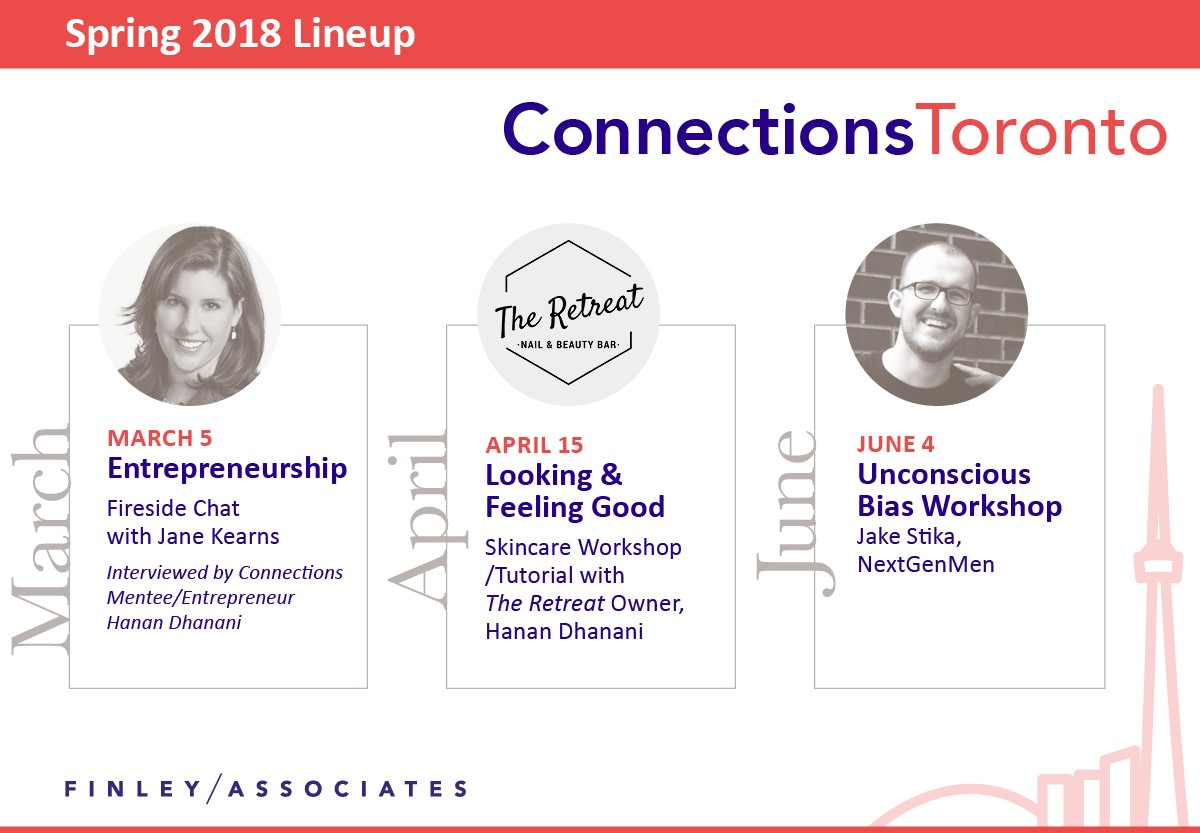 Grow your professional network, connect with mentors, and engage in professional development sessions.
What you Get at Connections Toronto Spring sessions!
Curated speakers on professional development topics across a range of sectors and roles

Connections to a variety of experienced mentors and mentees from across disciplines

Facilitated mentor-mentee workshops to work through professional challenges/areas of interest

Refreshments

Introduction to Women's CoWorking spaces across Toronto

The Retreat personalized skin care program, mini facial or mini manicure (shellac or regular polish) and a goodie bag full of fun and exciting beauty, skincare and nail care products


Entrepreneurship:
Fireside Chat with Jane Kearns
Interviewed by Connections Mentee / Entrepreneur Hanan Dhanani

March 5 | 5:30-7:30PM
Location | Women on the Move
Entrepreneurial values are becoming increasingly important in all roles and industries. Come learn more about these values and associated challenges and from Jane Kearns, entrepreneur and Cleantech senior advisor at MaRS Discovery District. In a fireside chat with Connections Toronto mentor and entrepreneur, Hanan Dhanani, Jane will share her experiences founding a business in the cleantech sector and provide insights into how she overcame the challenges and leveraged the opportunities presented to her in this role. Jane's talk will be followed by a roundtable discussion with entrepreneurs and senior female leaders from across Canada's cleantech and mining industries. The session will be hosted at women's coworking space, "Women on the Move".

Jane Kearns – Bio: marsdd.com/bio/jane-kearns/
Looking & Feeling Good:
Skincare Workshop / Tutorial with The Retreat Owner, Hanan Dhanani
April 15 | 11:00AM-1:00PM
Location | The Retreat

Join us for an interactive workshop that will arm you with the skills to look and feel good! At this session, The Retreat will create personalized skin care program for you and teach the essentials of effective skincare. The workshop will include a discussion on key ingredients, the proper way to apply products, and the importance of a skincare routine. We will focus on some key areas such as truths and myths surrounding acne occurrences and treatments and the difference between dry and dehydrated skin.

We also know in the age of Sephora and online shopping, the wide array of product choices can be overwhelming. We're here to help you make sense of why certain products are recommended and how they should be applied.

At the end of the seminar you will leave with either a mini facial or mini manicure (shellac or regular polish) and a goodie bag full of fun and exciting beauty, skincare and nail care products!

We can't wait to help you "retreat yourself"

Note: $60 fee includes a choice of service (facial or manicure), skin analysis, set of custom recommendations, and makeup tutorial
Unconscious Bias Workshop:
Jake Stika, Next Gen Men
June 4 | 5:30-7:30PM
Location | TBD

Unconscious bias or "the stories we make up about people before we know who they actually are" as Verna Meyers puts it, is a helpful survival mechanism, as the brain can only process so much information. But when unchecked, these biases can also lead to preference and/or prejudice.
Define unconscious/implicit bias

Learn some of the science behind it

Understand how biases can be measured

Determine one of our own biases and resources to identify more

Highlight why it is important in the workplace

Identify instances where unconscious bias manifests in the workplace

Offer practical actions to mitigate bias
Next Gen Men: https://nextgenmen.ca/