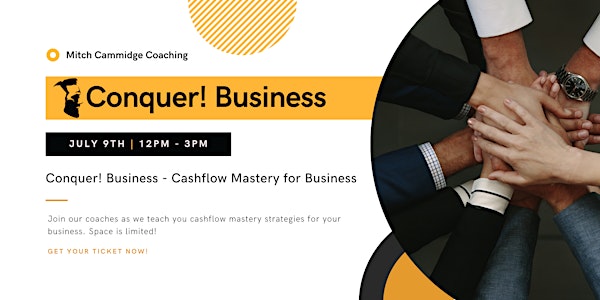 Conquer! Business - Cashflow Mastery for Business
Conquer Your Business - Learn cashflow tactics to master your business
Refund Policy
Contact the organizer to request a refund.
About this event
Mitch Cammidge, Canada's Leading Business Coach, teaches us his SAVAGE in BIZ Systems of "COLD HARD CASH FLOW" and how to make it happen for any Business.
Business success is about one simple thing... COLD HARD CASH!
If your is not Cash Flowing it is not successful. A Business must be profitable to be a business. If your business is not cash flowing it's simply a money-losing hobby. There is a difference between Profit and Cash Flow. Learn Mitch's World Class Cash Flow system for your business. This session alone is worth literal MILLIONS $$$
👆🏻👆🏻👆🏻👆🏻👆🏻👆🏻👆🏻👆🏻👆🏻👆🏻👆🏻👆🏻👆🏻
Check out Mitch talking about this exact content at the most recent Undisputed Mastery!