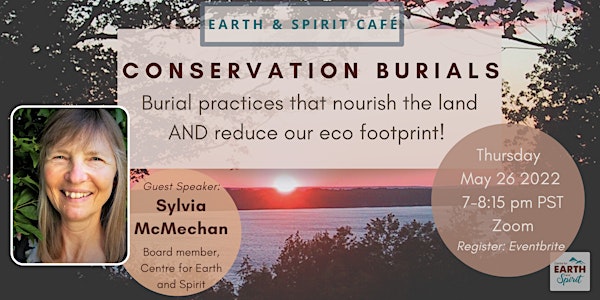 Conservation Burials: Nourish the land AND reduce our eco footprint!
Earth and Spirit Café | Join us with a soothing beverage as we explore ways to tend the Earth and Spirit in these potent times.
About this event
At Earth & Spirit Café we offer monthly drop-in gatherings (every fourth Thursday of the month). Each month we host a guest speaker exploring knowledge that honours our dance of relationship with Earth and Spirit. A diversity of topics includes: reciprocal land use, respect for Indigenous ways of knowing, tending death with consciousness, and inspirational change-makers. We invite you to bring your questions and queries!
Hosted by experienced facilitators, holding heart-based space — Renate Ringer & Alice L. Meyers.
Join Sylvia McMechan, Board member, Centre for Earth and Spirit, for an interactive session exploring Conservation Burial. Conservation burials are gaining new popularity as we consider ways to lighten our ecological footprint. As in life, we can make choices to leave the earth in better shape than we found it.
"Do not stand at my grave and weep
I am not there; I do not sleep.
I am a thousand winds that blow,
I am the diamond glints on snow,
I am the sun on ripened grain,
I am the gentle autumn rain."
~ Mary E. Frye
Death is not something we want to think about most of the time. And it's not something we talk about much either. But here's the thing: it happens to each one of us at the end of our lives. We can ease the path for people we leave behind by thinking and talking about our ending before it happens. And we can make a positive contribution to the environment by planning for a natural burial.
Sylvia's interest in conservation burials began a few years ago when she began researching topics about aging, transitioning to elderhood, and matters related to end of life. Previous to this exploration she was a mediator, educator, and group facilitator. Having a significant background in conflict resolution, she had already learned the value of facing topics head-on that many prefer to avoid or deflect. So pivoting to matters of endings and dying in a death denying culture was intuitively seamless and has proven fruitful in more ways that she could have imagined.
Have you considered a natural burial for yourself or your loved ones? Burial practices that nourish the land AND reduce our eco footprint! 
Come enjoy a conversation about this! Yes, enjoy. Bring your questions and curiosity! You'll be in good company.
Join us Thursday May 26th 2022 from 7:00-8:15 pm Pacific Time to find out more about natural burial.
Suggested Contribution: $10.00 - $20.00
Please contact info@centreforearthandspirit.ca (nobody turned away for lack of funds)
Registration: Through Eventbrite to receive Zoom link.
**4th Thursday of every month**
Please feel free to invite a friend!
__________________________________________________
Upcoming Earth & Spirit Café offerings:
June 23rd 2022 - Linda Hunter: Co-housing, Intentional & Multi-generational Communities
Check out our Fall 2022 Speaker Series: Navigating a Planet in Crisis