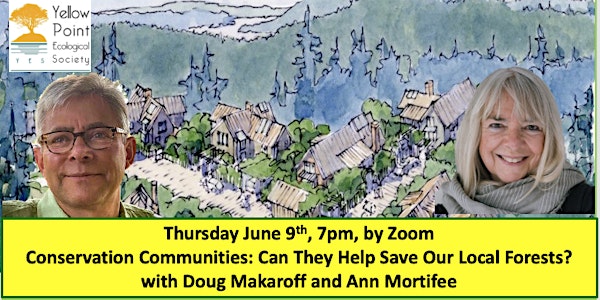 Conservation Communities - Can They Help us Save our Local Forests?
Conservation Communities - Can They Help Us Save Our Local Forests?
About this event
Conservation Communities are a practical way to save a forest that might otherwise be clearcut for profit. By building a few homes in a clustered hamlet on 5-15% of the land, 85%-95% of the forest can be either conserved or managed using an ecoforestry approach. The Trust for Sustainable Forestry has created a Community Land Stewardship Zoning Bylaw to regulate conservation communities, and used it to save large areas of forest on Cortes Island and near Shawnigan Lake. https://sustainableforestry.ca/
Doug Makaroff is Executive Director of the the Trust for Sustainable Forestry. He has 31 years of experience as a sustainable urban planner and real estate developer, creating new towns and walkable neighbourhoods with a mix of uses, ages and incomes. From 2006 to the present Doug has focused on building Conservation Communities, where light-on-the-land development is clustered on 5 - 15% of the land base, while the remainder of the forest lands are conserved or dedicated to ecosystem based forest management.
Ann Mortifee is a well-known musician, artist, author and environmental activist, and a Member of the Order of Canada. She established the first Conservation Community on Cortes Island by registering a Community Land Stewardship Zone as an alternative to suburban sprawl and deforestation. In 2002, she co-founded the Trust for Sustainable Forestry. She is dedicated to human and planetary healing.
This event will be recorded. If you sign up, we'll send you information about the recording after the event. Organized by the Yellow Point Ecological Society. www.yellowpointecologicalsociety.ca