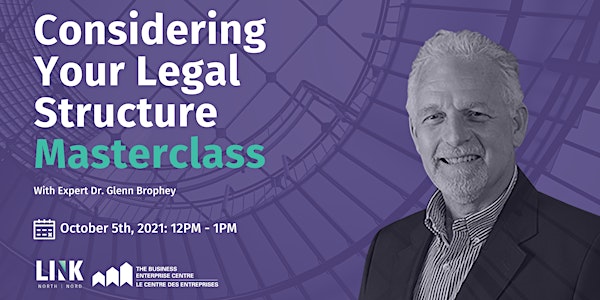 Considering Your Legal Structure Masterclass
Prepare your business to take off in the right direction.
Date and time
Tue, Oct 5, 2021 9:00 AM - 10:00 AM PDT
About this event
There are multiple considerations when selecting the appropriate legal structure for your business. In this masterclass, you'll learn about the advantages and disadvantages of different business structures and how this will shift as your business evolves over time.
Learning Objectives
You will gain a clear understanding of how to register for each of the possible ownership options including sole proprietor, partnership and corporation, finishing with a reference comparison chart as an aid.
Considering Your Business Legal Structure Virtual Masterclass Date
Tuesday October 5th from 12PM-1PM
About the Facilitator
The Considering Your Business Legal Structure masterclass is facilitated by Dr. Glenn Brophey from GB Consulting. Glenn has 25 years of practitioner experience selling in capital equipment markets wherein his company success depended upon business-to-business marketing success. This has been followed by 20 years of academic experience with target marketing making up significant parts of his courses offered at Nipissing University in business decision-making, business strategy, entrepreneurship, introductory business and business-to-business marketing.
Register today for this masterclass offered in partnership by Link North and The Business Enterprise Centre, proudly supported by FedNor Canada.
---------------------------------------------------------------------------------------------------
La structure juridique : un pensez-y-bien
Plusieurs facteurs sont à considérer lorsque vient le temps de choisir la bonne structure juridique pour son entreprise. Cet atelier offre un survol des avantages et des désavantages de différentes structures juridiques et de leur évolution en fonction de la croissance de votre entreprise au fil du temps.
Vous saurez comment procéder à l'enregistrement de tout type de propriété, dont une entreprise individuelle, un partenariat ou une compagnie constituée en personne morale, en plus de repartir avec un tableau comparatif pour vous guider dans votre choix.
Date du webinaire virtuel La structure juridique de votre entreprise : un pensez-y-bien
Le mardi 5 octobre de 12h à 13h
Le webinaire La structure juridique de votre entreprise : un pensez-y-bien est animé par le Dr Glenn Brophey de GB Consulting. Glenn possède plus de 25 ans d'expérience comme praticien en ventes au sein de marchés des biens d'équipement, la réussite de son entreprise à l'époque étant proportionnelle à la qualité du marketing interentreprises. Il est ensuite passé au théorique où, depuis 20 ans, il enseigne à l'Université Nipissing. Les marchés cibles représentent une grande partie du contenu de ses cours en prise de décisions d'affaires, stratégie d'entreprise, entrepreneuriat, fondements du monde des affaires et marketing interentreprises.
Inscrivez-vous dès aujourd'hui à cet atelier offert par Link Nord et Centre d'entreprise d'affaires avec l'heureux appui de FedNor Canada et du Centre des entreprises.