Sales Have Ended
Ticket sales have ended
Please add yourself to the wait list.
Sales Have Ended
Ticket sales have ended
Please add yourself to the wait list.
One-on-one advice for emerging independent filmmakers telling critical, unorthodox, and original stories.
About this event
One 45-minute session, online // $57, or $46 for VIVO Producer Members
For pay-what-you-can option, please contact education@vivomediaarts.com
Time slots available for July 22 and July 23. Registration closes 2 days before.
To book your 1-on-1 consultation with Joella Cabalu, click the "Select a Date" button, then click "Tickets" next to the desired date, then specify your desired time slot by selecting "1" from the corresponding drop down menu. Upon completing your registration, you will be asked to provide a brief overview of what you'd like to discuss with Joella.
Prerequisites:
To join the session, download and install Zoom Client for Meetings, available free here: https://zoom.us/download
Receive focussed feedback on your project and process by documentary filmmaker Joella Cabalu. Joella works alongside values-aligned filmmakers to get their stories told and seen. As a working documentary filmmaker, Joella offers practical experience, a kind and approachable space, and meaningful advice in her consultation practice.
Consultation and coaching sessions are tailored to your filmmaking needs.
Joella's areas of expertise include:
Pitching and story development
Applying for grants and building a budget
Planning a production timeline and shoot
Community building
Industry standards
And other filmmaking problem-solving
About Joella Cabalu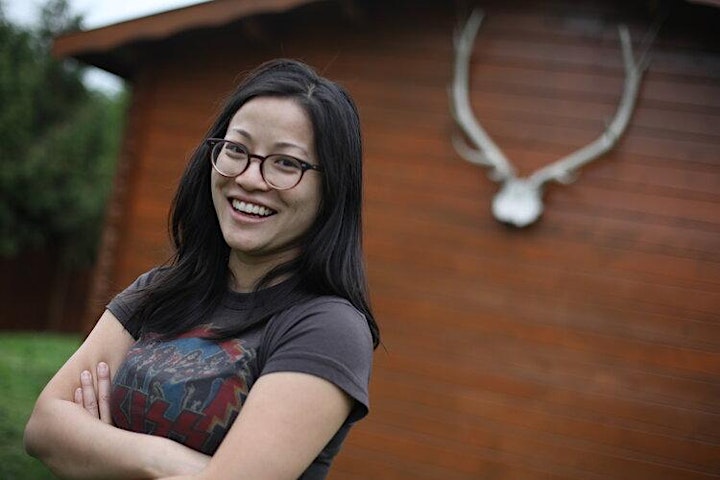 Joella Cabalu is a Filipino Canadian documentary filmmaker based in Vancouver, BC. Her films lay bare narratives about intimacies, identities, and relationships.
Her first mid-length documentary, It Runs in the Family (2015) — a personal exploration of acceptance and what the modern queer family can be in the Filipino diaspora — won the Audience Choice Awards at the Seattle Asian American Film Festival and Vancouver Queer Film Festival and a special jury mention at CAAMFest for the Loni Ding Award for Social Justice Documentary.
Joella has worked as a producer alongside women directors to realize critically acclaimed short documentaries, including On Falling (Tribeca 2020), Biker Bob's Posthumous Adventure (Lunenburg 2019), Do I Have Boobs Now? (Slamdance 2017), and FIXED! (DOXA 2017). Currently, she is producing her first feature documentary Back Home with support from the Telefilm Talent to Watch fund.
In the director's chair, Joella approaches contemporary social issues with careful attention to nuance and levity. She recently directed two short documentaries: Ode to a Seafaring People for Knowledge Network and Koto: The Last Service with support from the BC Arts Council. With the National Film Board Digital Studio, Joella curated the digital photography project First Photo Here, which salutes the photos newcomers to Canada share with friends and family back home.
In 2021, with support from the Canada Council for the Arts and the DOC BC + YT + NWT Breakthrough program, Joella is developing Nakabingwit: First Comes Love, a feature-length documentary that follows four Filipino Canadians and their white partners as they navigate race and romance against the backdrop of Canadian multiculturalism. Nakabingwit is Joella's first feature documentary as a director.
Joella is an alumni of the Langara Documentary Production Program (2015), the BC Arts Council Early Career Development program (2014-2015), Hot Docs Shaw Media Diverse Voices program (2015), and CBC Development Workshop for Diverse Creators (2016).
Testimonials
"I was in development of my second short film when I sought out Joella's consulting services; all I had were a couple mood boards, a vision statement, and a logline (send HELP). Through multiple sessions of focused feedback, Joella refined my development materials into a cohesive film proposal that better captured my creative intent and ultimately helped me win grant funding! I deeply appreciated Joella's conscientious clarity as well as her tactical approach to development consulting."
"After taking her terrific course, Documentary Workflow for Women, I hired Joella as a consultant to help me develop a budget and strategize funding approaches for a feature-length documentary. Joella was knowledgeable, efficient, and available for questions and clarifications. I appreciated her combination of professionalism and genuine enthusiasm for the work — even when it involved preparing a full budget — and she offered invaluable insights about considerations that I hadn't even thought of. Joella was a pleasure to work with and I would wholeheartedly recommend her for documentary film production consulting."
— Analee Weinberger
"When a positive response from a broadcaster sent me into a new-filmmaker tailspin, I got more of what I needed from two hours with Joella than I could've gotten from two months of doing research on my own — including confidence. As a lesbian filmmaker, I reached out to Joella because of her reputation in the local women filmmaker community as well as the themes she had explored as a director and a producer. I made the right choice — her up-to-the-moment knowledge, her breadth of experience, and her warmth and empathy were simply priceless to me."
— Ali Grant, On The Creek Films
Organizer of Consultations with Documentary Filmmaker Joella Cabalu
VIVO MEDIA ARTS CENTRE, incorporated in 1973 as the Satellite Video Exchange Society (SVES), is Vancouver's oldest media arts access centre. VIVO continues to fulfill its founding vision by directly supporting independent artists, community-based producers and activists to develop and exchange their skills in a supportive environment. Our members gather around the tools and material means of production to invent new understandings, new genres and new friendships. Reflecting both the diversity of contemporary technologies and the symbiotic communities that coalesce around new forms of knowledge and creativity, our programming fosters formal, aesthetic and critical approaches to media arts practice. VIVO builds an audience of makers, organizers and critics through artists in residence, lectures, workshops, performances, exhibitions and curatorial and archival research. As an integral artist run centre in Vancouver, our resources and facilities will continue to inform and influence engagement in all levels of media art investment.