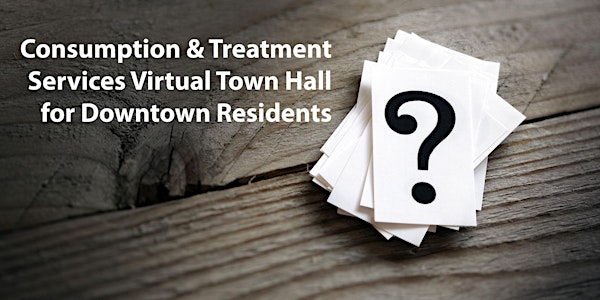 Consumption & Treatment Services Virtual Town Hall for Downtown Residents
A Virtual Town Hall meeting for downtown residents to receive information and ask questions about the local CTS site.
About this event
The Windsor-Essex County Health Unit (WECHU), in collaboration with the Consumption and Treatment Services (CTS) Stakeholder Advisory Committee, invites residents who live in the City of Windsor's downtown core (N9A postal code area) to participate in a Virtual Town Hall meeting on Wednesday, January 25th from 12:00 p.m. – 1:30 p.m. about the local Consumption and Treatment Services (CTS) site.
The Town Hall will begin with a presentation about the upcoming launch and operations of the site, how safety and security concerns will be addressed, and how residents can report future concerns or incidents once the site is open.
Following the presentation, there will be a question and answer period, where a panel of expert speakers will respond to any questions or concerns that residents may have regarding the site. The expert panel includes representatives from the following agencies/disciplines:
Windsor-Essex County Health Unit
Windsor-Essex Community Health Centre
Windsor Police Service
Hôtel-Dieu Grace Healthcare
Pozitive Pathways Community Services
Addictions Physician
Residents are encouraged to submit questions for the panelists in advance of the meeting by including them on this registration form or emailing CTSQuestions@wechu.org. Participants will also have the opportunity to submit questions during the event using this email address.
Space is limited for this event. If more than one representative from your household is interested in attending the Town Hall, please ensure that each representative completes a separate registration form to confirm that space is available.
You will receive a follow-up email confirming your registration for this event. The link to join the virtual meeting will be included in the "Additional Information" section at the end of the confirmation email. If you do not receive the message, please check your "junk" or "spam" folder.
We look forward to your participation during the Virtual Town Hall. If you have any questions or concerns about the event, please email CTSQuestions@wechu.org or phone 519-258-2146 ext. 3100.