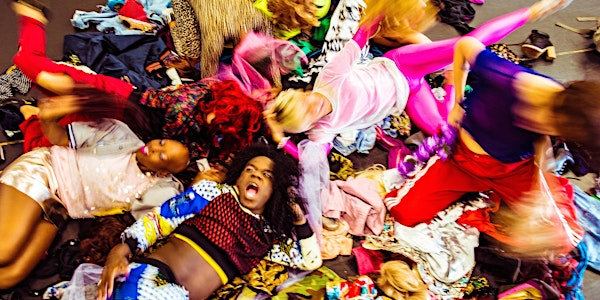 Contemporaneity 3.0
When and where
Location
Winchester Street Theatre 80 Winchester Street Toronto, ON M4X 1B2 Canada
Description
"The premise of the show was to reclaim contemporary dance to mean contemporary dance, as in current, present-day, and not limited to the Euro-centric picture that you probably have in your mind."
- Travis Knights on Contemporaneity 1.0 TapLoveTour Podcast
The term "contemporary" is often used to describe European and white American theatrical dance, while all other forms are categorized as just that – "other." Anandam Dancetheatre is part of a current that seeks to reclaim and expand notions of the "contemporary". CONTEMPORANEITY 3.0 seeks new meanings, gathering around diverse and divergent aesthetics; reimagining values of beauty, virtuosity, innovation, tradition, ritual, and meaning.
Details:
Wednesday April 3 - 8 PM ($10 preview - available at door only)
Thursday April 4 - 8 PM
Friday April 5 - 8 PM
Saturday April 6 - 8 PM
Tickets are $25/$20 for Students/Seniors/Artsworkers
Accessible tickets available for each performance - no questions asked.
This is a shared program, with each of the three works performed each night.
CONTEMPORANEITY 3.0 FEATURED WORKS INCLUDE:


NOVA DANCE, led by Toronto dance artist Nova Bhattacharya, brings SVĀHĀ STUDY I, a new solo work examining paradoxical ritual spaces of feminine energy encompassed in the dance practice of Bharatanatyam (south Indian classical dance). Nova is one of Indian dance's most passionate advocates, endeavouring to dive deeper into bharatanatyam as its own source for contemporary expression.
Choreographed and Performed by: Nova Bhattacharya, Composition: Ed Hanley, Dramaturge: Tanisha Taitt
MIX MIX is a Toronto based intersectional collective like no other, utilizing various movement forms including: waacking, house, vogue, hip hop, contemporary, and martial arts to create new dance works and examine a wide spectrum of personal and cultural identities. MIX MIX's new piece RECLAIMING MY TIME, features original music from Toronto based rapper, producer, DJ and visual artist Myst Milano. Inspired by the declaration of American politician Maxine Waters, RECLAIMING MY TIME is a new original work driven by our communal effort to overturn systems of underrepresentation, silencing, and power imbalances.


Directed/Choreographed by: Emily Law & Ashley Perez with contributions from the performers
Performed by and created with: Kristine Flores, Jelani Ade Lam, Sze Yang Ade Lam, Jasmyn Fyffe, Sarah Tumaliuan
PADMINI CHETTUR is one of India's foremost contemporary dancers, trained in classical bharatanatyam and a former member of visionary dance artist Chandralekha's dance company. As both choreographer and performer, Padmini has forged an overarching creative approach that pulls focus to the form and movement of the body. Chettur's work has been described as "[departing] from the classical repertoire of (Bharatanatyam) gestures, posturing and mythical tales, to shape an alternative...[She]resists the temptation to seduce, choosing instead, to convince". Her work unveils a taut vision that takes the contemporary dance of India, from what it is and how it should look, to radical dimensions. PHILOSOPHICAL ENACTMENTS 1 is a world premiere from one of India's most experimental and profound dance artists. Set to a sound score by Maarten Visser, that proposes gentle shifts in temporality, the piece plays with a ceaseless imagination of the body's capacity to expand and retreat.
Choreographed and performed by: Padmini Chettur, Composition: Maarten Visser
The Contemporaneity Series is made possible in part by the support of Canadian Heritage, the Toronto Arts Council Open Door program, Toronto Arts Council, Canada Council for the Arts, Ontario Arts Council, and Toronto Dance Theatre