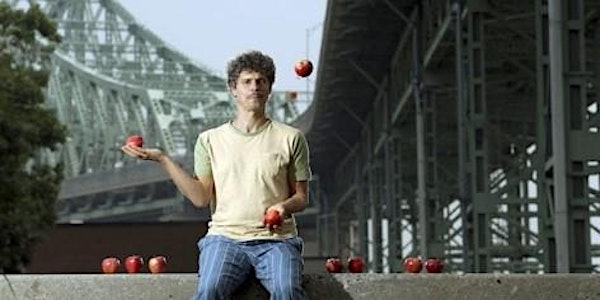 Contemporary Juggling Pioneer Sean Gandini on his Creative Process
When and where
Location
4th Space, Concordia University (rez-de-chaussée, Library Building)
Description
In this talk, renowned juggler Sean Gandini will discuss his creative process, his company and his approach.
Hosted by Concordia's contemporary circus-themed International Graduate Summer School, led by Dr. Louis Patrick Leroux, in partnership with En Piste, and National Circus Arts Alliance.
Free but registration required.
About Sean Gandidi and the Gandini Juggling company:
Sean Gandidi
Sean Gandini is one of the pioneers of contemporary juggling. Working as a performer, choreographer and director, he has pushed the boundaries of juggling as a discipline and as an art form for over 25 years. Growing-up in Havana, Cuba, Sean was fascinated by magic and mathematics, but at the age of 16 he began juggling, prompting a life-long fascination with all aspects of the art form. Sean's professional career began in the 1980s, regularly performing in London's famous Covent Garden and touring with various theatre companies – including the pioneering Ra-Ra Zoo. In 1991, with Kati Ylä-Hokkala, he co-founded Gandini Juggling and together they have been at the forefront of experiments into what juggling is and what juggling can be. This has led to the creation to a diverse array of shows, including the playful Sweet Life; the fiendishly complex celebration of the London Olympics Twenty/Twenty; and their smash hit, the darkly humorous and theatrical homage to Pina Bausch Smashed.


Gandini Juggling
Gandini Juggling celebrates juggling in all its facets, exploring not just what juggling is, but what juggling can be. Ferociously prolific, they are constantly creating new works, which range from radical art/juggling fusions to accessible theatrical performances, from choreographic studies to commercially commissioned routines. Since their inception, the Gandinis have performed over 5,000 shows in 50 countries.
More info: http://www.gandinijuggling.com/en