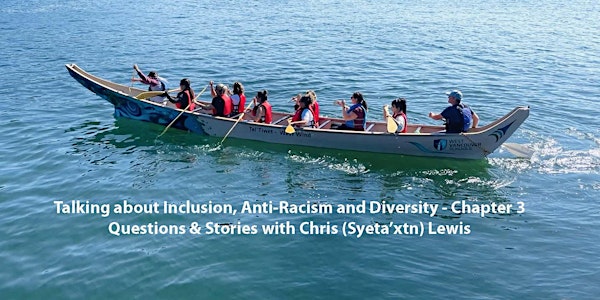 Continuing the Conversation, Stories & Questions with Chris Syeta'xtn Lewis
The Equity Diversity & Inclusion Committee of WVDPAC invites you to our third chapter in a learning series featuring Chris (Syeta'xtn) Lewis
About this event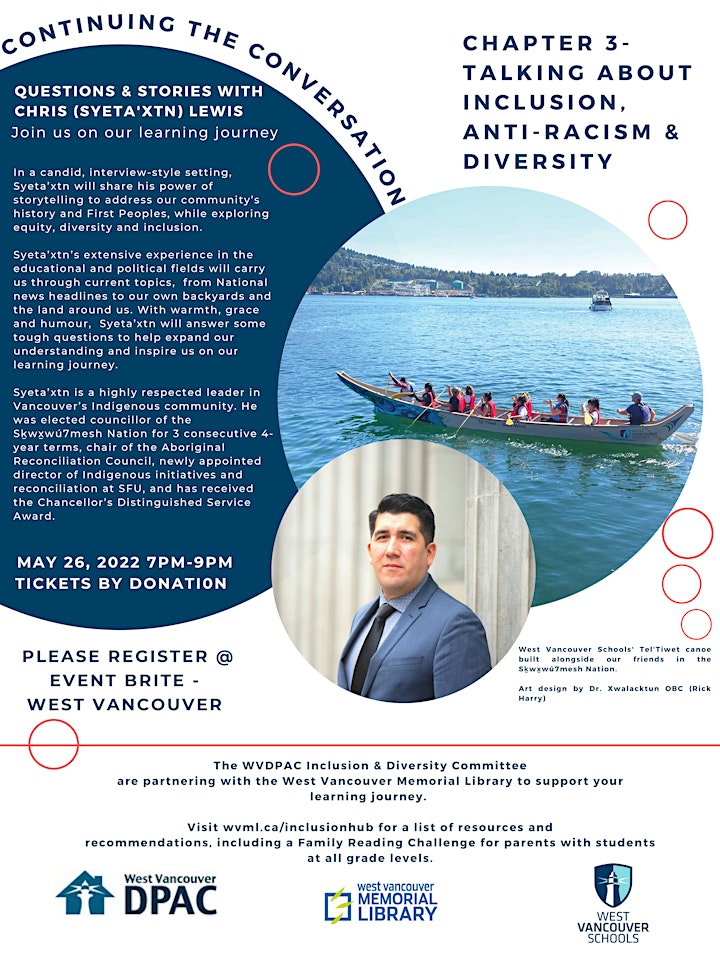 Continuing the Conversation: Questions & Stories with Chris (Syeta'xtn) Lewis
We invite you to join us on our learning journey. In a candid, interview-style setting, Syeta'xtn will share his power of storytelling to address our community's history and First Peoples, while exploring equity, diversity and inclusion.
Syeta'xtn's extensive experience in the educational and political fields will carry us through current topics, from national news headlines to our own backyards and the land around us. With warmth, grace and humour, Chris will answer some tough questions to help expand our understanding and inspire us to keep learning.
Syeta'xtn is a highly respected leader in Vancouver's Indigenous community. He was elected councillor of the Skwxwú7mesh Nation for 3 consecutive 4-year terms, chair of the Aboriginal Reconciliation Council, newly appointed director of Indigenous initiatives and reconciliation at SFU, and has received the Chancellor's Distinguished Service Award.
West Vancouver Memorial Library Inclusion Resources Hub
The Library has partnered with the WVDPAC EDI Committee and West Vancouver Schools to support your learning journey around inclusion, anti-racism and diversity. Visit wvml.ca/inclusionhub for a list of reading resources and recommendations.
We all come to these topics from different places and with different past experiences. Thank you for your curiosity and willingness to find out more.