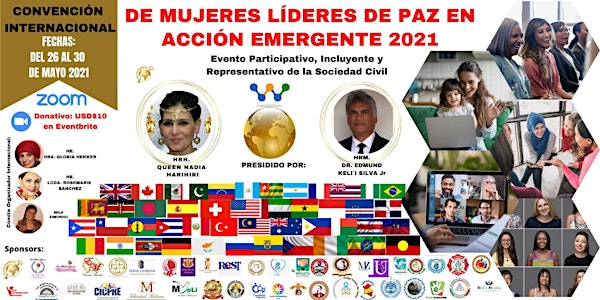 Convención Internacional de Mujeres Líderes de Paz en Acción Emergente
Convención Internacional de Mujeres Líderes de Paz en Acción Emergente 26 al 30 mayo -2021
About this event
CONVENCIÓN INTERNACIONAL DE MUJERES LÍDERES DE PAZ EN ACCIÓN EMERGENTE
Se entregará a los participantes certificado de participación.
(26 al 30 mayo-2021
CONVOCATORIA
Successworld1 con su Comité Organizador convoca a hombres y mujeres que conforman la sociedad civil a nivel global sin condiciones de raza, credo estrato social, comprometidos socialmente con la paz y la sostenibilidad de nuestro planeta a participar en la Convención Internacional de Mujeres Líderes de Paz en Acción Emergente para dar continuidad a los
Objetivos de Desarrollo Sostenible (ODS) establecidos por la Organización de las Naciones Unidas (ONU), en la Agenda 2030 de las Naciones Unidas. Esta Convención tiene la finalidad de hacer uso de nuestro derecho de participación y tomar acciones contundentes para la protección del medio ambiente, la lucha contra el cambio climático y el desarrollo de la conciencia de una cultura de paz que permitan lograr un desarrollo sostenible en aras de la paz mundial.
PREÁMBULO.
La devastación ambiental y el cambio climático representan dos de los mayores desafíos de nuestros tiempos, pues amenazan las posibilidades de alcanzar un desarrollo sostenible que no ponga en peligro al medio ambiente y que permita erradicar la pobreza del planeta, así como garantizar paz, prosperidad y estabilidad a la humanidad. Si bien los principales afectados por la devastación ambiental y el cambio climático son las personas en situación de extrema pobreza y vulnerabilidad, como lo son los niños, las mujeres y los integrantes de grupos originarios; no obstante, la realidad es que estos fenómenos afectan a toda la humanidad agravando la pobreza y las desigualdades y propiciando la inseguridad alimentaria la migración forzada, las enfermedades, la violencia y la muerte.
Un desarrollo sostenible permite satisfacer las necesidades de las generaciones presentes sin comprometer la capacidad de las generaciones futuras para satisfacer las suyas, ello implica un desarrollo económico y social respetuoso del medio ambiente, el cual es económicamente eficaz, socialmente equitativo y ecológicamente tolerable. (2). Para lograr esto se requiere la acción coordinada no sólo de los poderes públicos y las organizaciones internacionales, sino también de las empresas y, en particular, de la sociedad civil, para poder reconciliar los retos económicos, medioambientales y sociales de forma coherente y efectiva.
En este sentido, la comunidad internacional ha reconocido en numerosas ocasiones la importancia de la participación efectiva de la población civil en la toma de decisiones relacionadas con el desarrollo sostenible, en especial la protección del medio ambiente y accionar en el cambio climático, así como, en la garantía de políticas que respeten los derechos de las comunidades a la vez que se eduque y conciencia en pro de la igualdad de género y la justicia social. Conscientes de la gran problemática medioambiental y climática que el mundo enfrenta y del trabajo de los defensores del medio ambiente, organizaciones internacionales y no gubernamentales y gobiernos para contribuir a la mejora del medio ambiente, la paz, la diversidad y estabilidad económica mundial. Nos unimos, el tiempo de la observación terminó, la humanidad necesita involucrarse de lleno y tomar acciones concretas sobre las problemáticas globales, y poner en práctica soluciones en todos los ámbitos, siempre a favor de una cultura de paz y de desarrollo sostenible, en pro de revertir en la medida de lo posible la acción destructiva del hombre en la naturaleza (3) y en la sociedad. Razón por la que motiva nuestra Convención Internacional de Mujeres Líderes de Paz en Acción Emergente.
OBJETIVOS DE LA CONVENCIÓN:
 1-Proponer nuevas iniciativas concretas de cambio social a nivel global en temas de Cultura de Paz y Educación y en Cambio climático por parte de todos los participantes de la Convención.
 2- Constituir la Organización Mundial de la Sociedad Civil (OMSC).
 3-Crear un Referéndum Mundial de Paz que incluirá nuevas propuestas e iniciativas de cambio para la mejora social, junto al compromiso de la sociedad civil de velar porque se garantice el cumplimiento de los temas que son objetivos de la Convención.*Las nuevas iniciativas y propuestas de Cambios serán anónimas y se enviarán a la dirección electrónica email.info@spanishsuccessworld1.org para garantizar la confidencialidad y la protección de datos personales. Estas serán canalizadas por el comité organizador de la Convención para su valoración y aprobación por los organismos Internacionales ONU (Ginebra y Nueva York) y la HAYA.
Citas de Fuentes:
1-Comisión Mundial sobre Medio Ambiente y Desarrollo. "Nuestro Futuro Común 1987.
2-France Diplomatie "Medio Ambiente y Desarrollo Sostenible. Definición Sustentada por Naciones Unidas.
https://www.diplomatie.gouv.fr/es/politica-exterior/medio- ambiente-y-desarrollo-sostenible/.
3-ONU Programa para el Medio Ambiente ¿Qué podemos hacer por la biodiversidad en 2020?
https://www.unenvironment.org/es/noticias-y-reportajes/reportajes/
COMITÉ ORGANIZADOR INTERNACIONAL
INTERNATIONAL CONVENTION OF WOMEN PEACE LEADERS IN EMERGING ACTION
( May 26-30, 2021)
ANNOUNCEMENT
Successworld1 with its Organizing Committee summons men and women who makeup civil society at a global level without conditions of race, social stratum creed,socially committed to peace and sustainability of our planet to participate in the International Convention of Women Peace Leaders in Emergent Action to givecontinuity to the Sustainable Development Goals (SDG) established by the United Nations (UN), in the United Nations 2030 Agenda.
The purpose of this Convention is to make use of our right of participation and totake forceful actions for the protection of the environment, the fight against climatechange and the development of awareness of a culture of peace that allow achieving sustainable development for the sake of world peace.
PREAMBLE.
Environmental devastation and climate change represent two of the greatestchallenges of our times, as they threaten the possibilities of achieving sustainable development that does not endanger the environment and that allows the eradication of poverty on the planet, as well as guaranteeing peace, prosperity and stability to humanity. Although the main affected by environmental devastation and climate change are people in situations of extreme poverty and vulnerability, such as children, women and members of indigenous groups; However, the reality is that these phenomena affect all of humanity, exacerbating poverty and inequalities and causing food insecurity, forced migration, disease, violence and death. A sustainable development allows the satisfaction of the needs of present generations without compromising the ability of future generations to satisfy theirs, this implies an economic and social development that respects the environment, which is economically effective, socially equitable and ecologically tolerable. (two).
To achieve this requires the coordinated action not only of public authorities andinternational organizations, but also of companies and, in particular, of civil society, to be able to reconcile economic, environmental and social challenges in a coherent and effective way. In this sense, the international community has recognized on numerous occasions the importance of the effective participation of the civilian population in decision-making related to sustainable development, especially environmental protection and action on climate change, as well as, in guaranteeing policies that respect the rights of communities while educating and raising awareness in favor of gender equality and social justice.
Aware of the great environmental and climate problems that the world faces and of the work of environmental defenders, international and non-governmental organizations and governments to contribute to the improvement of the environment, peace, diversity and global economic stability. We come together, the time for observation is over, and humanity needs to get fully involved and takeconcrete actions on global problems, and implement solutions in all areas, always in favor of a culture of peace and sustainable development, in favor of to reverse as far as possible the destructive action of man in nature (3) and in society. Reason for our International Convention of Women Peace Leaders in Emerging Action.
OBJECTIVES OF THE CONVENTION:
• 1-Propose new concrete initiatives of social change at a global level on issues of
Culture of Peace and Education and on Climate Change by all participants of the
Convention.
• 2- Establish the World Organization of Civil Society (OMSC).
• 3-Create a World Peace Referendum that will include new proposals and initiatives
for change for social improvement, together with the commitment of civil society to
ensure compliance with the issues that are objectives of the Convention.
* New initiatives and proposals for Changes will be anonymous and will be sent to the email address: info@spanishsuccessworld1.org to guarantee the confidentiality and protection of personal data. These will be channeled by the organizing committee of the Convention for its evaluation and approval by the UN International organizations (Geneva and New York) and the Hague
Quotations from Sources:
1-World Commission on Environment and Development. " Our Common Future 1987.
2-France Diplomatie "Environment and Sustainable Development. Definition Supported by the United
Nations. https://www.diplomatie.gouv.fr/es/politica-exterior/medio- Ambiente-y-Desarrollo-Sostenible /.
3-UN Program for the Environment What can we do for biodiversity in 2020?
https://www.unenvironment.org/es/noticias-y-reportajes/reportajes/
Email.info@spanishsuccessworld1.org www.spanishsuccessworld1.org
International Organizing Committee