Event Information
Refund Policy
Contact the organizer to request a refund.
Eventbrite's fee is nonrefundable.
About this Event
An English message follows
Rééquilibrer la société après la pandémie
Conversation avec Henry Mintzberg
Professeur, Titulaire de la Chaire Cleghorn | Auteur du livre Rebalancing Society
Faculté de gestion Desautels, Université McGill
Thèmes abordés :
• Aller de l'avant : comment rééquilibrer la société
• Management, leadership et planification stratégique en temps de crise
• Un appel à l'action : Déclaration de notre interdépendance
Rappel :
- Les navigateurs à utiliser de préférence : Microsoft Edge ou Google Chrome
- Lors de votre connexion aux rencontres, veillez à télécharger l'application TEAMS et non pas d'ouvrir directement sur le web.
- Aussi, la plateforme fonctionne mieux à partir d'un ordinateur plutôt que téléphone cellulaire ou une tablette.
Courte bio:
Je suis un écrivain et un éducateur, principalement spécialisé dans la gestion des organisations, le développement des gestionnaires et le rééquilibrage des sociétés (domaine sur lequel je me concentre actuellement), ainsi qu'un amateur de plein air et un collectionneur de sculptures de castors.
Après avoir obtenu ma licence en génie mécanique à l'Université McGill (1961), travaillé en recherche opérationnelle pour les Chemins de fer nationaux du Canada (1961-1963) et effectué ma maîtrise et mon doctorat à la Sloan School of Management du MIT (1965 et 1968), j'ai élu domicile professionnel à la Faculté de Gestion Desautels de McGill. Je siège à la chaire Cleghorn d'études de gestion (à mi-temps depuis le milieu des années 1980), et j'ai occupé de nombreux postes de professeur invité à l'INSEAD en France et à la London Business School en Angleterre.
J'ai écrit 20 livres, dont Managers not MBAs, Simply Managing, Rebalancing Society et Managing the Myths of Health Care, ainsi que 180 articles et de nombreux commentaires et vidéos. Je publie maintenant un TWOG régulier (TWeet 2 blOG). Un recueil est en cours de publication sous le titre Bedtime Stories for Managers, et sera suivi de Understanding Organizations...finally (une révision de mon livre Structure in Fives).
J'ai cofondé et je demeure impliqué dans les programmes suivants : International Masters Program for Managers (impm.org) et International Masters for Health Leadership (imhl.org) ainsi que dans une entreprise, CoachingOurselves.com
Les conséquences de tout cela ont été l'élection à l'Ordre du Canada et à l'Ordre national du Québec ainsi qu'à la Société Royale du Canada, deux articles primés de la Harvard Business Review et vingt diplômes honorifiques d'universités du monde entier.
Je passe peut-être ma vie professionnelle à traiter avec les organisations, mais je continue à passer ma vie privée à les fuir, surtout dans la nature sauvage des Laurentides au Canada, généralement avec ma conjointe et parfois avec mes deux filles et mes trois petits-enfants.
--------------------------------------------------------------------------------------------------------------------------------------------------
Rebalancing Society after the pandemic
Conversation with Henry Mintzberg
Cleghorn Professor | Author of the book Rebalancing Society
Desautels Faculty of Management, McGill University
Topics covered:
• Moving forward: how to rebalance society
• Management, leadership, and strategic planning in the post-COVID era
• A call to action: Declaration of our Interdependence
Reminder :
- Preferred browsers to use: Microsoft Edge or Google Chrome
- When connecting to the meetings, please make sure to download the TEAMS application and not open directly on the web.
- Also, the platform works better from a computer rather than a cell phone or tablet.
Short bio:
I am a writer and educator, mostly about managing organisations, developing managers, and rebalancing societies (where my attention is currently focused), also an outdoorsman and collector of beaver sculptures.
After receiving my bachelor's degree in Mechanical Engineering from McGill University in Montreal (1961), working in Operational Research for the Canadian National Railways (1961-1963), and doing my masters and PhD at the MIT Sloan School of Management (1965 and 1968), I have made my professional home in the Desautels Faculty of Management at McGill. I sit in the Cleghorn Chair of Management Studies (half-time since the mid-1980s), and have had extensive visiting professorships at INSEAD in France and the London Business School in England.
I have authored 20 books, including Managers not MBAs, Simply Managing, Rebalancing Society and Managing the Myths of Health Care, also 180 articles plus numerous commentaries and videos. I now publish a regular TWOG (TWeet 2 blOG), as "provocative fun in a page or 2 beyond pithy pronouncements in a line or 2" (@mintzberg141 to mintzberg.org/blog). A collection is being published under the title Bedtime Stories for Managers, and following that will be Understanding Organizations…finally (a revision of my book Structure in Fives).
I co-founded and remain active in the International Masters Program for Managers (impm.org) and the International Masters for Health Leadership (imhl.org) as well as a venture CoachingOurselves.com, all novel initiatives for managers to learn together from their own experience, the last in their own workplace.
Some consequences of all this have been election to the Order of Canada and l'Ordre national du Quebec as well as to the Royal Society of Canada (the first from a management faculty), two prize- winning Harvard Business Review articles, and twenty honorary degrees from universities around the world.
I may spend my professional life dealing with organizations, but I continue to spend my private life escaping from them, especially in the Laurentian wilderness of Canada, usually with my partner and sometimes with my two daughters and three grandchildren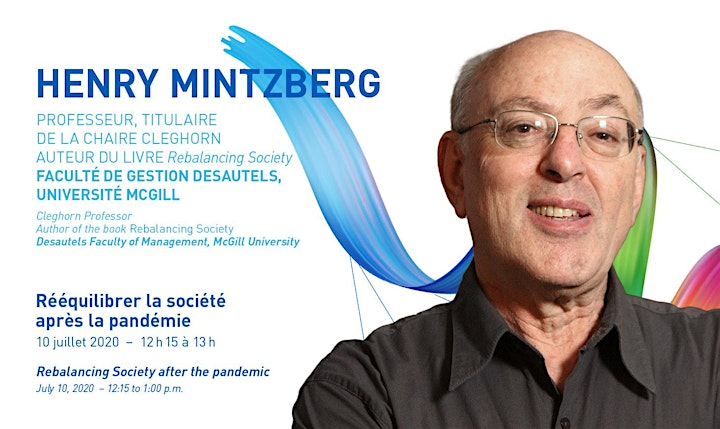 Date and Time
Location
Refund Policy
Contact the organizer to request a refund.
Eventbrite's fee is nonrefundable.