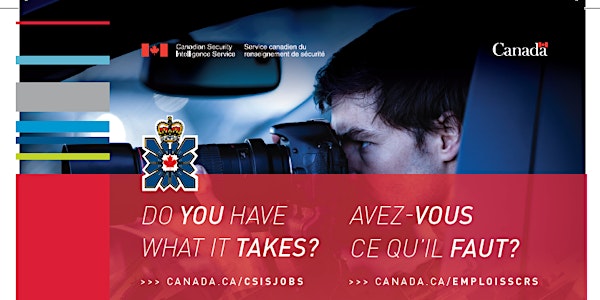 Conversation with IM Experts - Conversation avec des experts en GI.
Our IM team is recruiting for multiple positions. Join us for a moderated conversation about the roles they are looking to fill!
About this event
(Free Event) (Voir ci-dessous pour la version française)
PROGRAM
Overview of the recruiting process and requirements
A moderated conversation with:
HR Professional
Hiring Managers
Information Management (IM) Professionals
Q&A Session
Note: Panelists are all bilingual, questions can be asked in both official languages (English and/or French).
Talent Acquisition Recruiters will stay online for an extended period to address additional questions.
Open the door to our world!
The Canadian Security Intelligence Service (CSIS) is at the forefront of Canada's national security system and we proudly represent the best Canada has to offer.
We recruit talented individuals who are committed to Canada's values, energized by meaningful work, and looking for opportunities to explore their maximum potential. Working at CSIS is more than just a job.
Our role is to investigate activities suspected of constituting threats to the security of Canada and to take measures to reduce these threats in accordance with well-defined legal requirements and Ministerial Direction.
As an Information Management professional at CSIS, you will contribute directly to our critical mission and advance the IM profession in a unique environment.
There are currently opportunities in Information Management to shape new approaches and implement transformation. You will have the opportunity to acquire 'once in a career' experience that will have an impact on National Security.
Information Management Administrator ($49,130- $59,750)
*Job Requirements*
To be eligible to work for CSIS you must:
Be a Canadian citizen
Have 10 years of verifiable information
More details available here: Job Requirements
(Événement gratuit)
PROGRAMME
Processus de recrutement
Une conversation animée avec:
Professionnels des RH
Gestionnaires d'embauche
Spécialistes en Gestion de l'information (GI)
Questions et réponses
*Les recruteurs en acquisition de talents resteront en ligne pendant une période prolongée pour répondre à des questions supplémentaires.
*Les panélistes sont tous bilingues, les questions peuvent être posées dans les deux langues officielles (anglais et/ou français).
Ouvrez la porte de notre monde !
Le Service canadien du renseignement de sécurité (SCRS) est à l'avant-garde du système de sécurité nationale du Canada et nous représentons fièrement ce que le Canada a de mieux à offrir.
Nous recrutons des personnes talentueuses qui ont à cœur les valeurs du Canada, qui sont stimulées par un travail significatif et qui recherchent des occasions d'explorer leur plein potentiel. Travailler au SCRS, c'est plus qu'un simple emploi.
Notre rôle est d'enquêter sur les activités soupçonnées de constituer des menaces pour la sécurité du Canada et de prendre des mesures pour réduire ces menaces conformément à des exigences légales bien définies et aux instructions ministérielles.
En tant que professionnel de la gestion de l'information au SCRS, vous contribuerez directement à notre mission essentielle et ferez progresser la profession de GI dans un environnement unique.
Il existe actuellement des opportunités dans le domaine des gestion de l'information pour façonner de nouvelles approches et mettre en œuvre des transformations. Vous aurez l'occasion d'acquérir une expérience unique dans votre carrière qui aura un impact sur la sécurité nationale.
Administrateur de la gestion de l'information (49 130$ - 59 750$)
*Exigences du poste*
Pour être admissible à travailler au SCRS, vous devez :
Être un citoyen canadien
Avoir 10 ans d'informations vérifiables
Plus de détails disponibles ici : Conditions d'emploi