Event Information
Refund Policy
Contact the organizer to request a refund.
Eventbrite's fee is nonrefundable.
About this Event
An English message follows
Plongez dans les coulisses de Netflix Canada
Conversation avec Stéphane Cardin
Directeur, Politique publique
Netflix Canada
Thèmes abordés :
• Netflix et partenariats créatifs
• Netflix Canada : réalités locales d'une firme multinationale
• Divertissement en ligne, vie privée, éthique et IA
• L'avenir des arts et des divertissements
Rappel :
- Les navigateurs à utiliser de préférence : Microsoft Edge ou Google Chrome
- Lors de votre connexion aux rencontres, veillez à télécharger l'application TEAMS et non pas d'ouvrir directement sur le web.
- Aussi, la plateforme fonctionne mieux à partir d'un ordinateur plutôt que téléphone cellulaire ou une tablette.
Courte bio:
Avant-gardiste et comptant plus de vingt ans d'expérience dans le secteur culturel Stéphane Cardin est un acteur-clé du domaine. Son talent pour l'élaboration de stratégies dans le secteur de la création et sa capacité à bâtir et maintenir des relations durables avec diverses parties prenantes font partie de ses points forts.
En septembre 2018, Stéphane s'est joint à l'équipe de Netflix à titre de directeur des affaires réglementaires et des relations avec les partenaires pour le Canada.
Auparavant, Stéphane a occupé successivement les postes de vice-président, Politiques stratégiques et relations avec les intervenants au Fonds canadien de télévision (FCT) et de vice-président, Industrie et Affaires publiques au Fonds des médias du Canada (FMC). Avec un budget de programme annuel de 350 millions de dollars, déclenchant 1,2 milliard de dollars en financement pour le développement, la production, la commercialisation et l'exportation de contenu audiovisuel, y compris les films, la télévision, les jeux, les séries Web et le contenu immersif. Dans le cadre de ses fonctions, il a dirigé l'élaboration de politiques et de programmes stratégiques, a maintenu un dialogue continu avec l'industrie et les intervenants gouvernementaux, y compris les bailleurs de fonds privés et publics du FMC, et a renforcé le positionnement du FMC au sein de l'industrie, les médias et le public canadien.
Avant de se joindre au FMC, Stéphane était directeur des crédits d'impôt à la Société de développement des entreprises culturelles (SODEC) du Québec et membre du comité de gestion de la SODEC. Pendant son mandat, il a dirigé la mise sur pied d'incitatifs fiscaux dans plusieurs industries culturelles, y compris le tournage à l'étranger, l'animation numérique et les effets visuels, la musique (enregistrements et spectacles
--------------------------------------------------------------------------------------------------------------------------------------------------
Behind-the-scenes dive into the inner workings of Netflix Canada
Conversation with Stéphane Cardin
Director, Public Policy
Netflix Canada
Topics covered:
• Netflix and creative partnerships
• Netflix Canada: local realities of a multinational firm
• Online entertainment, privacy, ethics, and AI
• The Future of Arts & Entertainment
Reminder :
- Preferred browsers to use: Microsoft Edge or Google Chrome
- When connecting to the meetings, please make sure to download the TEAMS application and not open directly on the web.
- Also, the platform works better from a computer rather than a cell phone or tablet.
Short bio:
Stéphane Cardin is a forward-thinking industry executive with over twenty years of experience in the cultural sector. He excels at the development of strategic policies for the creative industries, and has consistently demonstrated strength in relationship building and managing diverse stakeholder interests.
In September 2018, Stéphane joined Netflix as Director, Public Policy for Canada.
Prior to that, Stéphane successively held the positions of VP, Strategic Policy and Stakeholder Relations at the Canadian Television Fund and VP, Industry and Public Affairs at the Canada Media Fund (CMF) with an annual program budget of 350 million dollars, triggering 1.2 billion dollars in financing for the development, production, marketing and export of audiovisual content including films, television, games, web series, and immersive content. In this role, he led strategic policy and program development; maintained an ongoing dialogue with industry and government stakeholders, including the CMF's private and public funders; and reinforced the positioning of the CMF within the industry, the media and the Canadian public.
Previously, Stéphane was Director of Tax Credits with Quebec's cultural funding agency, Société de développement des entreprises culturelles (SODEC), and was a member of SODEC's management committee. During his tenure in that role, he led the establishment of tax-based incentives across several cultural industries including foreign location shooting, digital animation and visual effects, music (recordings and live shows) and book publishing, supporting production activity of over one billion dollars annually.
Stéphane serves on the boards of Cinéma NDG in Montréal and the Cuisine, Cinéma & Confidences film festival in Baie Saint-Paul, Quebec.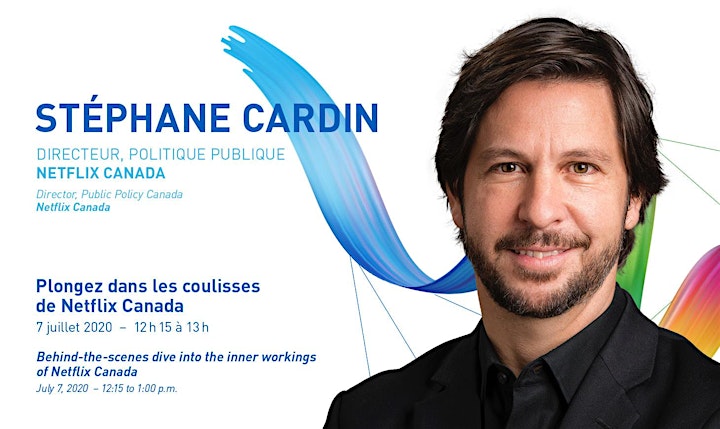 Date and Time
Location
Refund Policy
Contact the organizer to request a refund.
Eventbrite's fee is nonrefundable.