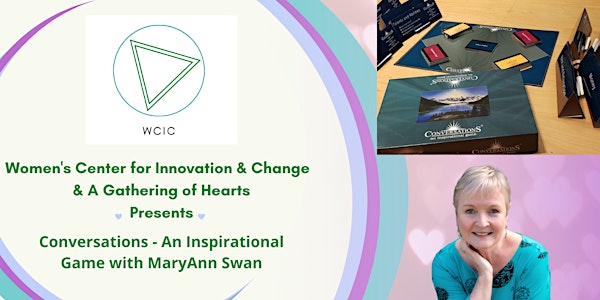 Conversations - An Inspirational Game
Conversations: An Inspirational Game-an interactive board game designed to develop & enhance relationships through authentic communication
Refund Policy
Contact the organizer to request a refund.
Eventbrite's fee is nonrefundable.
About this event
Do you crave more connection and closeness in relationships?
Do you find yourself feeling awkward in new social situations, or resist expressing your true self to friends and family for fear of being judged?
What does it mean to be an "active listener", present and receiving the other person exactly as they are?
Are you open to making new friends and having a deeper conversation that goes beyond "small talk"?
ARE YOU READY TO PLAY?
When people come together who share a common commitment for openness, miracles and magic happen!
Conversations: An Inspirational Game, is designed to develop and enhance our relationships through authentic communication in a safe and nurturing environment.
In 3 rounds, cards are pulled for participants to reflect and respond as they relate to their present experience with the topics.
In this interactive session you have the opportunity to:
Hold space for others with compassion.
Embrace different viewpoints & perspectives.
Communicate and listen from the Heart.
Express your unique wisdom and feel safe doing so.
Be seen, heard, and met, right where you are.
To shift how you experience yourself and others when speaking and listening in groups, playing more than once is recommended where participants discover how to:
Connect to your inner wisdom and unlock your genius.
Communicate your truths to transform your relationships through, heart centered, authentic expression of ideas and sharing of experiences.
Create a more peaceful, balanced, embodied, present and joyful YOU!
We will be interacting over zoom and a link will be sent to you prior to the event.
Guidelines: Please make sure you're comfortable with all the guidelines below before you purchase a ticket.
You're willing to be on time. The room will be open at 7:25p. We start at 7:30 PM EST.
You're willing to turn your audio and video camera on and be seen and heard. I use a waiting room. Those whose entry ID doesn't match registration name will not be allowed to enter.
You're willing to give the group your full attention. Devices are silenced or off.
You have a quiet space, free of distractions where you can join from.
You're willing to honor the privacy of the other participants and agree not to share what you hear outside of the event.
You're willing to stay the full time . We end at 9:00pm EST.
We recommend a minimum donation of $10CDN. The donations for this event will be used to support the development of initiatives by the WCIC.
Facilitated by MaryAnn Swan of A Gathering of Hearts .
It is my privilege to create group experiences that allow people to quickly connect to their truths, share their passions and wisdom, and nurture their ability to bring forth the best version of themselves. My programs are for creating community and helping you to communicate in clear, authentic and healthy ways that support your growth and desires for deep meaningful connections, alive with your Presence and Love.
What people are saying:
Loved the game! I feel like I've turned a corner and I'm ready to make life more fun, no matter what I'm doing. Not taking anything too seriously or rigidly. It can all be fun and more game-like whether it's work, family or even games! Thank you! ~ Debra Graugnard, M.Div. Spiritual Healing & Wellness Practitioner, Joyfully Living Wellness
MaryAnn brings a richness of life and professional experience, clarity and resources, authenticity and passion to her facilitation of Conversations. I experienced a safe environment of encouragement and support. ~ Caren K.
"Mind blowing... deeply thought provoking... nourished, nurtured… a big spiritual hug… grateful… connected, less isolated... enlightening... inspired!" ~ Participants' feedback from recent game events.
_____________________________________________
Hosted by the Women's Center for Innovation and Change (WCIC)
The WCIC is a platform for women to support other women through networking, skill development, fundraising initiatives, and self-improvement. We hope that by creating a community of women who can support each other, we can create a better world.
The donations for this event will be used to support the development of initiatives by the WCIC.
We recommend a minimum donation of $10CD