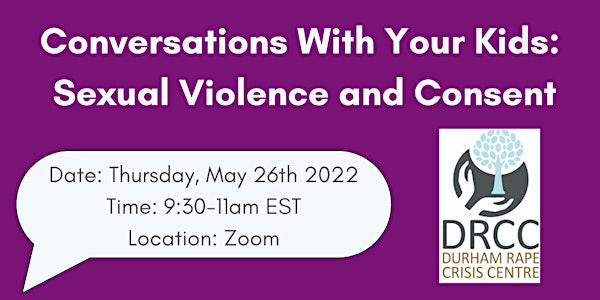 Conversations With Your Kids: Sexual Violence and Consent (Free Webinar)
Join us as we discuss how you can talk to your children about consent, sexual violence, and healthy boundaries.
About this event
In honour of Sexual Violence Awareness Month, the DRCC presents a free webinar on educating and empowering your children when it comes to healthy boundaries and safety surrounding sexual violence. Whether your kids are 4 years old or 14 years old, we invite you to participate in this important conversation.
In this webinar, we will address the following questions:
What risks should I be aware of?
How can I promote healthy boundaries and teach about consent?
What is developmentally appropriate to share with my child?
How do I have difficult conversations with my kids?
What should I do if my child discloses sexual abuse?
What resources can I access?
On May 26th 2022, join us from 9:30-11am EST to learn more about these important conversations. From 10:30-11am, you will have the opportunity to ask general questions, and will be provided contact info if you have any specific situations you need support with.
For any questions or accommodation requests please e-mail karina@drcc.ca
Please note a recording of the webinar will be sent out to registrants following the presentation - please feel free to register if you cannot make the scheduled time but would like to view the presentation!
We look forward to seeing you there!
Want to support the DRCC? Visit our Canada Helps donation page!