Event Information
Location
Multiple Canadian cities / Plusieurs villes canadiennes
Canada
Refund policy
Refunds up to 7 days before event
Description
*** FRANÇAIS CI-DESSOUS ***

THE WORLD'S LARGEST OPEN-INNOVATION CHALLENGE!
As a participant of the Cooperathon, you will;
1) Learn how to launch an impact startup or an impact project
2) Connect with our partners and sponsors to get a first potential client
3) Become an entrepreneur/intrapreneur through our part-time and flexible program
4) Join 800 people passionate about entrepreneurship, innovation and social impact


Each year, since 2015, the Cooperathon gathers thousands of people in a 25 day program around a single goal: launch innovative startups with strong impact!
If you have your team, if you are looking for talent or even if you are alone; this competition brings together Entrepreneurs, Students, Designers, Developers, Professionals and Experts who want to go from Idea to Action.
Each participant will receive a training worth over 5000$ and over 100,000$ in prizes are on the table!
Throughout the 4 weeks, teams will receive personalized coaching, weekly workshops and exclusive access to potential partners and clients to bring their project to life.

It's a competition that is unique in the world that let's you surpass yourself and reach your entrepreneurial potential. This opportunity only comes once a year so don't miss it and sign up right now!

The FREE registration for the info and team formation kickoff for Ontario on September 28th: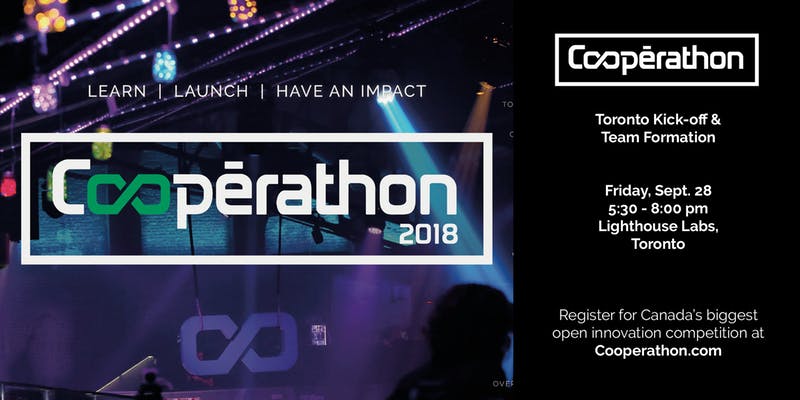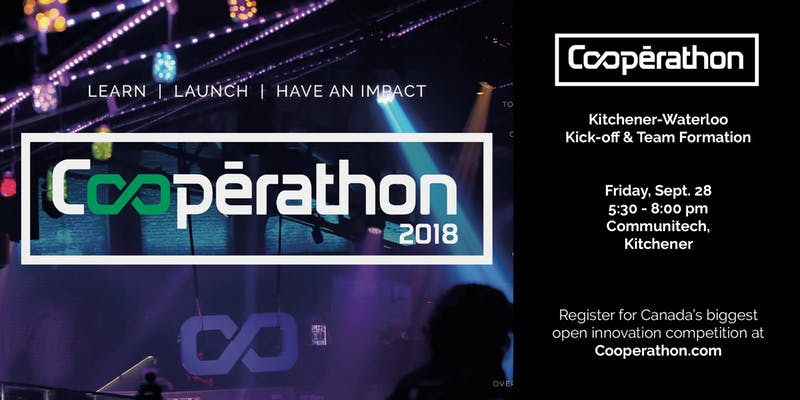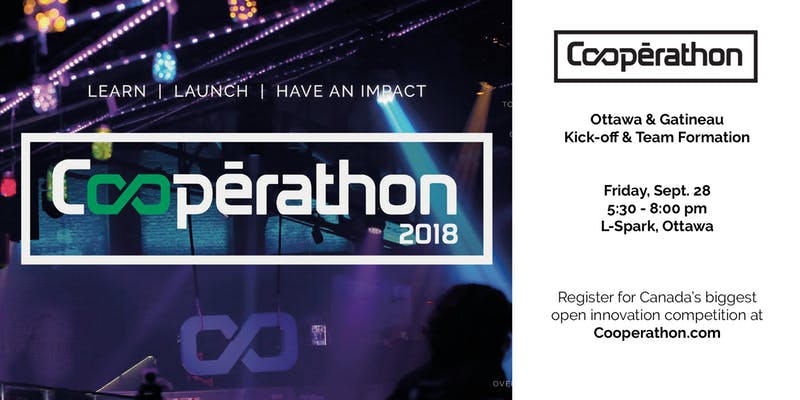 AND WE ARE OFFERING FREE RIDES FROM TORONTO AND OTTAWA TO ATTEND!
OTTAWA/GATINEAU: https://ott-adventurebus.eventbrite.ca
TORONTO/WATERLOO: https://to-magicschoolbus.eventbrite.ca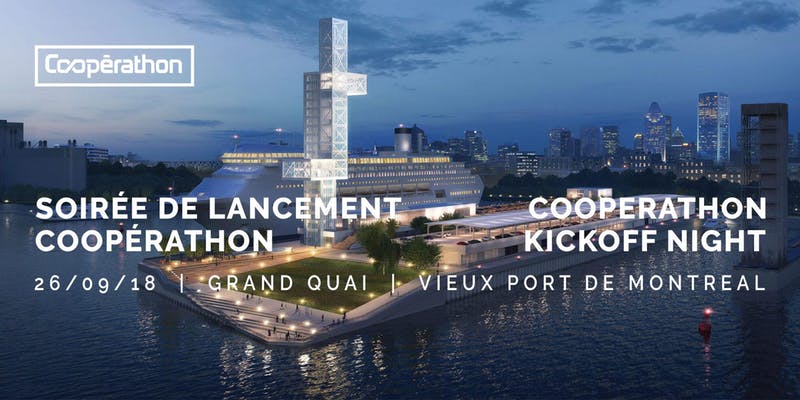 For more information, please visit www.cooperathon.com

The Cooperathon team
------------------------
For more information:
Visit the web site: Cooperathon.com
Facebook: www.fb.com/thecooperathon
Twitter: www.fb.com/thecooperathon
General inqueries: info@cooperathon.com
Sponsorship opportunities: eric@cooperathon.com
#cooperathon18
---
LA PLUS GRANDE COMPÉTITION D'INNOVATION OUVERTE AU MONDE!

En tant que participant du Coopérathon, vous allez;
1) Apprendre comment lancer une start-up d'impact ou un projet à impact
2) Rencontrer nos partenaires et commandites afin d'avoir un premier client potentiel
3) Devenir entrepreneur/intrapreneur à travers notre programme flexible et à temps partiel
4) Vous réunir avec 800 personnes passionnées par l'entrepreneuriat, l'innovation et l'impact social



Chaque année, depuis 2015, le Coopérathon rassemble des milliers de personnes dans un parcours de 25 jours autour d'un seul objectif: créer des entreprises innovantes et à fort impact!
Que vous ayez déjà une équipe ou pas, qu'il vous manque du talent, ou encore que vous soyez seuls; cette compétition est faite pour rassembler les Entrepreneurs, Étudiants, Designers, Développeurs, Professionnels et Experts qui souhaitent passer de l'idée à l'action.
Chaque participant recevra une formation d'une valeur de plus de 5000$ et plus de 100,000$ en prix sont en jeu!
Tout au long de ce parcours, les équipes obtiendront du coaching personnalisé, des ateliers hebdomadaires et un contact privilégiés avec des clients et partenaires potentiels pour mener leur projets vers le succès!
C'est une compétition unique au monde pour te dépasser et atteindre ton potentiel entrepreneurial! Cette opportunité n'arrive qu'une fois par an, inscris-toi maintenant!
-
L'équipe du Coopérathon

---------------------------
Pour plus d'information:
Visitez notre site web: Cooperathon.com
Facebook: www.fb.com/thecooperathon
Twitter: www.twitter.com/cooperathon
Pour toute question: info@cooperathon.com
Commandites: eric@cooperathon.com
#cooperathon18

---
---
Date and time
Location
Multiple Canadian cities / Plusieurs villes canadiennes
Canada
Refund policy
Refunds up to 7 days before event
Organizer of Cooperathon 2018 - CANADA
Le Coopérathon est la plus grande compétition d'innovation ouverte au monde. Ce « marathon de coopération », né au Canada, a pour objectif de développer des solutions innovantes à des enjeux concrets de société. Cocréées par des citoyens, experts et entrepreneurs engagés, ces solutions visent un impact social durable.
Vous êtes porteur d'idées inspirantes? Vous désirez co-créer avec des citoyens, experts et entrepreneurs engagés? Vous voulez vous impliquer dans une initiative concrète qui mènera à un réel impact social durable? Le Coopérathon vous offre cette opportunité unique.