Location
Centre for Social Innovation
192 Spadina Avenue
Toronto, ON M5T 2C2
Canada
Come and join us in this design thinking workshop!
About this event
Curious and having lots of ideas? Concerned and having the desire to improve the status-quo? Always dreamed about being an entrepreneur or having an early-stage startup?
About this Event
Join us in this 'hands-on' workshop introducing you to the Design Thinking approach. You'll learn about how to better understand your future clients, define the problem and start imagining the value proposition of your future startup.
This event is open to professionals and students, from all backgrounds, interested in imagining innovative solutions in Health, Education, Environment, Finance, Energy and Agriculture. Your participation will jumpstart your enrollment in Cooperathon , the biggest open-innovation challenge in the world. You'll receive information about the specific activities in Toronto and enjoy a promo code for registration. With more than 100 000 $ in accumulated prizes and countless opportunities to connect with talented professionals & students, mentors and partners, Cooperathon is a unique opportunity to kick-start your startup.
Agenda
1.00 pm Welcome
1.15 pm What is Impact and how to measure it, a presentation by CSI
1.45 pm Design Thinking workshop
4.00 pm Teams showcase
4.15 pm Cooperathon presentation
4.30 pm End of the event
* Light snacks & drinks will be served.
Detail
The participants will enjoy two tracks, depending if they participate as individuals or teams.
INDIVIDUALS track: You'll learn about how to build successful teams, explore challenges and learn how to better define the problem to be solved.
TEAMS track: You'll learn about how to better understand the customers and map the customer journey experience.
Aldo de Jong
Director of Data Strategy & Data for Good at Facebook
Design Thinking Facilitator, INDIVIDUALS track
Aldo is passionate about making the world better through innovation and entrepreneurship. Inquisitive mind and activechangemaker, Aldo has initiated and led many projects: Co-founded and ran Claro Partners, an international, pioneering innovation consultancy combining social science, design and business to drive innovation with Fortune50 clients, led "Always in Beta: rethinking the future of financial services" partnership with 6 banks, created toolkits and insights for the discovery of opportunities and new concept creation in the context of deep shifts, founded Jam for Good in Barcelona (IoT), London (FinTech) and Toronto (Inclusion, Health and Climate) and supported the creation of a data-driven accelerator program in Singapore.
Samantha Lleses (Sisa)
Director, Design & Strategy Design Off The Boat
Design Thinking Facilitator, TEAMS track
Sisa's multi-faceted design & research-based experience in social entrepreneurship, advertising, urban planning, education, and UX/UI design has led her to pursue her penchant for city-building. She is also a skilled art director, writer, and illustrator who has worked with global advertising agencies such as McCann & Dentsu. She co-founded Design Off The Boat, a borderless, women-led, AI-powered firm – specializing in design, strategy & offshore creative talent acquisition – that supports startups and entrepreneurs in Toronto. She enjoys the thrill of facilitating sprints, rapid prototyping, and cultivating breakthroughs through her ability to custom-design solution-based frameworks, transforming dead ends into strong foundations. She has a soft spot for SDG-related projects and co-creating solutions that transmute digital experiences into physical products and public spaces. She is able to address a wide range of problems on any scale by constantly updating her arsenal, the latest addition being an understanding of the role of Artificial Intelligence can play in Social Innovation.
Wayne Miranda
Social Finance | Program Lead at McConnell Foundation |
Founder of Growth Mosaic
Wayne's passion is to grow ventures that generate a social and environmental impact. He is presently leading the social finance investment readiness work at McConnell Foundation. This is a new program launched to help nonprofits, charities, co-operatives, and social enterprise for-profits access social finance to enhance their impact. Prior to joining McConnell Foundation, he was the Director of Growth at the Centre for Social Innovation, Managing Director of TechSoup Canada, and Founder & CEO of Growth Mosaic in Ghana. Wayne has helped put to work over US$21 million to build hundreds of social ventures. And when he is not helping changemakers, he's paddling and hiking in Canada's beautiful outdoors or playing ultimate!
Rizwan Tufail
Director, Leadership Programs, Mozilla
I am an entrepreneurial public-service leader, with experience of working with governments, business, foundations, and multilateral agencies to envision and build consensus for high-impact social change programs. Over the years, I have built and worked with a vibrant and active network of change-makers, thought-leaders and policy-makers across emerging markets (Middle East and Africa), built through multiple years of engagements at highest levels of government, business, education and development organizations. As a thought leader, I have been invited to present at global forums, based on my experiences in (1) leading innovation policy thinking in Africa, (2) crafting strategies to impact access and quality of education, (3) architecting and leading national transformation projects, (4) creating and driving continent-wide skills development and entrepreneurship programs, and (5) advocating and helping implement policies that leverage and technology for social change. In 2012, I was invited into the premier leadership acceleration program for emerging markets (Mason Fellowship, Harvard) – an extremely selective and highly visible program that counts multiple Heads-of-States and senior change-makers as alumni - after having led Microsoft's Africa-wide public sector work and technology initiatives for multiple years.
Mike Ronchka
Senior Manager, Impact Measurement, Corporate Citizenship, RBC
Mike Ronchka believes in using data to unlock the potential of people and organizations. He leads the RBC Corporate Citizenship team's Impact Measurement practice, and has a decade of experience in data analytics, change management and communications. In his current role he brings the RBC Impact Measurement Framework to life by illustrating the Social, Environment, Economic, Employee, Brand and Business impacts of enterprise programs and initiatives. Mike works closely with the Citizenship team and RBC's charitable partners on leveraging data analytics to identify actionable insights, developing KPIs that drive continuous improvement and enabling compelling communications about RBC's social impact. He is responsible for developing and deploying the RBC Future Launch dashboard which is used by more than 130 non-profits in Canada to assess program effectiveness in preparing youth for the future of work. The dashboard puts powerful and intuitive data analysis capabilities in the hands of RBC's charitable partners, enabling them to monitor results in real time and benchmark against peers.
Joanna Reynolds
Social Innovation Specialist, Social Innovation Institute, Centre for Social Innovation
Joanna engages new sectors through knowledge and education to support entrepreneurs access markets and investment opportunities; and, to align how the private, public and community sectors absorb enterprise and investment solutions to scale systems change. She worked alongside social entrepreneurs, community groups, foundations, and business leaders, students and faculty to advance the application of social finance, social innovation, and social enterprise growth. Prior to her role with the Centre for Social Innovation, she was a founding team member of the MaRS Centre for Impact Investing (2011-2015) and with Social Innovation Generation (2008-2011) with a focus on social finance.
Cheryl May
Innovation Designer, Executive Manager, and Consultant
Four-time executive director with charitable fundraising credits exceeding $100 million. Mastery of the Strategizer business model canvas and its derivatives, logical frameworks, systemic design, strategic foresight, and human-centred design. A service leader who has effectively scaled-up operations by putting systems in place to support sustained growth. An extensive body of writing ranging from instructional to highly complex. Strategic development of more than 100 brands and advisor to over 300 private, not-for-profit, and for-benefit ventures. Areas of Expertise: Human Services, Diversity & Inclusion, Entrepreneurship & Start-up, For-benefit Ventures
Roxi Nicolussi
Founder 5Y Impact Collective
Roxi is a freelance design strategist and the Founder of 5Y Impact Collective. By day, you'll find her leading design research studies to better understand and improve user experiences for RBC Digital. By night, you'll find her taking on passion projects with her team of collaborators at 5Y Impact Collective. Driven by a deep curiosity about the interactions between humans and technology, she loves making sense of complex human challenges and inspiring big-picture solutions. Roxi takes a human-centred, big-picture approach to solve complex problems — applying skills that she has learned and applied since the completion of OCAD University's Master of Design program in Strategic Foresight and Innovation. Practicing both in-house and as a consultant has given her the opportunity to design across sectors and industries on digital teams. No stranger to design jams, Roxi has organized, facilitated, and coached at over 10 design-lead problem solving events.
Centre for Social Inovation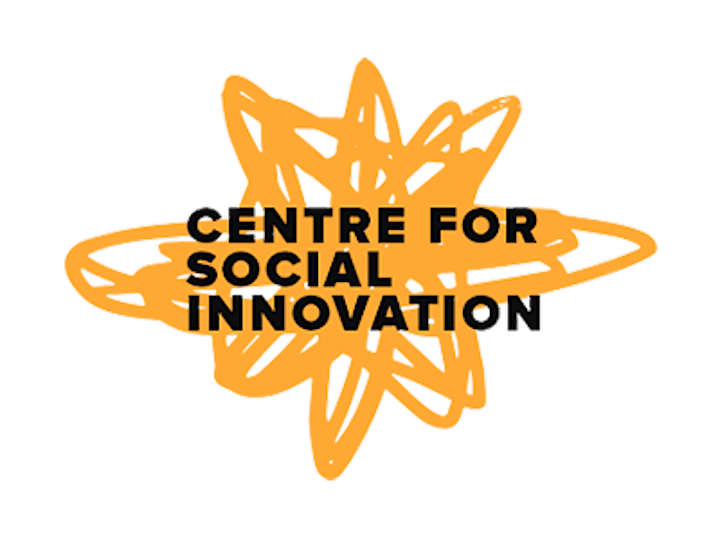 CSI is a community of collaborators, and a launchpad for groups and individuals who are changing the world in big and small ways. They curate for diversity and inclusivity, and foster the right environment for social innovations to flourish. CSI provide their members with the spaces, connections and resources they need to work, connect, create and transform.