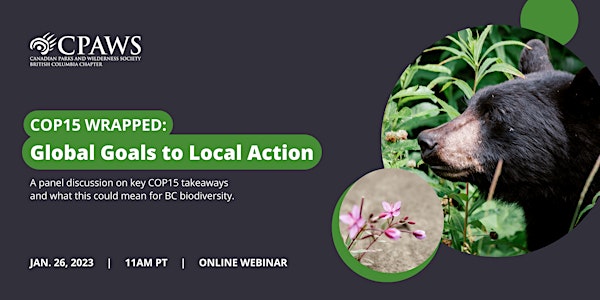 COP15 Wrapped: Global Goals to Local Action
Join us on January 26 at 11AM PT for a panel discussion on key COP15 takeaways and what this could mean for BC biodiversity. *POSTPONED*
About this event
UPDATE: Due to unforeseen circumstances the Post-COP15 Webinar is postponed until further notice. We apologize for any inconvenience. Stay tuned for additional tickets and details to reschedule the webinar. Thank you for your understanding.
Join us on January 26 at 11AM PT for a panel discussion on key COP15 takeaways and what this could mean for BC biodiversity.
To halt and reverse biodiversity loss, we need a strong Global Biodiversity Framework that includes a global goal to protect 30% by 2030 and prioritize Indigenous-led conservation. Leaders from across the world gathered in Montreal to discuss this and make a plan to address devastating biodiversity loss. But what does this mean for action on the ground in BC?
We'll be talking with Indigenous leaders and policy experts who will help us connect the dots between global biodiversity goals and action here at home to protect lands, waters, wildlife and cultures across BC.
Panelists:
Gillian Staveley, Director of Culture and Land Stewardship, Dena Kayeh Institute
Gwen Bridge, Principal, Gwen Bridge Consulting Ltd
Alison Woodley, Strategic Advisor, CPAWS
Moderated by Tori Ball, Canadian Parks and Wilderness Society - British Columbia