Description
IMPORTANT NOTE: The total $ on this page is a $200 nonrefundable deposit by Sept. 1, 2016 to reserve your all-inclusive retreat package.
We do allow payment plans leading up to October 2016 to fulfill total cost of $625 USD single occupance or $1145 double occupancy. Last payment should be received two weeks prior to event.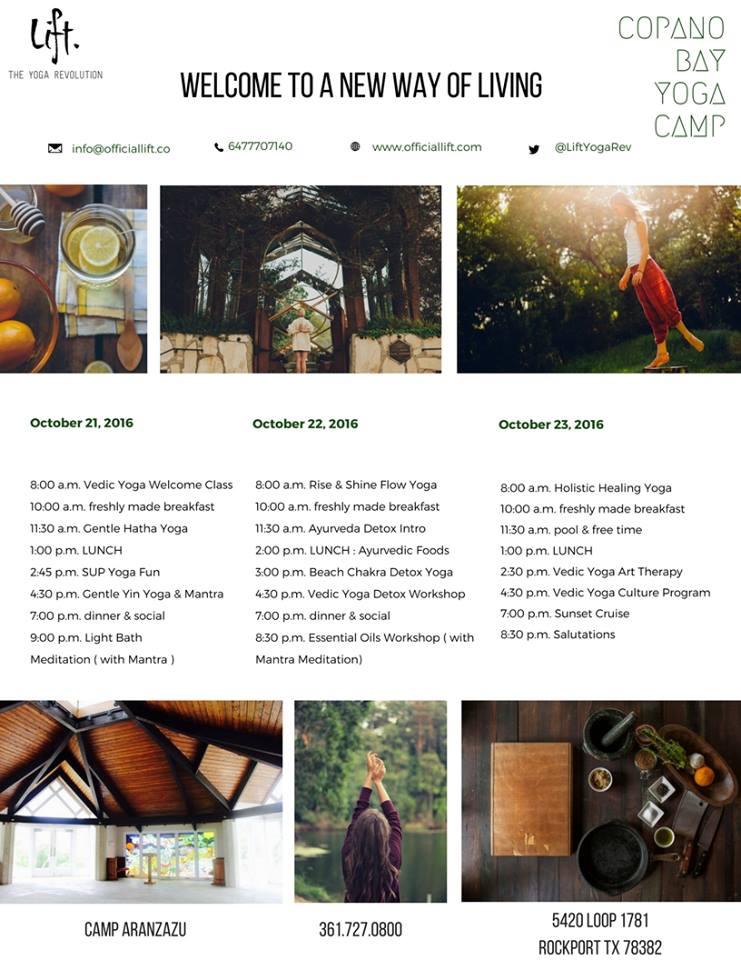 Lift Yoga's founder Caitlan Carver is offering a one-time yoga retreat at Camp Aranzazu. October 16 -24, 2016 get ready to detoxify your life, your mind & reconnect back to nature.
Where: Camp Aranzazu, Rockport, South Texas, Copano Bay
When: October 21 - 23, 2016
Price Options:
Full weekend with accomodation and fresh meals single occupancy (if reserved after Sept 1): $625 USD
Full weekend with accomodation and fresh meals double occupancy (if confirmed after Sept 1): $1145 USD
One flat all-inclusive rate!
Price includes:
Three meals a day
Transportation to and from airport as well as to town,
Four hours of guided yoga and meditation each day,
Lift Founder, Caitlan Carver's customized yoga culture program,
Full day of featured healing services from Copano Bay area specialists
Two days at Rockport Fulton with winery tour & beach day
---
Accomadations are the same shared experience in peaceful wooden lodging on the scenic private property of Camp Aranzazu, Rockport, South Texas.
Flights from Canada if booked two months in advance range from $275 - $450 CDN depending on what airline you book with.
This is a once in a lifetime event hosted in South Texas—artists, yogis and healers from all over the world gather here to share their knowledge, energy & creative inspiration.
Also gathering with us are healers from the area specializing in reiki, essential oils, art therapy, yoga, meditation acupuncture & holistic nutrition. You will join Caitlan Carver as she takes you on a guided adventure through a customized yoga program that will awaken your mind, heart and rejuvenate your body and soul. We will be connecting to the heart and power of true yoga culture.
You willl be guided through four hours of yoga a day (2 hrs in the morning & evening)—and one afternoon of SUP yoga. We will also have some fun with mantra, singing and the healing power of meditation.
You will learn about the yoga sutras, how you can heal, forgive & love yourself/others through the yogi lifestyle, rejuvenate through yogi health/nutrition/cleansing practices, and how you can take yoga into your daily life—on the mat, and off the mat. Three vegetarian meals a day from our wonderful on-site chef, and we will also venture into the town of Rockport to experience the culture.
---
With Caitlan Carver's new yoga culture program you will learn more about who you really are, how you want to live your life and how you can be the happiest person you know. The program offers subtle shifts for radical change.
Through Caitlan's mantra singing, yoga practices, guided meditations & customized spiritual coaching sessions you will find an inner peace and serenity that will allow you to finally release any fear-based thoughts—so you can live a life beyond your wildest dreams.

At Camp Aranzazu, you will find relaxation, peaceful surroundings, unforgettable moments & meet yogis from around the world at this life-altering event. Give yourself the treat of serenity & peace. Give yourself some love—your time is now.

Can't wait to dance on the beach with you in Rockport this October!
---
NOTE: The total $ on this page is a $200 NON-refundable deposit by Oct. 1, 2016 to reserve your retreat package. You can then pay the total amount in increments leading up to October 2016.
Last payment should be received 2 weeks prior to event.