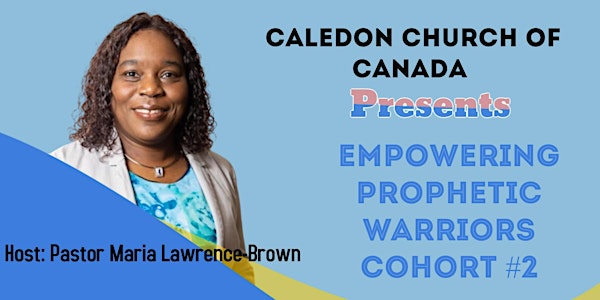 Copy of Empowering Prophetic Warriors
Join Pastor Maria Lawrence - Brown on Empowering Prophetic Warriors
About this event
In the E-course Empowering Prophetic Warriors Pastor Maria Lawrence - Brown guides you to hear from God, grow in faith, and shake off any dormancy.
Through ten weeks of biblical teaching, testimonies, practical tips, and practice sessions, you'll discover how to use prophecy to attack the works of darkness, release liberty, and bring supernatural solutions as your awareness of the spirit realm increases.
Get challenged to take bold leaps of faith and rise courageously as a prophetic warrior who God can use mightily. Learn to discern God's voice and know Him with your mind, heart, and senses.
Through ten weeks of transformative teaching, you will:
- Gain practical keys to practice hearing and expressing God's words.
- Get challenged to build a lifestyle of prophecy in constant awareness of the spiritual realm.
- Learn about the diverse and rich ways God communicates to His children.
- Get equipped to use your prophetic words as weapons to break down works of darkness.
- Step into a deeper revelation of your identity as God's image-bearer who has all power and authority in Christ.
- Be stretched to train your senses to know what God is saying, feeling, and doing in every moment.
Who this course is for: Anyone who is interested in growing in the prophetic and learning to hear, understand and articulate the voice of God.
This online class will meet for ten weeks on Thursday evening from 7:00 - 9:00pm EST from September 15 - November 17, 2022.
Cost is $35.00 CAD or USD per session, for other currencies please email caledoncoc@gmail.com or WhatsApp 647-891-9400.
Upon registration, you will receive an email confirmation from Caledon Church of Canada, and you will receive your Electronic Course Material. You will also receive a new ZOOM LINK each week for class.
******SPACE IS LIMITED******