Copy of I Love Us 2019

Wednesday, October 31, 2018 at 6:30 PM

-

Friday, November 2, 2018 at 1:00 PM (EDT)
Event Details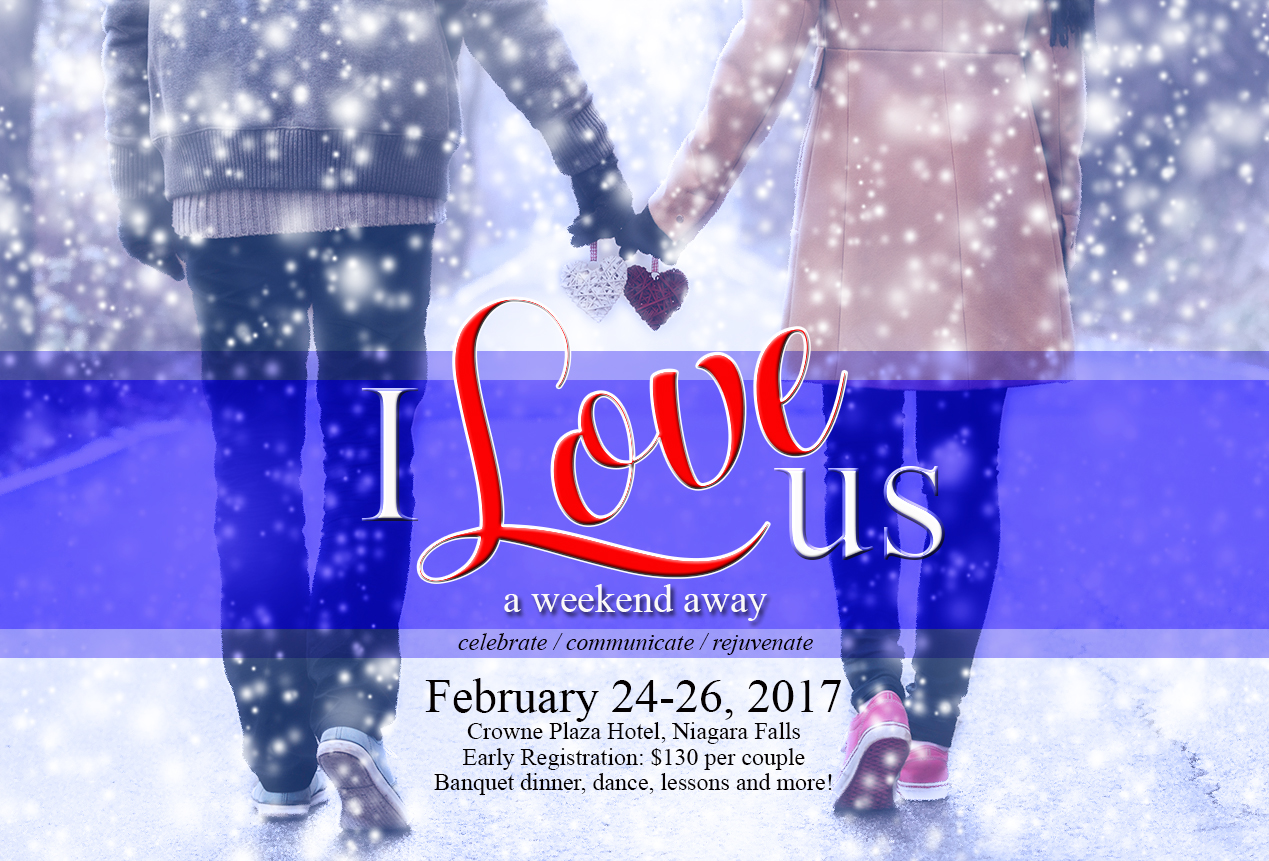 2017 Marriage Retreat hosted by The Toronto Church
"I Love Us" ~ Celebrate, Communicate, Rejuvenate 
An epic love story is a long conversation that begins with a friendship, is sealed at marriage and grows through the years. Communication is the glue that holds such love in place. Sadly, not everyone is skilled at it. Basic differences in the ways that men and women are wired are more often resented than celebrated and potential dysfunction can develop.  But it doesn't have to be that way for you and your spouse.
Guest speakers Dave & Kathy Eastman, have enjoyed their own love story for over 30 years and have conducted many marriage retreats. In addition to their experience as ministers, Kathy is a licensed social worker and professional counselor. This "Communication Workshop" will be very practical, utilizing tools developed by professional counselors and examined through a Biblical filter.
We hope that you will take the time out to join us for celebration, communication and rejuvenation in the most important human relationship in your life.
Date: February 24 - 26, 2017
Location: Crowne Plaza Hotel, Niagara Falls, Ontario
Retreat Registration:
Registration includes relevant classes & training, a banquet dinner, dancing and more!
Ticket per couple are as follows:
Early Bird Registration: $130.00 (Dec. 10 - 31)
Regular Registration: $160.00 (Jan. 1 - 31)
Late Registration: $175.00 (Feb.1 - 17)
 Limited but discounted rooms are available at the Crowne Plaza Hotel for $110.00 (Cityview) & $125.00 (Fallsview) per night plus applicable taxes until January 23, 2017. 
We have secured additional discounted rooms at the adjoining Sheraton Hotel for $129 (partial Fallsview) per night plus applicable taxes.
After the cut-off date or when discounted rooms are sold out, additional rooms may be available BUT subject to prevailing rates. 
To book your room, click here or call: 1-800-519-9911 and request the special convention rate for Toronto Church.

Itinerary:
Friday, February 24
6:30pm - 8:30pm  Retreat Registration (Crowne Plaza Hotel Lobby)
8:30pm – Choose a session: Option 1 – I Love Honesty or Option 2  – I Love Intimacy
Saturday, February 25
9:30am - 10:15am Retreat Registration (Crowne Plaza Hotel Lobby)
10:30am - I Love Communication pt. 1
12:30pm - Lunch 
3:00pm -  I Love Communication pt. 2
4:30pm - Break
6:30pm - Banquet Dinner
8:00pm - Dance 
Sunday, February 26
11:00am - Worship Service
12:30pm - Dismissal
FAQ's
Can I cancel my registration? No. In the unlikely event that you are unable to attend, we encourage registrants to tranfer/sell ticket or consider donating ticket to someone else. Please contact us to make any changes to ensure all attendees are properly registered. 

 
Can I book a discounted hotel room online? Yes. click here Or you can also call 1-800-519-9911

Can I stay in hotel the evening before the Retreat at the discounted

price? Yes. Enjoy a leisurely stay before the retreat begins!

Can a falls view room be guaranteed? Yes. Confirm at time of booking

with the hotel. Be aware that room rates will increase.

Can I choose to stay at other accommodations? Yes.

Do I need to pay the full registration if I cannot attend both days? Yes.

Will there be childcare provided? No. 

Is parking available? Yes. The cost of parking at the hotel is $20/day.

Can I get a late check out on Sunday? Standard check out is at 11:00am.

Late check out may be made at hotel's discretion.

Other hotel inquires click here
      **No Kingdom Kids program available Sunday morning. 
When & Where

Crowne Plaza Niagara Falls - Fallsview Hotel
5685 Falls Avenue
Niagara Falls, ON L2E 6W7
Canada

Wednesday, October 31, 2018 at 6:30 PM

-

Friday, November 2, 2018 at 1:00 PM (EDT)
Add to my calendar