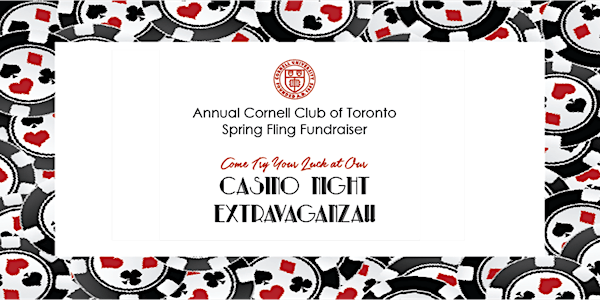 Cornell Club of Toronto Spring Fling Fundraiser: Casino Night
When and where
Location
The Albany Club 91 King Street East Toronto, ON M5C 1G3 Canada
Refund Policy
Contact the organizer to request a refund.
Description
2nd Annual Spring Fling Fundraiser: Casino Night Extravaganza
Big update (4/24): We are thrilled to announce special guest Laura Michele Fortino, Olympic Gold Medalist, a member of Team Canada's National Women' s Hockey Team, and fellow Cornell alum. Laura is very involved in the local and global community and is a true example of "playing it forward." Laura is excited to speak about her experiences on and off the ice and we welcome her to the Cornell Club of Toronto family! Laura's full bio is below.

---
Big update! Quantum Automotive Group's generous sponsorship allows the Club to decrease ticket price to $55 (originally $65) and double the included casino voucher to $20! Casino vouchers are your currency for the night, playing the tables and bidding on the exciting auction items.
New graduate tickets are now $35 (originally $45) and include a $10 voucher. And of course, guests who have purchased the Early Bird tickets will also receive a $20 voucher! Ticket purchases directly fund the evening and the scholarship - enter code "BIGTHANKS" for the additional discount.

---
You are invited to the Spring Fling Fundraiser to enjoy an evening of casino games, auction of exciting prizes, Cornell trivia contests and great conversation with old and new friends. Non-Cornell alumni are very welcome, and have extended the invitation to our friends across the Ivy-league network in Toronto. We encourage you to invite your friends and family to RSVP as well!

Proceeds from this event plus your donations will fund the second Cornell Club of Toronto's US$1000 Scholarship. Your contribution to this evening will make a difference in a Cornell Canadian student's life.

The evening's exciting auction items include:
Mercedes-Benz Burlington Driving Academy road course for two ($800 value)

One week stay on lovely Lake Tahoe ($1800 value)

Case of 90+ rated California Cabernets ($2400 value)

AGO Family Membership and lunch with an AGO Trustee at Frank's ($225 value)

Kobo Aura e-Reader ($130 value)

Restaurant gift certificates ($300 value)

Soul Cycle classes, professional makeup lessons, and much more!



Regular tickets includes a $20 voucher and new grad tickets include a $10 voucher to play your luck at the casino and use towards auction bidding tickets. Professional casino dealers will be set up and delicious hors d'oeuvres and desserts will be serve.
Proceeds from the cash bar, casino and auction go towards the scholarship. You can pre-purchase drink tickets and chips with your ticket and buy bidding tickets in cash or with your casino and trivia winnings.
The exclusive Albany Club has limited capcity, and with so many GTA alumni (over 1200), tickets will sell fast so buy yours now. To learn more about our scholarship fund and to donate, CLICK HERE.
We are grateful for our sponsor Quantum Automotive Group for their generosity in making this evening a success!


We look forward to an evening of fun together with everyone.
Laura Michele Fortino is a member of Team Canada's National Women' s Hockey Team. She has been a member at the National level since she was 16 but has been involved in the hockey world at the prime age of 3. As the third child of four and the only girl she attributes her development in this sport to her brothers who gave her the grit and growth mind set to challenge her to be the best she could be.
Laura is a graduate of Bishop Tonnos where as a student athlete she excelled academically and in various sports. She played basketball, field hockey, ice hockey and soccer. She was as equally committed to soccer as to ice hockey. She played both these sports at a high level. In fact, until grade 10 Laura played hockey with the boys' rep league and soccer with the boys league until she reached high school. After high school Laura selected to attend Cornell University. She was provided with many excellent choices but chose a University that was like home in that it was a smaller campus very community based and offered a faith based sports networking group. She excelled in her sport of hockey at Cornell and earned many accolades including being named All American all four years. She studied Nutritional Sciences and is looking toward expanding her studies in health care once she is able to dedicate herself to this next milestone in her life.
Throughout her hockey career Laura has earned several medals and how do we not highlight the instrumental role she played on the world ice to assist in the Gold Medal Game in Sochi in 2014.
Laura is very involved in the local and global community. She is a true example of "playing it forward". She was particularly blessed to have been chosen by the "Right to Play" to be the Olympic Ambassador to go to serve in Ghana.
Contact:
Auction contributions: Jeanne Lam, '04 | jyhwang@gmail.com
Registration questions: Gizem Sakalli '14 | gzmsakalli@gmail.com

Save
Save
Save
Save
Save
Save
Save
Save