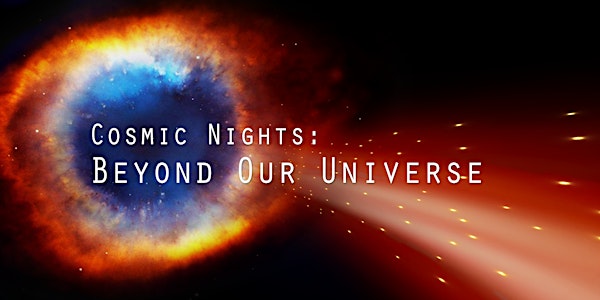 Cosmic Nights: Beyond our Universe
When and where
Location
H.R. MacMillan Space Centre 1100 Chestnut Street Vancouver, BC V6J 3J9 Canada
Refund Policy
Refunds up to 7 days before event
Description
Is there anything beyond the universe? What came before the Big Bang? These are questions that don't have answers, but we have theories! This installment of Cosmic Nights we delve into theories of the Multiverse!
Cosmic Nights is a themed party featuring a custom planetarium show, music, drinks, science demonstrations, games, and a special guest lecturer – all surrounding an exciting theme. Experience the Space Centre after hours in a 19+ environment!
Cosmic Nights returns on Thursday, January 25 with Cosmic Nights: Beyond our Universe. Jump into multiple universes, the big bang, and other ideas that are bending our cosmic minds. Select your preferred Planetarium show time and then come early or stay late to experience all this event has to offer!
6:30pm - 10:00pm - Drinks | Music | Games | Demonstrations I Lecture I Planetarium
7:30 or 9:00pm - Planetarium Star Theatre show: Cosmology Questions
How did it all begin? What is the Big Bang Theory and what does this theory suggest about an end to our universe? Are there universes in addition to the one we live in? How do scientists even attempt to answer these mind-blowing questions? We'll talk about some of the biggest questions about the universe and leave you with even more explore.
8pm and 9pm – "The Multiverse" lecture by Dr. Douglas Scott
Can there be more than one universe? Why is the Universe that we live in the way that it is? Does our existence imply that the universe has to have certain properties? Can we imagine universes that are quite different? What does the word "multiverse" even mean? These and other questions will be tackled in this special talk (and others quite like it, all across the multiverse!).
Bio: Douglas Scott is a Professor of Physics & Astronomy at the University of British Columbia, who was trained in Edinburgh, Cambridge and Berkeley. He specialises in cosmology- the study of the universe on the largest scales and has co-authored more than 500 papers on a wide range of both concrete and speculative astrophysical topics.
7pm-9pm - Groundstation Canada Theatre - Cocktail Crash Course: String Theory and Quantum Gravity
A fun, interactive science demo on string theory and quantum gravity – enough fun facts to impress at a cocktail party. Trivia prizes are also up for grabs!
TICKETS: $20 early bird tickets until January 11th, $25 after.
Tickets available online through Eventbrite. Or, save the service fee by purchasing in person at the Space Centre or by calling 604.738.7827 ext. 240.
Beer from Red Truck Beer Company, wine frrom Hester Creek Estate Winery. Games by Starlit Citadel.
19+ event. All attendees will be required to provide photo ID upon entry.
#cosmicnights