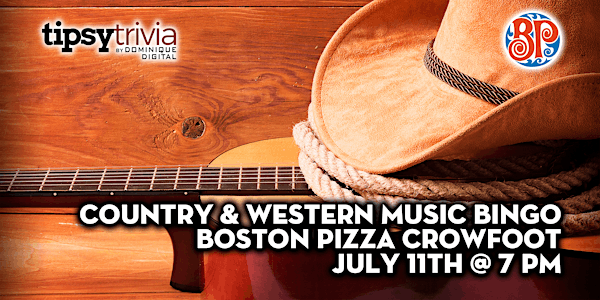 Country & Western Music Bingo - July 11th 7:00pm - Boston Pizza Crowfoot
Location
Boston Pizza
140 Crowfoot Crescent Northwest
Calgary, AB T3G 2W1
Canada
Calling all Country & Western Music Fans! This is the event you DON'T want to miss!!
About this event
Tipsy Trivia is so excited to bring Country Music Bingo to Boston Pizza Crowfoot with a chance to win $1000 CASH!!
THIS EVENT IS FREE TO JOIN!!
Join us for an awesome night of Country music including Kenny Rogers, Carrie Underwood, Taylor Swift, Florida Georgia Line, Darius Rucker, Shania Twain, Sam Hunt and Rascal Flats!!
How it works: 
Music Bingo is a fun filled and fast paced take on traditional bingo! Players are given a bingo card(s) where traditional bingo numbers have been replaced with song names, music titles or both! Your host DJ plays 45-60-second clips of music and you mark off spots on your bingo card. We'll be handing out hundreds of dollars in prizes, and door prizes throughout the night! 
Tickets:
Tickets are FREE of charge, and that get's you a booklet of bingo cards for the entire game. If you would like to purchase extra cards, they will be available on the event night!
If you have any questions, please take a look at our FAQ on Eventbrite or feel free to shoot us a message. 
Tipsy Trivia Event FAQ
Q: Can I bring my own dabber?
Sure, We will have some and other ways to mark your cards also. 
Q: Can I bring outside Food/Drinks? 
A: No. Bars and Restaurants prohibit outside food and drinks.
Q: Can minors come to the trivia/music bingo?
A: While Tipsy Trivia doesn't exclude minors, most venues licenses do. Please contact the venue about allowing minors. Standard entry rules and requirements of valid ID apply.
Q: I was unhappy with the service at the Bar/Pub where trivia was held. 
A: If there were problems with the quality of food or service, we would like to know as it is part of the overall experience for our events. While we will pass the information along to the venue, you must personally contact the venue if you would like any compensation. If venues are unable to accommodate the volume of our events, we will find venues better suited.
Q: I was unhappy with the host during trivia/music bingo, who do I talk to?
A: If you were unhappy with the host, please bring it to our attention by contacting hello@tipsytrivia.ca we take these matters very seriously.