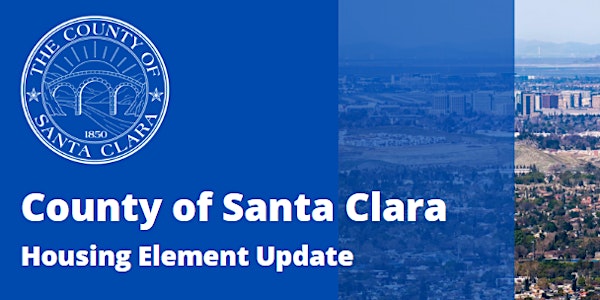 County of Santa Clara Housing Element Update: Rural Community Workshop
Join us and share your input at the County of Santa Clara's Housing Element Update Community Workshop on July 19th.
About this event
The County of Santa Clara is hosting a Community Workshop for the Housing Element Update on July 19, 2022 at 6:00pm. This first Community Workshop will focus on issues affecting rural communities in Unincorporated Santa Clara County.
We want to hear from you! Join us for a virtual session to learn more about the project, the project timeline and housing development targets to be achieved within the eight-year implementation cycle. Most of the meeting will be dedicated to discussion to solicit your input on housing-related opportunities and challenges in rural and unincorporated areas of the County.
The Housing Element Update is a community-driven process; we need your local expertise! Community input will be reviewed by the County Project Team and incorporated into the development of housing policy.
Visit the project website for more information – here.
On July 19 , join the meeting using the Zoom Link or by phone at +1 669 900 6833 .