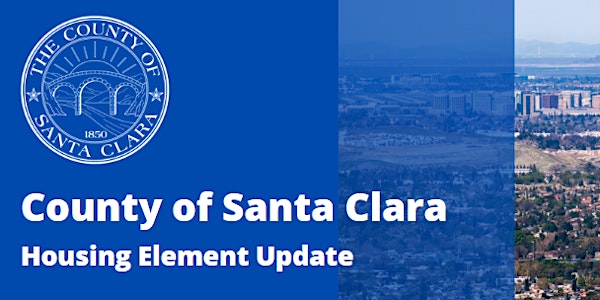 County of Santa Clara Housing Element Update: Urban Community Workshop
Join the County of Santa Clara for a Community Workshop and share your input for the Housing Element Update.
About this event
The County of Santa Clara is hosting a Community Workshop for the Housing Element Update on July 21, 2022 at 6:00pm. This first Community Workshop will focus on issues affecting urban communities in Unincorporated Santa Clara County.
We want to hear from you! Join us for a virtual session to learn more about the project, the project timeline and housing development targets to be achieved within the eight-year implementation cycle. Most of the meeting will be dedicated to discussion to solicit your input on housing-related opportunities and challenges in urban areas of the County.
The Housing Element Update is a community-driven process; we need your local expertise! Community input will be reviewed by the County Project Team and incorporated into the development of housing policy.
Visit the project website for more information – here.
On July 21, join the meeting using the Zoom Link or by phone at +1 669 219 2599.