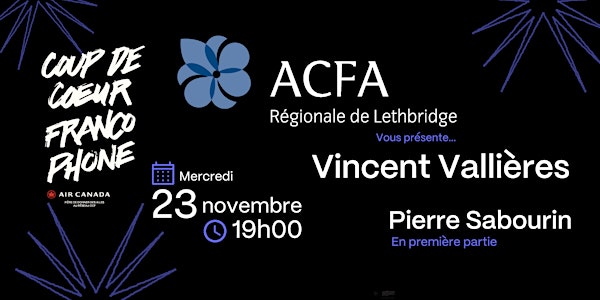 Coup de Coeur Francophone 2022 : Vincent Vallières
Spectacle Coup de Coeur Franco 2022 : VINCENT VALLIÈRES (En solo) Toute beauté n'est pas perdue Mercredi 23 novembre 2022 à 19h00
When and where
Location
La Cité des Prairies de Lethbridge 2104 6 Avenue South Lethbridge, AB T1J 1C1 Canada
Refund Policy
Contact the organizer to request a refund.
Eventbrite's fee is nonrefundable.
About this event
Fondé à Montréal en 1987, Coup de cœur francophone est un festival dédié à la découverte et à la circulation de la chanson dans ses multiples expressions. Présenté chaque année en novembre à Montréal ainsi que dans près de 45 villes canadiennes, il réunit des artistes de la scène nationale et internationale s'inscrivant dans une programmation principalement axée sur l'émergence, l'audace et la création.
Cette année, l'ACFA Lethbridge est heureuse de vous présenter Vincent Vallières, le Mercredi 23 novembre 2022 à 19h00. Les portes ouvriront dès 18h30.
Laissez-vous porter par Vincent Vallières qui sera seul sur scène, tout près, dans votre oreille, avec les chansons qui font partie de votre histoire. Le concert, mis en scène par Martin Léon, laissera la place à la parole et à l'échange. Un spectacle à l'image de cet incontournable de la chanson québécoise: rassembleur, vivant et authentique. Avec ses vingt années de carrière, ses sept albums marquants et ses trois Félix – dont celui d'Interprète de l'année – Vincent Vallières puise dans son imposant répertoire pour vous faire voyager. Et il n'hésite pas à vous faire découvrir des nouvelles pièces de son album à paraître en 2021.
Vincent Vallières a commencé sa carrière en 1996. Son premier album, Trente arpents, est sorti en 1999; a suivi Bordel Ambiant en 2001. Vincent Vallières est devenu populaire en 2003 avec son troisième album, Chacun dans son espace!
Au printemps 2017, trois ans après la parution de Fabriquer l'aube, album certifié or, Vincent Vallières lance son septième album : Le temps des vivants1. Cet album est celui du deuxième souffle, dira-t-il. Il marque le début d'un chapitre neuf, né d'un désir d'explorer certaines sonorités et avenues moins arpentées, tout en y conservant l'authenticité de la force d'évocation du chanteur.
Avec 21 nominations en carrière au Gala de l'ADISQ et trois prix Félix, dont celui d'Interprète masculin, Vincent Vallières est assurément un incontournable du paysage musical québécois. L'album Le monde tourne fort, sur lequel figure le désormais classique On va s'aimer encore, s'est écoulé à plus de 120 000 exemplaires.