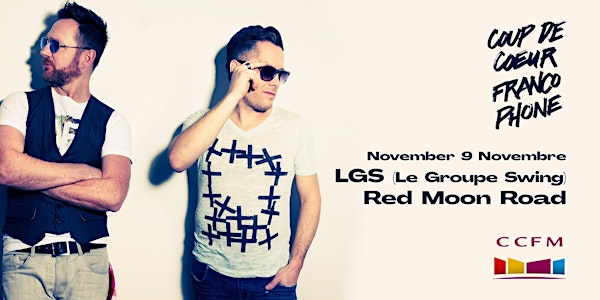 Coup de coeur francophone au CCFM: LGS + Red Moon Road
COUP DE COEUR FRANCOPHONE AU CCFM: LGS (Le Groupe Swing) + Red Moon Road November 9 Novembre 20 h / 8 pm Salle Jean-Paul-Aubry Hall
When and where
Location
Centre Culturel Franco-Manitobain 340 Provencher Boulevard Winnipeg, MB R2H 0G7 Canada
Refund Policy
Contact the organizer to request a refund.
Eventbrite's fee is nonrefundable.
About this event
COUP DE COEUR FRANCOPHONE AU CCFM
Samedi 9 Novembre / Saturday, November 9
20 h (portes à 19 h) / 8:00 pm (doors at 7:00 pm)
Salle Jean-Paul-Aubry hall
--
LGS (LE GROUPE SWING) (ON) - néotrad, poprock
LGS (Le Groupe Swing) est une formation musicale franco-ontarienne, crée en 1999 par Michel Bénac. Rejoint en 2002 par Jean-Philippe Goulet, le groupe se retrouve propulsé au premier plan avec le succès inattendu de l'album La chanson sacrée, comprenant les titres « Un bon matin » et « Ça va brasser ».
Reconnus partout au Canada comme « les arnaqueurs de la musique traditionnelle », LGS est un groupe unique qui transforme la chanson folklorique canadienne-française en y ajoutant des saveurs de musique pop Américaine.
En près de 20 ans de carrière, le groupe a remporté 13 prix Trille Or, incluant « Groupe de l'année » (2005, 2007, 2009 et 2011) et « Meilleure performance » (2001, 2005 et 2007).
LGS a lancé un album en Europe et aux États-Unis en octobre 2016 afin d'y implanter sa folie et son énergie communicatives, qui transforment irrémédiablement chaque concert en expérience unique, et son goût immodéré pour les chansons qui font du bien!
/
The franco-ontarian band LGS (Le Groupe Swing) will give an exclusive performance in Jean-Paul-Aubry hall on November 9. This high energy group & their crazy antics have been making francophones of all the ages dance since 1999!
--
RED MOON ROAD (MB) - folk, roots
On n'imaginerait pas qu'un trio puisse produire un son aussi puissant. Les spectacles de Red Moon Road impressionnent, par leurs des harmonies impeccables, leur kit de batterie roots divisé entre deux membres du groupe, et leur guitare acoustique qui se transforme parfois en basse. Simultanément, un homme moustachu joue de la mandoline, du lap steel, du banjo et de l'orgue, tandis que la sublime voix soul de Sheena, l'une des chanteuses les plus talentueuses du Canada, plane au-dessus de tout cela.
/
Red Moon Road makes a much bigger sound than one would expect from a trio. It's an impressive, well-choreographed show incorporating impeccable three-part harmonies, a roots drum kit split between two band members, and an acoustic guitar franken-rigged to also be the bass. Simultaneously, a moustached man plays mandolin, lap steel, banjo and organ, while the unmistakable soulful voice of Sheena, one of Canada's most talented singers soars above it all.
--
Festival Coup de coeur francophone au CCFM
Du 7 au 9 novembre 2019
Billets et passes 3 jours en vente sur eventbrite.ca et aux bureaux du CCFM, au 340 boul. Provencher.
Plus d'information sur ccfm.mb.ca
/
Coup de coeur francophone festival at the CCFM
November 7-9, 2019
Tickets and 3-days passes available on eventbrite.ca and at the CCFM offices (340 Provencher blvd).
More info on ccfm.mb.ca
--
CCFM - Centre culturel franco-manitobain
340 boul. Provencher blvd
Winnipeg MB R2H 0G7
204-233-8972