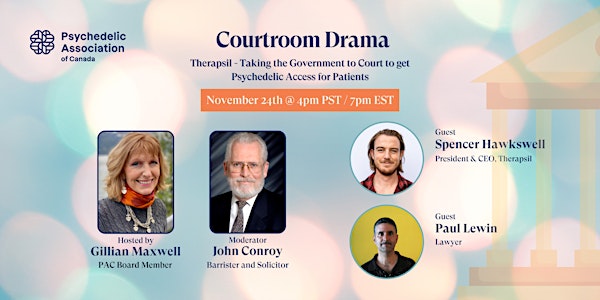 Courtroom Drama: Therapsil - Taking the Gov't to Court for Patient Access
Therapsil, represented by lawyer Paul Lewin, is going to the Supreme Court on behalf of their clients to ensure access to psychedelics.
Refund Policy
Contact the organizer to request a refund.
Eventbrite's fee is nonrefundable.
About this event
In a case reminiscent of David and Goliath, Therapsil, represented by lawyer Paul Lewin, is going to the Supreme Court on behalf of their clients to ensure vital access to psychedelic medicine for end of life patients.
Noted Canadian lawyer Paul Lewin has won many cases challenging drug laws in courts across Canada. His latest action is suing the government of Canada on behalf of Therapsil and its clients, to give end-of-life patients access to psilocybin without having to access this medicine through the many layered red tape of the Canadian government.
Also joining in this important conversation is Therapsil's Spencer Hawkswell and Human Rights Lawyer John Conroy (who also has many victories at the Supreme Court of Canada).  Together they will update us on the progress of the groundbreaking case to get access to psilocybin for all Canadians.
Join us to show your solidarity with making psychedelic medicine a legal right for all in Canada!
Moderator: John Conroy - Barrister and Solicitor
Mr. Conroy is a Barrister and Solicitor who graduated from the University of British Columbia Law School in 1971 and was called to the Bar of British Columbia in 1972. He has his own law firm, Conroy & Company, based in Abbotsford, British Columbia and his practice is primarily as Defence counsel in criminal matters with an additional focus on sentencing and post-sentencing matters which involves an extensive administrative law and constitutional law practice.
From 1975 - 1980 he was the Director of Abbotsford Community Legal Services.
From 1980 - 1990 he was the Director of British Columbia Prison Legal Services.
He was the Chairman of the Committee on Corrections & Institutions of the Canadian Bar Association (B.C. branch) from 1978-1979.
He was a Member and then Chair, CBA National Task Force on Imprisonment and Release from 1985 – 1988. He was the Chairman of the Committee on Imprisonment and Release of the National Criminal Justice Section of the Canadian Bar Association from 1988 to 2001.
He is a Member of the Board of the International Society for the Reform of Criminal Law.
In 1992 Mr. Conroy was awarded the Commemorative Medal for the 125th Anniversary of Canadian Confederation for significant contributions to Canada, Community and fellow Canadians.
In January 1996 Mr. Conroy was appointed Queen's Counsel, now Kings Counsel since the death of the Queen.
In August 2005 he was awarded the Gold medal of the International Society for the Reform of the Criminal Law in recognition of his contribution to the goals of the Society.
In 2012 he received the Queens Diamond Jubilee medal.
He was awarded the 2014 Liberty Award by the British Columbia Civil Liberties Association for Excellence in Legal Advocacy.
In 2015 he received from the Office of the Correctional Investigator for Canada, the Ed McIsaac Human Rights in Corrections Award.
On Drug prohibition and particularly in relation to the Cannabis issue, Mr. Conroy has been involved in numerous cannabis cases since 1972 and incorporated, the National Organization for the Reform of the Marihuana Laws in Canada (NORMLCANADA) in 1977, the BC Compassion Club Society in 1997 and was counsel to numerous well-known members in the cannabis community.
He appeared for Randy Caine at all levels of court, including the Supreme Court of Canada, in *R v. David Malmo–Levine*, and as co-counsel with Kirk Tousaw in *R v. Smith*.
**He was lead counsel in the recent medical Cannabis case, *Allard v Canada* that determined the previous medical marihuana regulations to be unconstitutional and led to the current *Access to Cannabis for Medical Purposes Regulations* (*ACMPR*) and then legalization under the Cannabis Act 2018 including Part 14 of the Cannabis Regulations pertaining to medical use.**
He also appeared as counsel in the Supreme Court of Canada on behalf of the Vancouver Area Network of Drug Users (VANDU) that kept open the Vancouver supervised injection site.
He has appeared on these issues before various Parliamentary and Senate Committees.
Speakers:
Guest 1: Paul Lewin - Lawyer
Paul Lewin is a lawyer in Toronto who has argued drug cases across Canada for 28 years. He practices with Lewin & Sagara LLP: [http://www.lewinsagara.ca](http://www.lewinsagara.ca/) and Cannabis & Psychedelics Law Group LLP [https://www.cannpsylaw.com](https://www.cannpsylaw.com/). His focus concerns litigation and consultation on matters related to cannabis and psychedelics. Paul has advised patients, doctors, medical professionals, businesses, politicians, teachers, lawyers, and the police on cannabis and psychedelic law and policy in Canada. Paul has spoken at numerous cannabis and psychedelic events, has lectured at universities and has been interviewed dozens of times in the media on cannabis and psychedelic law and policy. Paul has litigated the constitutionality of the cannabis regulations in various courts and provinces. Paul was lead counsel on Dr. Bruce Tobin's s. 56 psilocybin application. Paul was on the Board of Directors of the National Organization for the Reform of Marijuana Laws in Canada (NORML Canada) [www.norml.ca](http://www.norml.ca/)  advocating for cannabis reform from 2011 to 2020. He spearheaded advocacy campaigns across the country and lobbied politicians at all levels of government. Paul is currently in Federal Court challenging the constitutionality of the psilocybin medical exemptions in Hartle v. His Majesty the King.
Guest 2: Spencer Hawkswell - President & CEO, Therapsil
Spencer was first introduced to healing psychological trauma with altered states of consciousness and therapeutic psychedelics from reading the work of Terrence McKenna, Rick Strassman, and Carl Jung and believes that these methods need to be treated seriously by governments and institutions. Spencer believes that responsible drug policy requires effective organization and leadership and is dedicated to bringing together the experts and advocates, to facilitate change that results in increased access to compassionate care, harm reduction, and treatment options for those in need. Psilocybin-assisted psychotherapy is a reasonable treatment option for palliative patients in end-of-life distress and is where we need to begin.
Host:
Gillian Maxwell
Based in British Columbia, Canada, Gillian brings her experience in harm reduction and drug policy reform, along with a wide and diverse network of colleagues and associates, who value her knowledge and wisdom. She co-founded the Canadian Drug Policy Coalition (CDPC), served on the board of directors of MAPS Canada for over 10 years, has spoken at conferences nationally and internationally. In 2012, Gillian received Queen Elizabeth II, Diamond Jubilee Medal, for community service in introducing harm reduction to Vancouver and successfully advocating for INSITE, North America's first supervised injection site, that opened there in 2003.