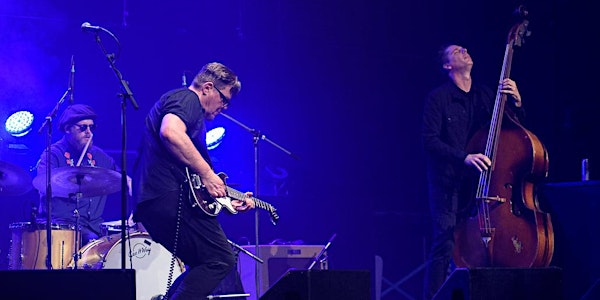 Location
Rickshaw Theatre
254 E. Hastings Street
Vancouver, BC V6A 1P1
Canada
Join Vancouver's Hillbilly rock'n'rollers Cousin Harley live at the Rickshaw Theatre!
About this event
The Rickshaw presents Cousin Harley
With guests
Saturday, September 17th, 2022
The Rickshaw Theatre
19+
Doors: 7:00pm
Cousin Harley
Hailing from Vancouver BC, Canada, Cousin Harley, can explode like an active volcano, swing like the Basie band and holler like A lonesome hillbilly in the back woods of the Appalachia, all in a single show. This trio has been rocking international audiences for 20 years! Not to be trifled with and not to be missed, folks, this is Cousin Harley!!!
Called the "Motorhead of Rockabilly" by a delirious fan after a particularly raucous show in Holland, there's nothing tentative about Cousin Harley's pedal to the metal approach to this stripped down form of rock and roll. As Pigat notes, "Cousin Harley's been my main project for 12 or 13 years now, and people think it's easy to play rockabilly, but nothing could be farther from the truth. Everyone has to be on board from the first note or it just doesn't work." And judging from the people who drove or flew hundreds of miles to attend shows on his last European jaunt, everything's working just fine
Refund Policy
No refunds, unless event is cancelled.
For full listings visit www.rickshawtheatre.com