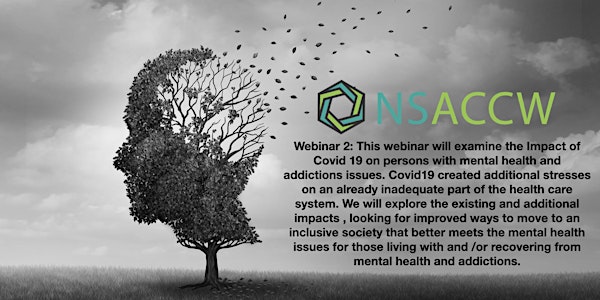 Covid-19 and Mental Health - The impact and the pathway to healing
This webinar will examine the Impact of Covid 19 on persons with mental health and addictions issues.
About this event
Description:
This webinar will examine the Impact of Covid 19 on persons with mental health and addictions issues. Covid19 created additional stresses on an already inadequate part of the health care system. We will explore the existing and additional impacts, looking for improved ways to move to an inclusive society that better meets the mental health issues for those living with and /or recovering from mental health and addictions.
Speakers:
Dr. Nancy Ross
Nancy Ross is an Assistant Professor in the School of Social Work, Dalhousie University. Her previous work as a clinical therapist in Mental Health and Addiction Services motivates her research interests in calling attention to the prevalence and impacts of adverse childhood experiences and gendered violence and in defining better measures of intervention and prevention. She applies a feminist peacebuilding and trauma-informed lens that acknowledges structural and cultural forms of violence are inseparable from direct forms of violence. This analysis moves from a narrow focus on individual responsibility to encompass a wider analysis of the social, cultural, economic, and political origins of violence to ultimately compel community responses. How might justice systems, healthcare responses, mental health and addictions services and educational institutions better respond to trauma to support individuals and families are questions central to her research.
Bev Chadam
Bev Cadham's place of origin was in the Province of Saskatoon, Saskatchewan, however she had the chance to dance her way across Canada and experience the diversity of her country through an ambitious desire to pursue her childhood dream of becoming a classical dancer. She followed this dream until 1986 when she decided to return to the world of academia. She moved across Canada from B.C. to Nova Scotia to attend Dalhousie University where she enrolled in the Bachelor of Recreation Program with a focus on Therapeutic Recreation. She graduated from this program in 1992 and was grateful to enter the workforce immediately with two part time positions. One position was at of her the Beaverbank Nursing Home as a Recreation Coordinator and the other at CMHA Dartmouth Branch as the Social Support Worker for the Among Friends Social Club.
In 1993, Bev was hired full-time as Program Coordinator for the Among Friends Social Club, a position she held for 19 years. In September 2021, Bev celebrated 29 years of employment with CMHA, now the CMHA Halifax-Dartmouth Branch. Her employment positions within the Branch are Branch Co-Manager with her long-time co-worker Marg Murray and the Social Clubs Manager for the Among Friends and Sharing and Caring Social Support Programs.
Nabiha Atallah
Nabiha Atallah has over 25 years' experience in leadership roles at Immigrant Services Association of Nova Scotia (ISANS), a large multi-service immigrant settlement agency in Atlantic Canada. Currently, as Advisor on Strategic Initiatives, she leads ISANS' research strategy and advises on policy development, sector best practices, institutional knowledge integration and government relations strategy. She previously held the roles of Manager of Business Development Services and Manager of Communications and Research.
Nabiha was born in Egypt and immigrated to Canada with her family when she was seven. Prior to moving to Nova Scotia, she taught and developed English as an Additional Language programs for ten years in Vancouver and Winnipeg, as well as in Cairo.
Dr. N. Siritsky.
Originally from Montreal, N recently moved to Nova Scotia after many years working and living in the United States. N has a background in community mental health, palliative and hospice care, community organizing and public health. Most recently, they served as Vice President of a large hospital system in Louisville, Kentucky as well as teaching adjunct social work classes and supervising practicum students. As the Professional Practice and Advocacy Consultant with the Nova Scotia College of Social Workers, N is responsible for membership and community stakeholder engagement. This includes developing, implementing and facilitating professional development and community development activities in solidarity with members and community partners that advocate for social justice.