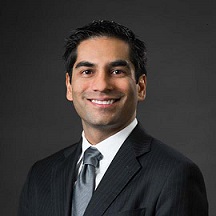 Nizam Shajani, CPA, CA, MBA
Partner, Shajani LLP.
I am a highly skilled Trusted Advisor with a professional background and strong network for business owners looking for intelligent guidance.

I am a Chartered Accountant with a Master of Business Administration in accounting and finance and have completed the CPA In-Depth Tax course. I am currently enrolled in the Trust and Estate Practitioner designation and the LLM in tax law programs. I have been fortunate to work in large and medium sized accounting firms – and am now proud to be a partner at Shajani LLP / Equitus LLP Chartered Professional Accountants and Advisors. This firm allows me to bring forth ambition and ideas that will provide the utmost advantage to my clients.

My experiences have allowed me to gain the skills of analyzing tax laws, financial statements and business processes. I have been involved in many areas of public accounting including audits, reviews and notice to readers for both public and private entities. I have also enjoyed providing consulting and tax planning advisory services that include corporate reorganizations, dispute resolutions and the development and enhancement of business processes.

I gained experience in public company audits while working with one of the big four where I spent most of my articling time. During this time I completed the CA School of Business modules. I then moved on to a mid-sized accounting firm and branched out to tax, reviews and other engagements. It is hear that I found my passion in accounting that I bring to work with me every day as I enjoy the work I do. Taking this to the next level via completion of an MBA from the University of Liverpool, specializing in Accounting and Finance as well as the coveted three year CPA In-Depth Tax Course – the combination of which has allowed me to provide tax & consulting services at an exceptionally preeminent level.

I also believe in giving back to my community. I have been a member of the taxation and finance committee of our local Chamber of Commerce and have taken on the role of a facilitator at the CA School of Business. I now volunteer with various boards in developing programing and delivering financial literacy courses across Canada.
Connect with TEC