Join us for the second in a series of 3 townhalls on COVID-19 in the Black Community. The event will be in English with French translation.
About this event
This second session will focus on the situation at hand, vaccine hesitancy, the vaccine passport, how vaccines work & what scientists have uncovered thus far.
Contact Omar at jamyouthrep@gmail.com for more information.
The event will be recorded and there will be simultaneous translation from English to French.
__
Cette deuxième session se concentrera sur la situation actuelle, l'hésitation à la vaccination, le passeport vaccinal, le fonctionnement des vaccins et ce que les scientifiques ont découvert jusqu'à présent.
Contactez Omar à jamyouthrep@gmail.com pour plus d'informations.
L'événement sera enregistré et il y aura une traduction simultanée de l'anglais vers le français.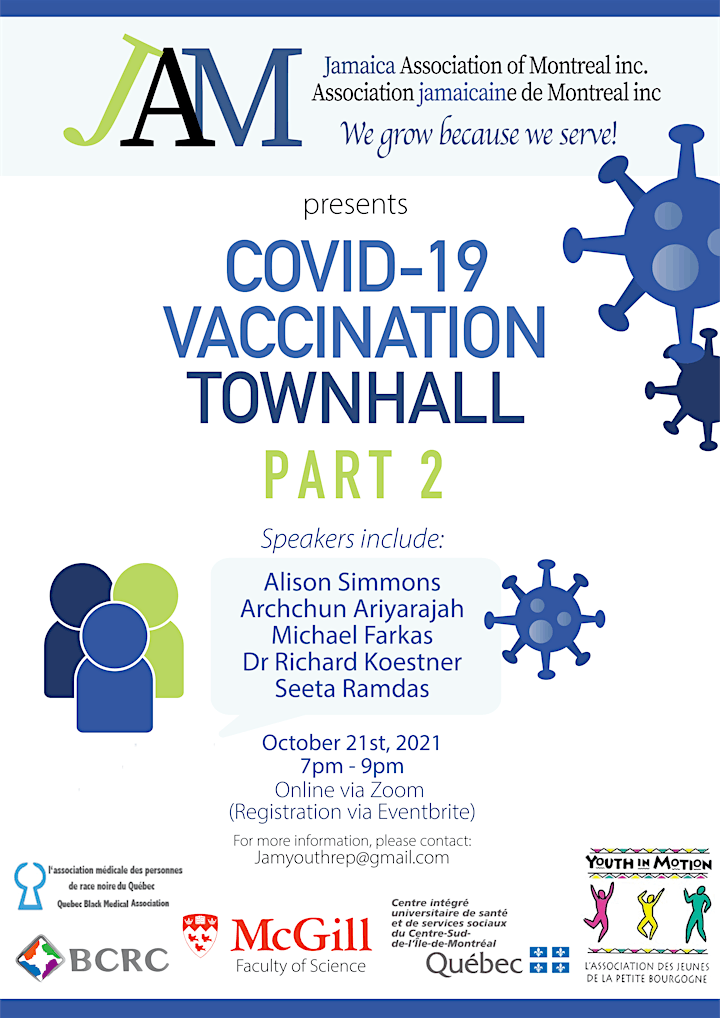 Organizer of COVID-19 Townhall Part 2
The Jamaica Association of Montreal Inc. is committed to the social, political, economic, educational and cultural integration of the Jamaican Community and by extension the Black Community within Montreal, and the Province of Quebec.

The organization is involved in assessing the needs of the community and providing the service through either a referral system or direct access.

We are undertaking short and long term plans to meet the objective of a more community service based organization. Primarily we exist to serve the members of the Jamaican Community in Quebec, working in conjunction with other community organizations and the Government as a whole.