Event Information
Refund Policy
Contact the organizer to request a refund.
Eventbrite's fee is nonrefundable.
Public health experts raise alarm at climate risks to children's health in marginalized communities
About this Event
A Message from eMERGE Guelph:
With regrets, we are postponing Climate, COVID and Health of Kids in Marginalized Communities for this Thursday, November 26...Unfortunately, due to low registration numbers, we made this decision.
Since COVID we've moved all of our programming online. We really want to move on with this event, but have had limited registrations to date. In comparison we had over 100 registrants with some of our recent events. Our goal is to make this health event just as successful. . For this one we've only been able to garner 6 registrations. Could it be that people have 'covid fatigue'? We don't know. ONLY Guessing here!
We will refund you for your order shortly and we are working on rescheduling for the new year and will keep you informed as things progress.
Apologies once again and thank you for your understanding!
eMERGE Team
-------------------------------------
Many children in Canada live with inequities that make them more vulnerable to climate change. Our most marginalized populations are especially susceptible to climate-related physical and mental health impacts such as asthma, heat illness, anxiety and depression. And children from the lowest income neighborhoods in Canada are hospitalized for asthma 1.5 times more than those from the highest income neighborhoods.
Public health experts also know that the risk isn't equal across and within communities.
No child should have to suffer these negative health impacts from climate change and the inequities that put them at even greater risk. Solutions to address this already exist.
The Ontario Public health Association (OPHA) is working with diverse leaders and organizations to bring collective experiences, knowledge, and ideas to tackle the challenge of climate change and inequity. Recognizing that inequities such as poverty and racial discrimination, that put marginalized communities at greater COVID-19 risk, are the same inequities that put them at greater climate risk, the Make It Better campaign is an opportunity to work on solutions to very important public health crises – climate change, health inequity and the COVID-19 pandemic.
_______________________________________________________________________
Join us as we host:
COVID, Climate and Kids' Health
in Marginalized Communities
Thursday , Nov. 26, 2020
7:00 PM - 8:30 PM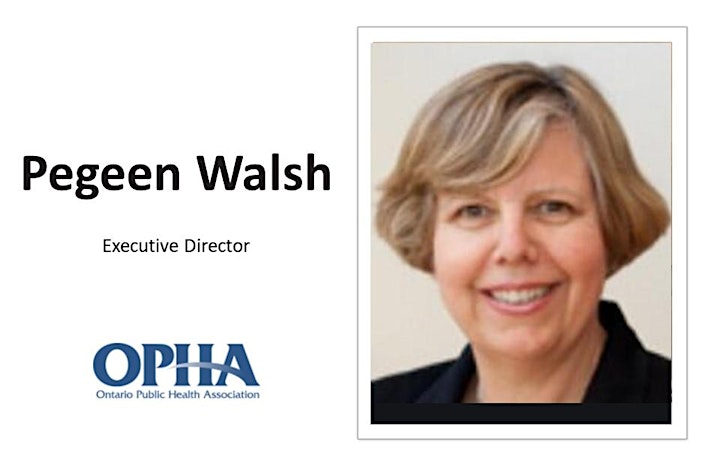 Pegeen Walsh| Executive Director, Ontario Public Health Association
Pegeen is the Executive Director for the Ontario Public Health Association. Her role requires supporting and facilitating advocacy efforts in public health and capacity building and knowledge transfer and exchange initiatives within the province and beyond.
Prior to OPHA, Pegeen has led the design and delivery of a wide range of programs, policies, partnerships, and research that have supported individual and community health and well-being. As Ontario Regional Director with Health Canada, the Public Health Agency of Canada and Director at the Ontario Ministry of Health Promotion, she oversaw various health initiatives ranging from early child development, healthy eating, and tobacco control, healthy communities to injury, alcohol abuse and 2008 OPHS Standards.
As Director of Public Policy at YMCA Canada, she developed government relations training and strategies. Just prior to joining OPHA, Pegeen was a Research Director at the Canadian Council for Public-Private Partnerships responsible implementing research strategy to advance knowledge and best practices. Pegeen is also a Board member at Family Services Toronto, serving as chair of its Governance Committee. She holds a BA degree from University of Waterloo in Political Science.
_____________________________________________________________
This is a pre-registered event. To simplify the process we're asking you to register via Eventbrite so that we can do a better job of keeping track of registered candidates.
There are three ways to register: paid, free or donation.
$5 ($7.14 including all fees) for each event
Free
Donation of your choosing
As you can imagine, the pandemic has brought challenges to eMERGE. If you are able to afford it, we would appreciate you purchasing a ticket for at least $5 - or a donation in an amount of your choosing. (note that we are a not-for-for-profit - , but not a registered charity. As a result we are unable to provide tax receipts).
We also want this event to be accessible to everyone. For this reason we also have a 'Free' ticket for those of you that may not be able to afford the ticket price.
_____________________________________________________________
The sponsors of this event:

_____________________________________________________________
About OPHA
Created in 1949, the Ontario Public Health Association (OPHA) is a non-partisan, non-profit organization that brings together a broad spectrum of groups and individuals concerned about people's health. Members are united by OPHA's mission of providing leadership on issues affecting the public's health and strengthening the impact of people who are active in public and community health throughout Ontario.
This mission is achieved through professional development, information and analysis on issues affecting community and public health, access to multidisciplinary networks, education and awareness activities around healthy public policy, and the provision of expertise and consultation. Through their involvement in OPHA's workgroups, networks and constituent societies, OPHA members have been leading change on a wide range of issues - climate change, air quality, poverty reduction, food security, supporting children and families, tobacco control, diabetes prevention, increased access to oral health care, immunization, healthy eating and nutrition, and designing walkable communities, among others.
_____________________________________________________________

_____________________________________________________________
eMERGE Guelph Sustainability fights climate change to build a healthier society. It does this by engaging, and equipping Guelphites to transition to a 100% renewable energy (100RE) economy. It uses the narrative of achieving 100% Renewable Energy by 2050 as a positive goal to win this battle. This is done primarily by helping people reduce energy and water use through an individual residential focus along with community events, outreach and engagement that promote smart behavior, policy and improved efficiency to help Guelph build a road map to beat climate change and achieve 100% renewable energy by 2050.
Date and Time
Location
Refund Policy
Contact the organizer to request a refund.
Eventbrite's fee is nonrefundable.