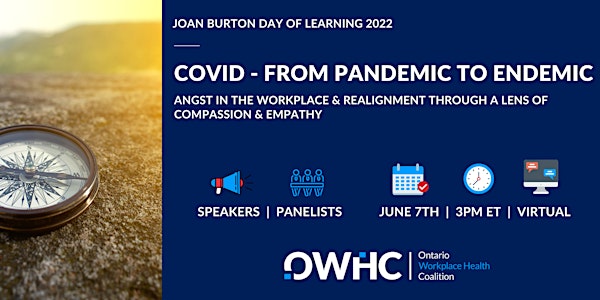 COVID - From Pandemic to Endemic – Annual Joan Burton Day of Learning 2022
COVID - From Pandemic to Endemic – Angst in the Workplace & Realignment Through a Lens of Compassion & Empathy
About this event
As we continue to navigate through the challenges COVID-19 has presented, perception has shifted on viewing this as a more endemic than pandemic state, where we will have to learn to live with the prevalence of COVID-19.
Please join us for our Annual Joan Burton Day of Learning event where we will explore challenges and opportunities for employers and employees as they navigate through emerging issues, such as return to on-site work, reinstating social connection, changing public health covid guidelines, and "mask/vaccine harassment."
We will provide new and emerging data on these issues, and our speakers and panel will discuss the What? Now What? Implications for workers and employers. Attendees will take away actionable next steps for all workplace stakeholders to consider.
Speakers:
Wayne Clancy - Founder and CEO, MindSuiteMetrics,
https://www.mindsuitemetrics.com/wayne-clancy-profile
Luke Mathers - Australian mental health trainer/facilitator,
https://lukemathers.com.au/
https://www.linkedin.com/in/luke-mathers-speaker/
Interactive Panel Discussion – Wayne and Luke will be joined by representatives from both labour and management, such as Audette Dundas, Senior Manager, Environment, Health and Safety (Ontario Power Generation).
Schedule (EST):
3:00pm - Welcome and context
3:10pm - Wayne Clancy
3:40pm - Luke Mathers
4:10pm - Panel (Audette Dundas, Wayne Clancy, Luke Mathers)
4:25pm - Interactive discussion (questions from moderator and audience)
About the OWHC:
The Ontario Workplace Health Coalition (OWHC) is an incorporated, not-for-profit body serving as a unifying structure across the province; helping to facilitate communication among workplace health stakeholders and promoting the importance of using a comprehensive approach to create healthy and safe workplaces in Ontario.
The OWHC's vision is that all Ontario workplaces will recognize that employee mental, physical, and psychosocial health is fundamental to organizational success, and will therefore adopt and implement a comprehensive approach to a safe and healthy workplace as an integral part of their business strategy and operations.
Questions, inquiry, or feedback? Email contact@owhc.ca
Website, Facebook, Twitter, Instagram, YouTube, LinkedIn
The Meaning Behind This Annual Event:
Since Joan's passing in 2014, the OWHC holds this event each year to discuss key workplace issues in workplace health and to commemorate her pioneering work to promote a more comprehensive approach to workplace health.
View our tribute video of Joan shown below.