We are here to create safe space for conversation around loss, grief and hope. To listen and to provide coping strategies for tough times.
About this event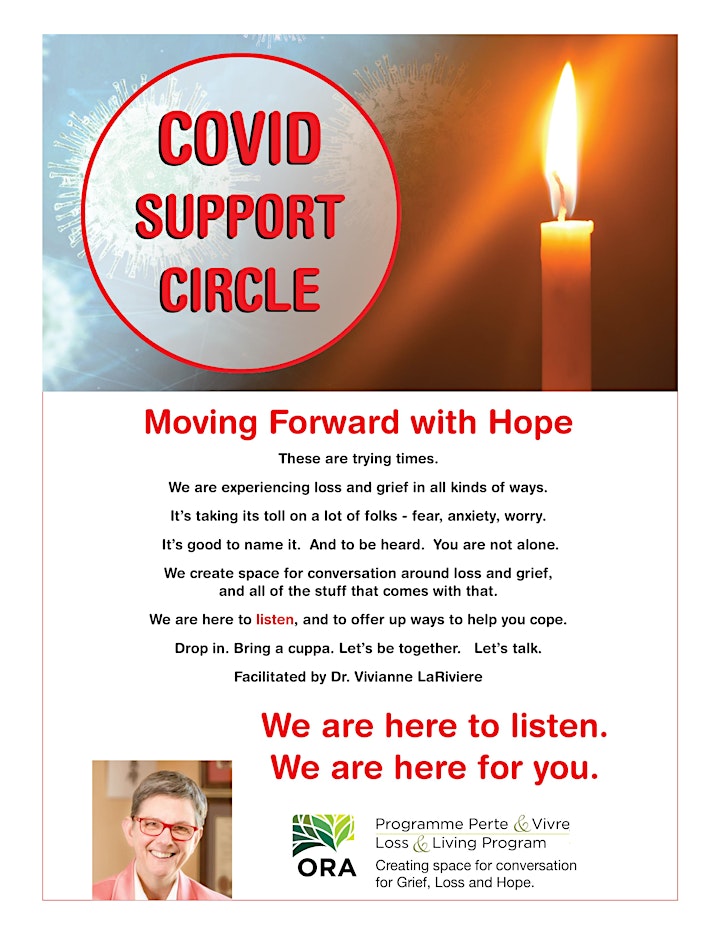 MATERIALS NEEDED: please feel free to bring paper and pen, a journal, bristle board, an art book, scissors, magazines, paint, and brushes, crayons, and any other crafty things you might enjoy. Plasticine is good!
Please note that ORA Loss & Living Program offers a lot of free programs and ongoing support to many. As such, we ask that you consider a donation to help us offset our administrative costs so that we can continue to serve those in need of our services. Your kindness, support and generosity are deeply appreciated. Thank you.
Your facilitator is Dr. Vivianne LaRiviere the program coordinator for the ORA Loss & Living Program. She is a highly creative, imaginative, and empathetic leader who is extremely passionate about community building and engagement. Vivianne interacts with a sense of originality, authenticity, and transparency, using deep listening, art, improvisation and play as her tools of engagement. She believes deeply in the power of story telling, and encourages the telling of our stories as a pathway toward transformation. Vivianne also focuses on how the impact of grief and loss can affect our lives, our relationships and how we interact with the world as a result.
Founder and director of The Art of Soul Care, Dr. LaRiviere provides services as an educator, consultant, a spiritual arts practitioner, retreat director, and a multi-media artist. A Doctor of Practical Theology (Doctor of Ministry) Vivianne also holds a Masters of Pastoral Studies, a Masters of Theological Studies. Additionally, she holds a diploma in Recording Arts Management, and is a Reiki Master. Vivianne honours her Indigenous ancestry, and is a drum maker and carrier.
Vivianne brings decades of experience working with the convergence of art and spirituality, noting the language of symbols and metaphors as an extremely powerful tool that can open the portals toward healing and transformation. Her special skill set helps determine what lays beyond the image on the page, invoking a responsible conversation with your authentic self: your soul.
Disclaimer
ORA Loss & Living Program offers peer support groups and informational workshops. We are not professional grief counsellors. For professional grief counselling please consult a local professional.
We provide a safe space for conversation around loss, grief and hope. By registering you agree to respect the various opinions, and spiritual and religious approaches of the many who visit our zoom rooms.
There is zero tolerance for aggressive statements, hate speech or prejudice. In the case of any such conduct the participant will be removed from the room immediately.
Organizer of COVID SUPPORT CIRCLE
ORA Loss & Living Program is an outreach initiative dedicated to helping individuals and groups move through grief and loss in order to lead full, and fulfilling lives. This includes exploration into ways of creating space for conversations around grief, sharing basic information and reassurance about loss, grief and change in a non-threatening, participative way, with sensitivity to those in challenging situations. 
Note: our policy is that financial hardship should never be an obstacle to participation. If you would like to discuss options about fees for events (sliding scale, sponsorships, etc.), please contact us at info@ora-mtl.org.
We are grateful for assistance provided by The United Church of Canada Foundation, Mission Support Fund, Good Samaritan Fund, Erskine-American & Mountainside Fund, and the generosity of donors and volunteers.
_________________________________
DONATIONS WELCOME!