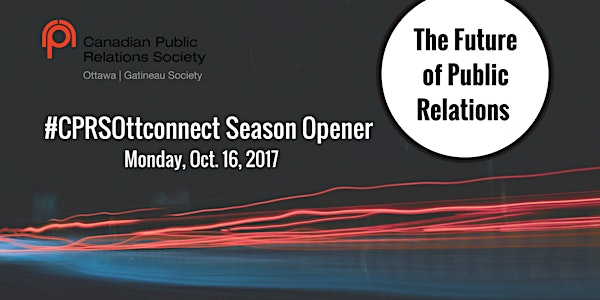 #CPRSOttConnect: The Future of PR
Date and time
Mon, Oct 16, 2017 5:30 PM - 8:30 PM EDT
Location
The Red Lion 47 Clarence St Ottawa, ON K1N 9K1 Canada
Refund Policy
Refunds up to 1 day before event
Description


THE FUTURE OF PR

What does the future hold for Canada's public relations professionals? What challenges are PR practice leaders facing on the job? Join CPRS Ottawa-Gatineau to explore how PR practice is evolving and reinventing itself in a digital and social workplace.


CPRS National has released a new disucssion paper, The Elevation of Public Relations. Written by Dan Tisch, APR, FCPRS, in collaboration with senior public relations professionals from across the country, the paper examines the 'megatrends' prevalent in public relations today. "Public relations is in a period of rapid growth and change, driven by the empowerment of the public through the social web and the rising business value of reputation as an intangible asset," said Daniel Tisch. "In an era of endless content, fake news and a loss of trust, there are both big risks and vast opportunities for professional, ethical public relations."
AGENDA
5:30 – 6:00 p.m. Registration and #CPRSOttConnect networking
6:00 – 6:15 p.m. Welcome and introductions
6:15 – 6:45 p.m. "The Future of PR" presentation by Dan Tisch APR, FCPRS
6:45 – 7:30 p.m. Panel discussion and Q&A
7:30 – 7:45 p.m. Closing remarks
7:45 – 8:30 p.m. #CPRSOttConnect networking
FEATURED SPEAKER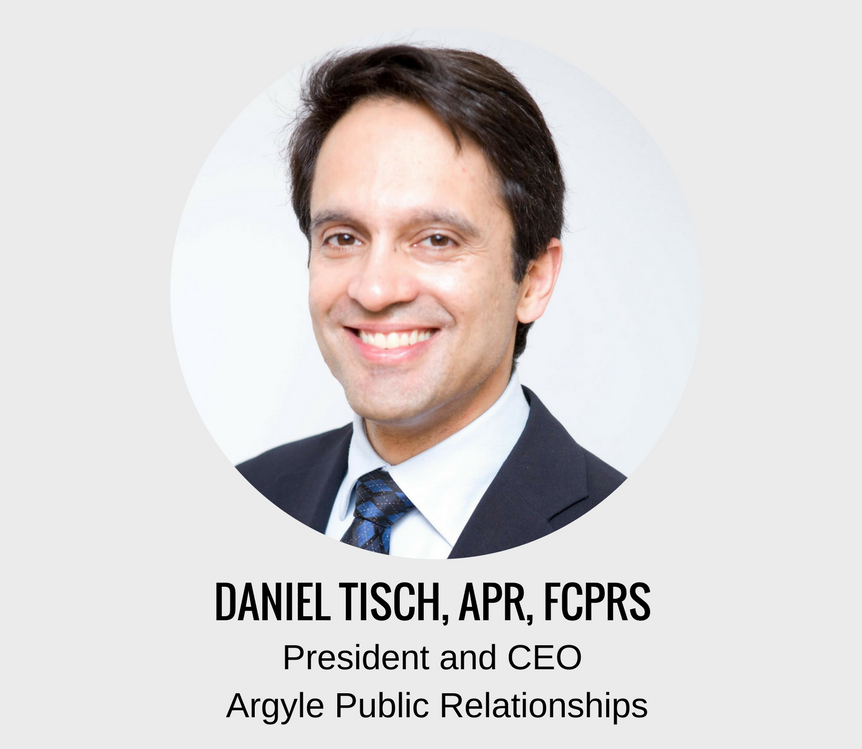 Dan Tisch APR, FCPRS is the President and CEO for Argyle Public Relationships, one of Canada's largest independent PR firms, and a former Chair of the Global Alliance for Public Relations and Communication Management. Tisch worked at senior levels in the Canadian government before embarking on a 20-year consulting career. He has advised CEOs, boards, government leaders and some of the world's biggest brands. Tisch holds an MBA from Queen's University and is Vice-Chair of the University's Board of Trustees. He received the Philip A. Novikoff Award for career achievement from the Canadian Public Relations Society in 2016. Connect with Dan at @DanTisch @ArgylePR.
DISCUSSION MODERATOR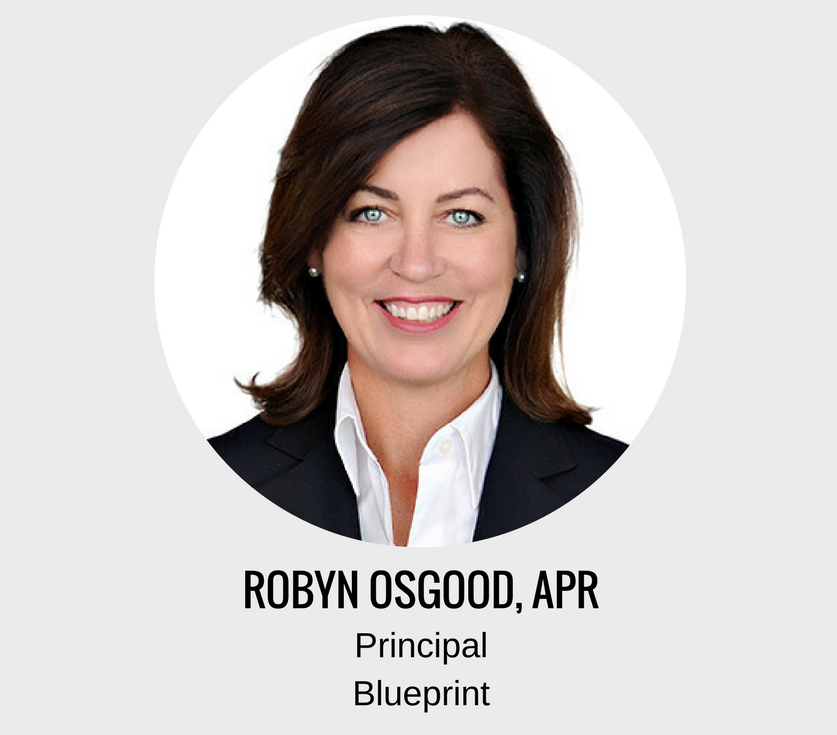 Principal of Blueprint, Robyn Osgood, APR, is a skilled strategic communications planner and consummate project manager. She earns the trust of clients through her ability to manage the sensitivities and diverse interests associated with complex multi-stakeholder engagements. Robyn has undergraduate and graduate degrees in public relations from Mount Saint Vincent University and holds a Diplôme d'Études Françaises from Université de Paul Valéry, Montpellier, France. She is a Boys and Girls Club of Ottawa Board member and a member of the Canadian Public Relations Society. Connect with Robyn at @RobynOsgood.
PANELISTS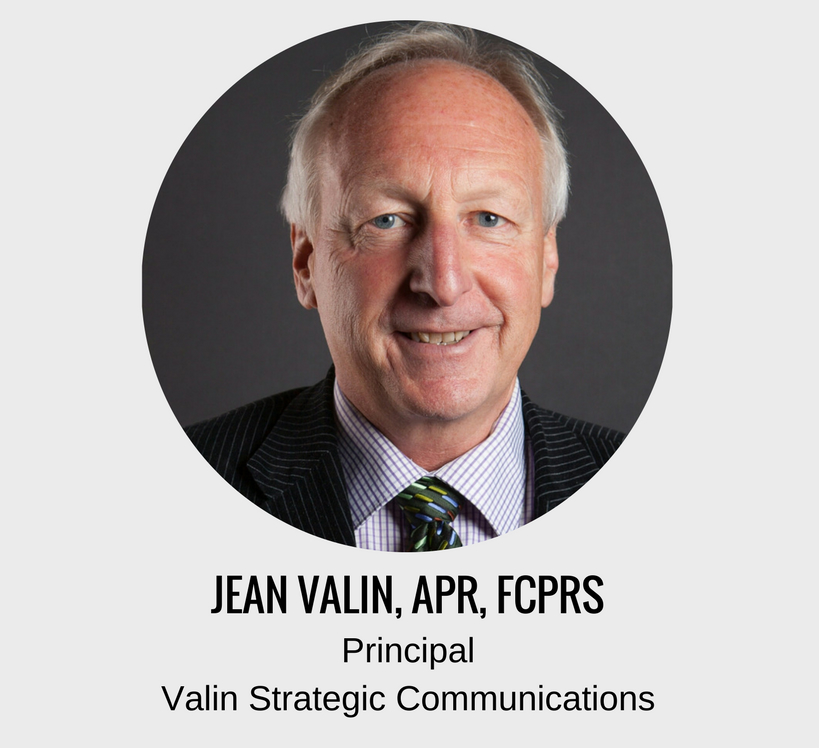 Jean Valin, APR, FCPRS, is co-editor of the two-volume book "Case Studies in Public Relations from Around the World." He is a founding member of the Global Alliance for Public Relations and Communication Management, a confederation organization of more than 70 major PR associations around the world. In 2008, he received the President's Medal from the Chartered Institute of Public Relations in the United Kingdom, and he received the Award of Attainment from the Canadian Public Relations Society in both 2010 and 2013—the latter for his leadership in developing the Melbourne Mandate advocacy platform for PR. He is the 2013 recipient of the David Ferguson Award presented by the Public Relations Society of America (PRSA) to a practitioner who has made an especially significant contribution to the advancement of PR education. Connect with Jean at @JeanValin1.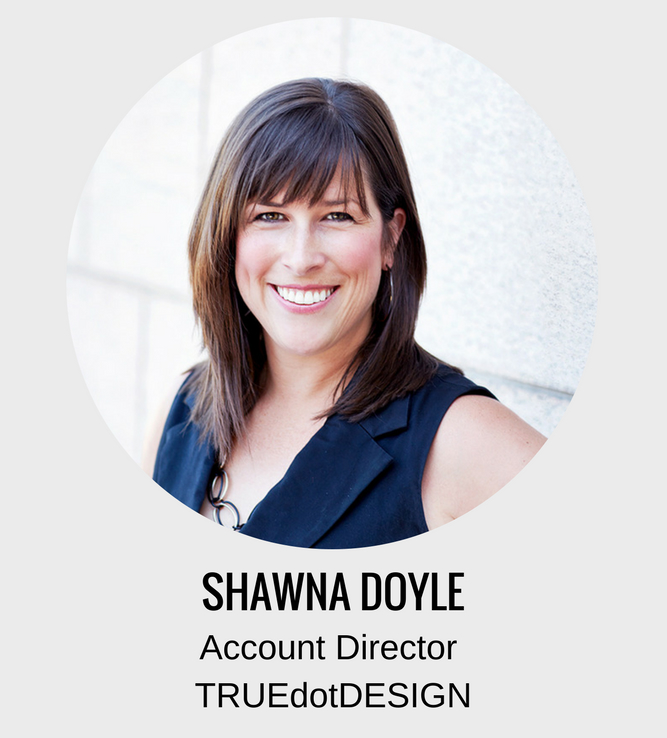 Shawna brings over 10 years of experience as a marketer, public relations, and communications strategist. Whether holding turf at the table in a large global inter-agency "think tank", building out & implementing strategic social media plans, or planning and executing national media tours on all major Canadian networks, Shawna is a connector in the sense that she sees the bigger, cohesive picture when it comes to telling the stories of our clients. "We can no longer work in the traditional silos of marketing communications. The flow between PR, Marketing Communications and Advertising allows us to see the big holistic picture and these blurred lines only make it easier to act in the best interest of our clients." Connect with Shawna at @ShawnaCatherine and @TruedotDesign.

About the organizer
The Canadian Public Relations Society is the largest national association whose members work exclusively in public relations management. Here in the nation's capital, CPRS Ottawa-Gatineau is a dynamic and growing society. 



Connect with 

YOUR

 

PR community!