Description

Looking to Expand your Business
Horizons in Asia Pacific?
You are invited to a full day seminar to learn from experts about how your company can benefit from Canada's Free Trade Agreements: ­­­­­the CPTPP, and the CKFTA!

Innovation PEI, in partnership with Global Affairs Canada and the Atlantic Canada Opportunities Agency, is pleased to invite you `to join some of Canada's international business development experts to learn about commercial opportunities in Asia Pacific from the newly signed Comprehensive and Progressive Agreement for Trans-Pacific Partnership (CPTPP), and the Canada-Korea Free Trade Agreement (CKFTA).
SEMINAR DETAILS:
Wednesday, February 27th, 2019
9:00 AM – 4:00 PM
Prince Edward Island Convention Centre
Charlottetown, Prince Edward Island
Lunch and refreshments will be provided.
If you're interested in a one-on-one meeting with one or more of the confirmed presenters please complete the Export Café Meeting Application Form .

Questions about the seminar may be directed to Alicia Birt at albirt@gov.pe.ca.
CONFIRMED PRESENTERS:

WHY PARTICIPATE?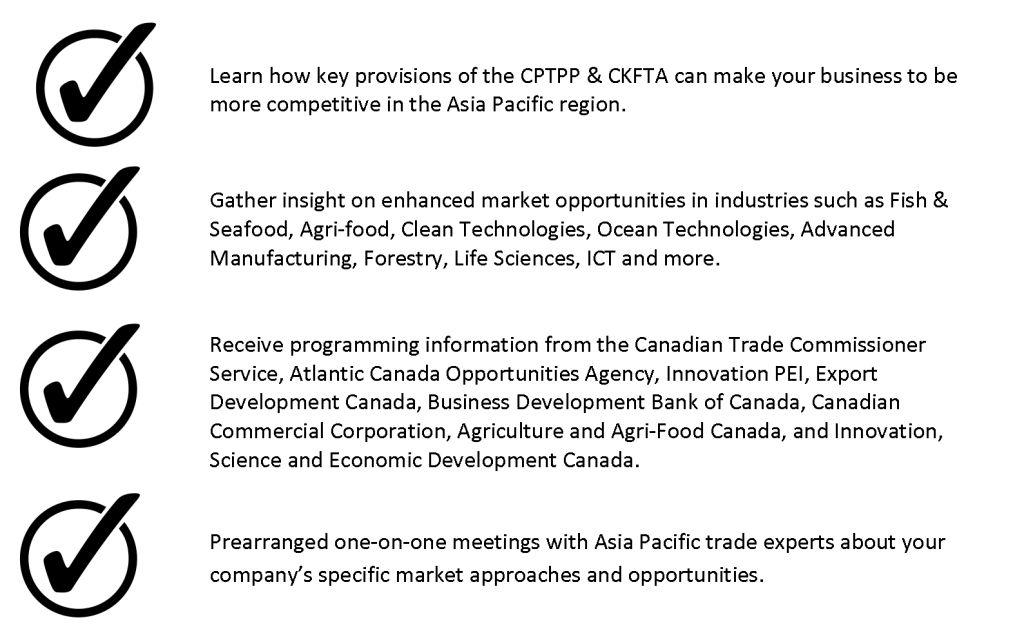 The Atlantic Trade and Investment Growth Strategy is a collaborative, pan-Atlantic approach which aims to help Atlantic businesses begin exporting, increase their export sales, expand to new markets, and create global partnerships. The Strategy was developed jointly by the governments of Canada, Nova Scotia, New Brunswick, Prince Edward Island, and Newfoundland and Labrador.

---
Vous cherchez à élargir vos perspectives commerciales en Asie-Pacifique?
Vous êtes invités à un colloque d'une journée où des experts vous indiqueront comment votre entreprise peut tirer profit des accords de libre-échange du Canada : le PTPGP et l'ALECC!

Innovation ÎPÉ, en partenariat avec Affaires mondiales Canada et l'Agence de promotion économique du Canada atlantique, est heureux de vous inviter à vous joindre à des experts canadiens en développement des affaires internationales pour en apprendre davantage sur les débouchés commerciaux en Asie-Pacifique grâce à l'Accord de partenariat transpacifique global et progressiste (PTPGP) et l'Accord de libre-échange Canada-Corée (ALECC) nouvellement signés.
DÉTAILS DU SÉMINAIRE:
Le mercredi 27 février 2019
De 9 h 00 à 16 h 00
Centre de conférence à Île-du-Prince-Édouard
Charlottetown, Île du Prince Édouard
Le repas du midi et des rafraîchissements seront offerts
Pour une rencontre individuelle avec un ou plusieurs présentateurs confirmés, veuillez remplir le Formulaire de Demande de Rencontre Export Café.

Les questions à propos du séminaire peuvent être adressées à Alicia Birt à albirt@gov.pe.ca.
PRÉSENTATEURS CONFIRMÉS:

POURQUOI Y PARTICIPER?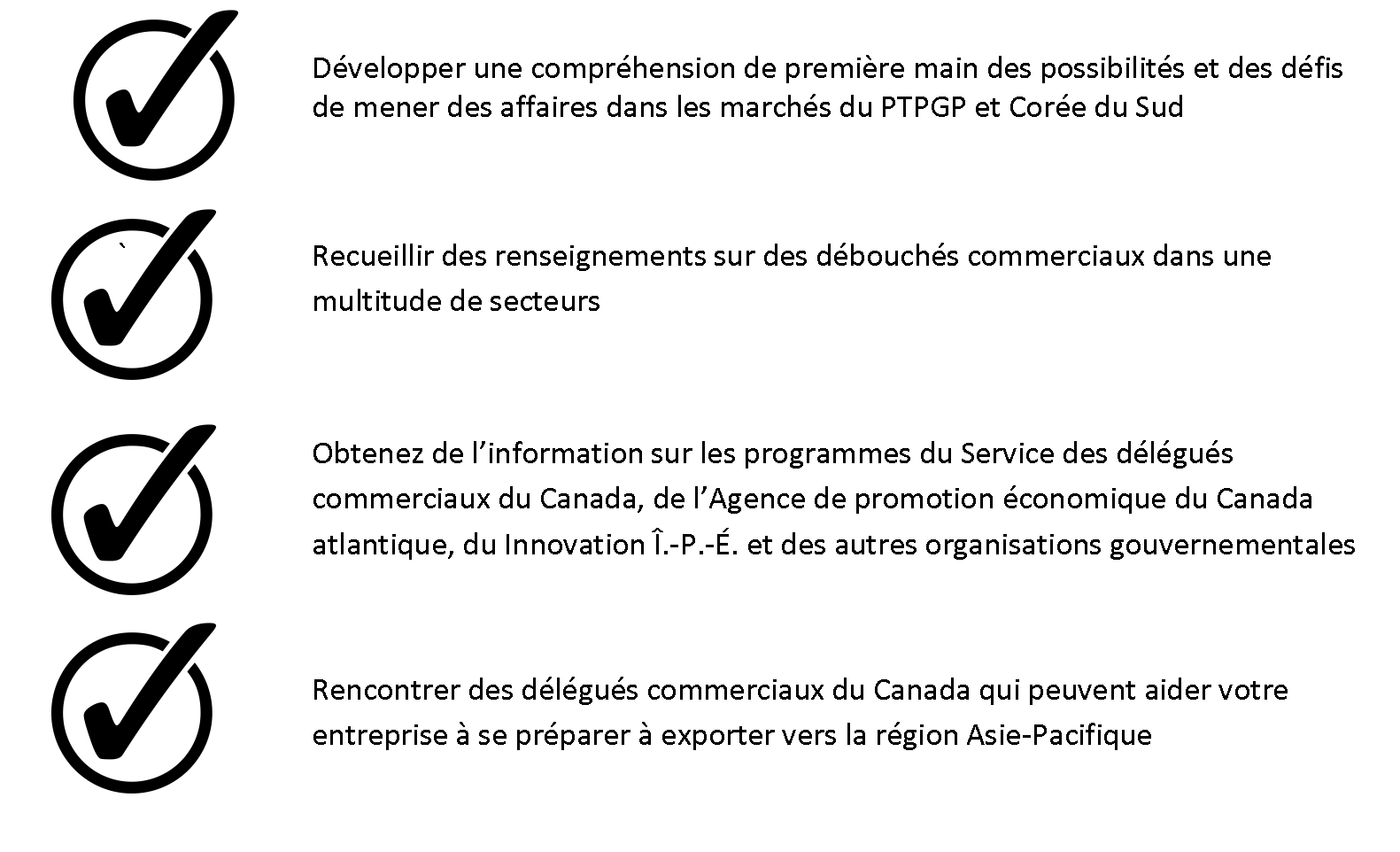 La Stratégie de croissance du commerce et des investissements en Atlantique est une approche de collaboration à l'échelle de l'Atlantique qui vise à aider les entreprises du Canada atlantique à commencer à exporter, à augmenter leurs ventes à l'exportation, à percer de nouveaux marchés et à créer des partenariats mondiaux. Cette stratégie a été mise au point conjointement par les gouvernements du Canada, de la Nouvelle Écosse, du Nouveau Brunswick, de l'Île du Prince Édouard et de Terre Neuve et Labrador.

Organizer of CPTPP & CKFTA Business Seminar - Forum d'affaires sur le PTPGP et l'ALECC?
Innovation PEI is focused on accelerating economic development in Prince Edward Island by investing in people, culture, innovation, and infrastructure.
We are committed to fostering strategic partnerships with industry, academia, and other government agencies to develop a more prosperous and vibrant economy.