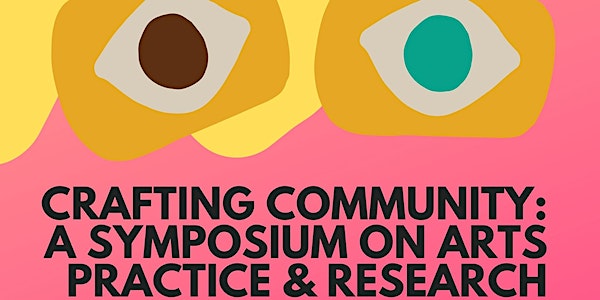 Crafting Community: A Symposium on Arts Practice & Research
A symposium on the intersections of arts practice and research, featuring hands-on workshops and remote panel discussions.
About this event
Crafting Community: A Symposium on Arts Practice & Research, October 19 - 21, 2022
The symposium brings together artists and scholars to explore intersections of arts practice and academia – how they clash and/or converge. Throughout three days, events will feature hands-on workshops, online panel discussions, and a roundtable session on emerging themes.
Crafting Community reimagines how to engage community arts in/with academia to bridge the ongoing gap between community and the university.
The symposium takes a community arts based approach to connect the creative and scholarly work of artists and academics. Through this framework, participants engage with community, research and pedagogy during hands-on interactive workshops and panel discussions.
Crafting Community: A Symposium on Arts Practice & Research is supported by funding from the Social Sciences and Humanities Research Council (SSHRC).
Who is this for?
This is a free two and a half day hybrid event. All students, faculty and community members interested in arts-based approaches to learning, teaching and research are invited to participate.
Some important notes:
We ask that registrants follow a code of care and wear a mask for in-person workshops.
All remote panels, discussions and roundtables on Zoom scheduled for on October 20 and 21 will be closed captioned for attendees. If you require additional accessibility accommodation, please contact Cristina at library.comms@ryerson.ca
Symposium Schedule
* Each day begins at 9:30 to allow for arrival, opening notes and housekeeping.
Day 1: Wednesday, October 19 - HANDS-ON WORKSHOPS
Workshop 1: Indigenous Drum Making with Wahmahtig (Hilton) King | All Day Workshop | 10:00 a.m. - 4:30 p.m.
Drum making is a powerful and connective moment in community. Wahmahtig (Hilton) King, participants will receive instruction on creating their own drums, and will be walked through the process of working with animal hides and wood to create their own drum. Drum making is considered a form of medicine in many Indigenous cultures. Participants will also receive drum teachings and songs that will be taught in Ojibwe and English.
* While this workshop is open to all, priority will be given to Indigenous participants.
** All necessary materials will be provided.
THIS IS AN IN-PERSON WORKSHOP WITH LIMITED CAPACITY.
Workshop 2: Collage Making: Re-envisioning Civic discourse in Urban Space with Camilla Gibb, Reena Tandon and Ken Moffatt | Morning Workshop | 10:00 a.m. - 12:30 p.m.
Collage is an art form that allows for creative expression and meaning making that is born of a person's experience. Collage does not require a prior artistic practice of the participants. In this workshop we equip participants with tools and strategies for analogue or handmade collage making.
Participants will engage through making collage in an approach to thinking about experience, place, subjectivity, identity and social change. Through this process we are picking up the unfinished work of history and speaking to contemporary civic discourse around the personal, the social, economic, and environmental issues. Workshop leaders will provide a brief overview of the histories of collage, past collage projects at TMU as well as support the creative process of collage making.
The workshop will engage participants in all aspects of the collage-making process, including sourcing found material in the urban environment surrounding the university. When we return to the campus space we will arrange and assemble the materials, engage in sense-making, and reflection together. With permission from the participant, each person's collage will be displayed for the symposium as a whole.
THIS IS AN IN-PERSON WORKSHOP WITH LIMITED CAPACITY.
Workshop 3: Learning & Teaching with Wikidata with Trina Grover | Morning Workshop | 10:00 a.m. - 12:30 p.m.
Wikidata is an open technology tool that can be incorporated into learning across disciplines. An open knowledge base that can be read and edited by both humans and machines, the structured data allows for easy reuse by Wikimedia and other linked data projects. Editing, browsing, and reusing the data is fully multilingual, making Wikidata an ideal platform for engaging with students as creators of information rather than simply consumers of it.
The workshop covers Wikidata editing and ways in which it can be used in courses and throughout communities to raise critical issues about knowledge production and expertise/authority. Hear how this tool can be used to create spaces for students and community creators to shape public discourse while exposing them to emerging technologies. Participants will learn how Wikidata is being used to support community engagement, research and teaching.
THIS IS AN ONLINE WORKSHOP.
Workshop 4: Resistance Is Not Futile: Make a Zine with Cristina Pietropaolo | Morning Workshop | 10:00 a.m. - 12:30 p.m.
Zines, which have been around since the 1950s but widely popularized in the 1990s through feminism and riot grrl culture, are a simple but nuanced way to self-express, to participate in community activism and to make art. Traditionally bartered, traded or distributed gratis or for a nominal fee, zine culture built bridges between people who might otherwise never meet: conversations and dialogue abounded via paper and pen, from your best friend's bedroom to a punk show downtown.
In this workshop, participants will learn a little bit about the history of zine culture and will make their own, creating and assembling them with paper, scissors, glue and markers. Zines can contain almost anything: prose, cartoons, collage, rants. Participants look at some examples of zines and as well as some handmade books and simple binding for inspiration, and should come prepared with some of their own ideas.
* Most materials will be provided, but participants can also bring anything they wish to use/include with them.
THIS IS AN IN-PERSON WORKSHOP WITH LIMITED CAPACITY.
Workshop 5: Embroidering Belonging with Saarah Furmli | Afternoon Workshop | 1:30 - 4:00 p.m.
While embroidery is often seen as simply a method of beautification, It is also often seen as a "proper" vocation for women. The Afghan community has a unique method of embroidery, particularly in clothing; clothing is one of the main ways that members of the Afghan diaspora connect to their culture. We reclaim embroidery as a form of decolonization for diaspora populations. It is also an expression of the various identities that individuals, particularly women, possess. This beginner embroidery workshop allows participants to explore embroidery as a form of relaxation and meditation. The repetitive movements can instill a sense of security and reconnection. The embroidery also is a means to discuss connection and identity.
THIS IS AN IN-PERSON WORKSHOP WITH LIMITED CAPACITY.
Workshop 6: Observing & Recording: A Performance Art Talk with Keith Cole | Afternoon Workshop | 1:30 - 4:00 p.m.
This "assignment" considers the role of Performance and public space. Participants will travel to Yonge/Dundas Square for approximately 30 minutes and simply observe and take notes. Imagine you had to create a Performance using Yonge/Dundas Square and its living/breathing wealth of material as your building blocks. This raw material can include (but not limited to) people watching, movement, architecture, sounds, visuals, repetition, duration, colours – what do you see? What do you hear? What don't you see/hear?
Other items to consider: legal/health/security/appropriation/privacy and agency issues. Who might your audience be and how to best engage them? Would you consider using materials (ie: props, costumes, audio/visual) in your process? How high are the stakes/risks/tensions in your imagined Performance? Would you consider documentation of your Performance and if so, what format?
After participants have been "in the field" for approximately 30 minutes they will report back their findings to the group – if you were to do a Performance… what would it look like? Participants will be welcomed to do a voluntary performance based on the observations and the workshop discussion.
THIS IS AN IN-PERSON WORKSHOP WITH LIMITED CAPACITY.
Workshop 7: Your Voice, Your Story: A Creative Writing Workshop with Andrea Thompson and Lauren Kirshner | Afternoon Workshop | 1:30 - 4:00 p.m.
This workshop explores the methods writers use to discover, write and share stories in their most honest and compelling voices. Whether you are trying to write fiction or drawing on experiences from real life to create a spoken word poem, your voice is a key part of your writing and performance that links the reader to your story. In this workshop on voice and writing, you will learn techniques to craft interesting stories and build rapport with your reader – and use your voice to keep audiences rapt. This hands-on workshop will involve writing exercises and is facilitated by writers Lauren Kirshner and Andrea Thompson, who will draw on their over 30 years of collective experience teaching writing in the community to facilitate this active writing experience.
THIS IS AN IN-PERSON WORKSHOP WITH LIMITED CAPACITY.
Day 2: Thursday, October 20 - ONLINE PANEL DISCUSSIONS
Panel 1:
Linda Zhang: "Planting Imagination: Virtual reality for community co-design in Chinatown" and Olivia Shortt: "[Title TBA]" | Moderated by Trina Grover | 10:00 - 11:15 a.m.
Linda Zhang discusses how LibnPlanting Imagination, a group of Chinatown community organizations and academic researchers are using virtual reality (VR) to come up with new visions of the future of Chinatown and design a community garden at Cecil Community Centre in Chinatown. In the process they create a shared future for the neighbourhood together.
The project develops critical and innovative approaches to democratize emerging VR, augmented reality (AR), 3D scanning, and 3D reconstruction tools and resources for community knowledge production and mobilization, while addressing issues of equitable access and inclusion across the digital divide. This project promotes community resilience, stress reduction and stigma, and supports the affected groups in Chinatown through the COVID-19 pandemic, as well as ongoing displacement. The project also aims to build virtual networks that strengthen cross-community solidarity through shared and therapeutic VR experiences that reimagine place, space, and community in relation to Canadian society.
During this talk Olivia Shortt will discuss the importance of sound and music to the social aspects of art creation. They will discuss their decolonial approach to composition and audio art. Based on their experience as a performer and a storyteller, they will discuss the central importance of art to nation creation and reclamation of voice.
Panel 2:
Danny Custodio: "Family Frames: Maintaining Connection Through Interpretation" and Mehdia Hassan: "Beyond Borders and Hyphens: Using the Visual Arts to Theorize Spaces of Liminality" | Moderated by Alexa Vachon | 11:30 a.m. - 12:45 p.m.
Danny Custodio will discuss his use of photography to explore familial histories and cultural traditions, reinterpreting them from his position as a second-generation Portuguese-Canadian in "Flower Carpets/Tapetes Floridos." At a remove from his parents' homeland and Toronto's Little Portugal where he was raised, the process maintains connection to his community while forging his own place.
Custodio created flower carpets like those found on the streets during annual religious festivals in São Miguel, Azores. Families adorn sections of the street in front of their home, arranging plants and coloured wood chips in designs passed down through generations. Using flora gathered across the Niagara region, the custom continues in Custodio's studio, developing his own designs, incorporating family motifs and traditional Portuguese tile patterns. Custodio's lens affords an intimate view of these transient installations, drawing attention to individual elements of each flower carpet and the careful and intensive labour their creation entails.
How does conceptualizing diasporas as oceans enable us to reimagine the mobile spaces of identity formation, in relation to belonging? Mehdia Hassan's mixed media artwork Formations (2020) depicts the need to acknowledge the diversity and multidimensionality of intersectional identities, both within spaces of post-secondary education and socio-political spaces of the nation-state. Her artwork on the cover of eCampus Ontario's 2021 Foresight Report on "Tomorrow's Learners" highlights the significance of disrupting traditional modes of knowledge-making. Formations opens new pedagogical possibilities for imagining alternative futures for the mobility of Asian Canada (Mawani, 2018; Cho, 2008, p. 189). Hassan uses the aesthetics of oceans to theorize the ongoing, multiplex formations of my diasporic identities, as an Afghan Canadian and Asian Canadian; she also problematizes the prescription of hyphenated identities by the Canadian nation-state, through neoliberal multiculturalism (James, 2013; Mackey, 1999), and visually investigate liminal spaces of migration routes beyond the Canadian nation-state's boundaries.
Panel 3:
Oya Media Group: "Documentary and VR" and Alison Skyrme: "Artists in the Archives" | Moderated by Ken Moffatt | 2:00 - 3:45 p.m.
This presentation focuses on the work of Oya Media Group's content creation and educational opportunities. "Oya" is an African Goddess and the namesake of this award winning Black woman-led media production company based in Toronto. Oya Media Group brings a perspective to media platforms from film and tv to virtual reality through socially relevant, life changing stories that amplify Black experiences. Specific reference (with visuals) will be given to a recent project focused on the immersive VR experience documenting the recovery efforts in Barbuda after the hurricane with a focus on inequitable development.
Alison Skyrme will discuss how archives are a research tool that can be leveraged for a variety of creative and academic purposes over a number of disciplines. As more public and private archival collections are digitized and made searchable online, the breadth of archival material available for research and creative work has increased dramatically. Detail and standardization in descriptive finding aids differ between institutions, and physical and digital access varies and there are significant backlogs of material not yet described or accessible creating barriers to experienced scholars, and significant obstacles to early career scholars and novice researchers.
This talk provides recommendations and suggested workflows for incorporating archival research into scholarly, creative, and pedagogical work. It covers identifying appropriate archives, navigating descriptive databases and finding aids, dealing with reading room and physical access guidelines, acquiring copies, research planning, and copyright issues. Experiences from artists and scholars who regularly make sure of archival material will be incorporated.
Day 3: Friday, October 21 - ONLINE SESSIONS
Special Presentation: From Afar It Is an Island: A Story About the Island of Lampedusa with Mariella Bertelli | 10:30 - 11:15 a.m.
Mariella will tell a story about the island of Lampedusa, and will also talk about how, from the story of the island, an idea was born that led to the creation of a children's library on the island and the IBBY International Silent Books Collection. It just takes one person for an idea to spread and grow, like a plant from a tiny seed, like a stone thrown in an ocean, it can have ripples that spread far and wide. Mariella has been involved with this project these last 10 years.
Roundtable Discussion | 11:30 a.m. - 1:30 p.m.
Moderated by Dr. Reena Tandon, this session will invite participants and presenters to reflection on the notion of "crating community" in the context of this symposium. Discussants include:
Danny Custodio
Saarah Furmli
Camilla Gibb
Mehdia Hassan
Andrea Thompson
Other TBC
About the Presenters:
Mariella Bertelli (she/her) is a Toronto-based storyteller who believes in the power of stories to transform and inspire. Mariella adapts her craft to suit young and older audiences, sometimes using other arts, like Kamishibai, Bankelsang (Cantastorie style storytelling), Crankie, puppets and Toy Theatre, and draws on a wide repertoire of folk, fairy, personal and literary tales. She knows that stories are like links in a chain that connect us together, in the present but also to the past. She has developed stories from her background and life experience, including her own newcomer's experience from her arrival in Canada as a teenager.
Keith Cole (pronoun) was the FCS and FA Artist in Residence at Toronto Metropolitan University (formerly Ryerson University) in the summer of 2019. He holds a BFA from York University and an MFA from OCAD University. His last art project entitled "Loose Pages" was a conclusion to his Artist in Residence at TMU. His artistic practice collides with the interdisciplinary art forms of theatre, dance, film and performance and the intersections that they can create. Keith has appeared in films, television and performance events worldwide and is a recipient of a Harold Award (1999) a National Tap Dance Award (2004), the Roberto Ariganello Award (2007) a Dora Award Nomination for 2 Outstanding Male Performance in a Musical (2008) and another Dora Award nomination (2020) for his ensemble acting work in "Box 4901." He received a Pink Triangle Award in 2000 and the XTRA! Magazine Mouthiest Queer Activist Award (2010). Keith was a leading contender in Toronto's 2010 Mayoral Election, placing eighth in the overall election putting him in the top 10 of well over 80 candidates. He has written for FUSE Magazine, KAPSULA Magazine, The Dance Current, XTRA! dailyxtra.com, Fab Magazine, The BUZZ and has contributed writing to four academic anthologies. In 2014 and 2015 NOW Magazine readers voted him Toronto's Best Performance Artist. In 2016 The Art Gallery of Ontario presented his "#HashtagGallerySlut" for 5 performances and the work appeared in The AGO's catalogue entitled "Toronto: Tributes + Tributaries, 1971-1989." Keith lives in Toronto and is a Professor of Visual Culture at Seneca College.
Danny Custodio (he/him) is a practicing mid-career photo-based artist who has recently been profiled by the CBC in November 2021 on "Rediscovering Culture". His artistic work is about understanding and exploring cultural traditions, from the centrality of immigrant manual labour to faith-based cultural practices from the lens of a first generation Canadian born to an immigrant family, and how those cultural traditions can be adapted and re-created outside of their regional specificity. His work is a unique glimpse into the personal and artistic processes of incorporating family connection and cultural heritage into a life in Canada.
Saarah Furmli (she/her) is a current 1L at the Osgoode Hall School of Law. Formerly, she worked as a school settlement worker with North York Community House (NYCH) with a specific focus on Afghan newcomers. Saarah is also a member of Supportistan, an Afghan youth group powered by Strides Toronto. She is a recipient of the Nancy Sprott School of Social Work Leadership Award, and aims to work in immigration law and policy. She runs an embroidery blog called Mursal Embroiders (Instagram: @mursalembroiders), where she explores the intersections of art and identity. She has been involved in a research mentorship with the Jack Layton Chair, as well as a placement with MCASS (Muslim Children's Aid and Support Services), where she created a trauma informed practice seminar.
Camilla Gibb (she/her) is the author of five novels and a memoir. She has been the recipient of the Trillium Book Award, the City of Toronto Book Award and the CBC Canadian Literary Award and has been shortlisted for the Scotiabank Giller Prize and the RBC Taylor Prize. Camilla is currently working with collage as a means of storytelling.
Trina Grover (she/her) is a Librarian at Toronto Metropolitan University (formerly Ryerson University). Her research interests include library metadata, resource discovery and decolonizing description. With Cristina Pietropaolo she co-developed and delivered programming in the Library to build a community that works collaboratively to correct for the critical gaps in Wikipedia's coverage of knowledge when it comes to marginalized groups. Trina launched a weekly gathering to merge textiles and technology at the Library's Digital Media Experience Lab. This program offered campus members support to learn new skills and create textiles and computational fabrics / wearable computing. More about that group can be found in her presentation to the Access 2016 library technology conference.
Mehdia Hassan (pronoun) is a graduate research fellow and doctoral student at OISE, University of Toronto. She is deeply involved in community arts and is the founder and workshop facilitator at Serendipity Visual Arts at St. Jamestown Community Corner. Her doctoral research uses the aesthetics of oceans to theorize the ongoing, multiplex formations of her diasporic identities as an Afghan Canadian and Asian Canadian. She also problematizes the prescription of hyphenated identities by the Canadian nation-state, through neoliberal multiculturalism (James, 2013; Mackey, 1999), and investigates liminal spaces of migration routes beyond the Canadian nation-state's boundaries.
Wahmahtig (Hilton) King (he/him) is a bi-cultural Indigenous social worker. He is Ojibway, originally from Wasauksing First Nation on Georgian Bay. Wahmahtig carries teachings of the land and of fire keeping in his work with the sweat lodge and other ceremonies. He is the Knowledge Keeper/ Elder for Dnaagdawenmag Binnoojiiyag Child and Family Services. Hilton King piloted an online version of the drum making workshop through the Jack Layton Chair involving Indigenous faculty and students in relationship with non-Indigenous students.
Lauren Kirshner (she/her) is a writer and community arts educator. She holds an MA in Creative Writing from the University of Toronto where she was mentored by Margaret Atwood, and PhD in Communication and Culture (Ryerson University). She has designed and facilitated programs for organizations including Harbourfront Centre and the Toronto Public Library and led hundreds of creative writing workshops in the community. Since 2010, she has served as Founding Creative Director of Sister Writes, a creative writing program for at-risk women. She is Assistant Professor in the Department of English at Toronto Metropolitan University (formerly Ryerson University).
Ken Moffatt (he/him) is the author of Postmodern Social Work: Reflective Teaching and Practice which discusses the importance of symbol creation and affective engagement for students through arts based approaches to education. He was curator with RM Vaughan, artist in residence at University of New Brunswick English Department, for the show Cut Paste Resist - a collage exhibit that was international in scope including students, academics and both professional and amateur artists. Dr Moffatt presented on community engagement and technologies with Dr. Reena Tandon to the Layton Leadership School at TMU. Dr. Tandon and Dr. Moffatt created and co-curate the Create_Resist Instagram page for TMU student collage work from a wide variety of disciplines.
Oya Media Group is Ngardy Conteh George and Alison Duke. Hailing from Sierra Leone, Ngardy Conteh George (she/her) is a two-time Canadian Screen Award award-winning filmmaker, a Sundance Institute Documentary Film Program Fellow and grantee, and recipient of grants from the Toronto and Ontario Art Councils and the Canada Council for the Arts. Alison Duke (she/her) is an award-winning writer-producer-director and passionate artistic activist committed to boldly telling stories of resistance and change. She co-wrote and co-produced the award-winning television documentary Mr. Jane and Finch (2019) directed by Ngardy Conteh George.
Cristina Pietropaolo (she/her) holds an MA in Folklore (Memorial University of Newfoundland) and also studied at the University of Edinburgh. She works in the Library Collaboratory supporting multidisciplinary and interdisciplinary graduate and faculty research. Cristina is also working toward a Master of Information (University of Toronto), where her current research interests include critical digital humanities, intentional community collectivities, and book history and print culture. Her role in an academic university setting as both research facilitator and student give her unique insight into iterative research and creative processes.
Olivia Shortt (Anishinaabe, Nipissing First Nation) (they/them) is a Tkarón:to-based performing artist, sound artist, composer, noise-maker, trouble-maker and professional disrupter. Highlights include their Lincoln Center (NYC) debut in 2018, their film debut in Atom Egoyan's 2019 film 'Guest of Honour' and recording an album two kilometres underground in the SnoLAB. Shortt was a finalist for the Toronto Arts Foundation Emerging Artist Award, was one of the 2020 Buddies in Bad Times' Emerging Queer Artists and is featured in the 2020 Winter edition of Musicworks Magazine. www.olivia-shortt.com
Alison Skyrme (she/her) is a Librarian in Archives and Special Collections at Toronto Metropolitan University (formerly Ryerson University). Her research interests include the pedagogical use of primary sources, accessibility and democratisation of archival materials, and increasing access to BIPOC records and for BIPOC researchers. Alison has worked with many researchers, faculty, artists, students, and the public on navigating complex archival research, and created and facilitated workshops, lectures, and assignments for undergraduate and graduate students on the characteristics and challenges of archival research and navigating public and private collections. She has assisted curators with finding and selecting archival materials for exhibitions, and worked with my colleagues to improve the access and equity of our collections by implementing anti-racist and inclusive cataloguing standards.
Dr. Reena Tandon (she/her) runs the Community Engaged Learning and Teaching (CELT) office in the Faculty of Arts at Toronto Metropolitan University (formerly Ryerson University) and is also part of CELT's research team. She is the lead curator in a photovoice project called "I Thrive When . . ." and is co-author of Immigration and Women (NYU Press). Dr. Tandon presented on community engagement and technologies with Ken Moffatt to the Layton Leadership School at TMU. They also work through the curriculum of the annual Layton Leadership School. Together, they created and continue to co-curate the Create Resist Instagram page for TMU student collage work from a wide variety of disciplines.
Andrea Thompson (she/her) is a writer, editor, educator and spoken word artist, publishing and performing for over twenty-five years. Her spoken word album, One (2005) was nominated for a Canadian Urban Music Award. She was the 2009 Canadian Festival of Spoken Word's Poet of Honour. Soulorations (2019) earned her a Sheri-D Wilson Golden Beret Award, and she was the 2021 recipient of the Leon E. & Ann M. Pavlick Poetry Prize. A graduate of the University of Guelph's MFA Creative Writing program, Thompson is the author of several critical essays on spoken word, co-editor of the anthology, Other Tongues: Mixed-Race Women Speak Out, and author of the novel Over Our Heads. Thompson is an editor at Brick Books and Artistic Director of online spoken word showcase, Brickyard.
Alexa Vachon is a scholar, image maker, and visual storyteller whose work focuses on themes including agency, trauma, queer identity, power structures, and ethical responsibilities in visual representation. She's drawn to issues that she has personal experience with, often collaborating with those who don't fit neatly into society's boxes. After many years in New York (BFA, School of Visual Arts), Berlin (Meisterklasse, Ostkreuzschule), and The Hague (MA, Photography & Society), she is currently a 2nd year PhD student at Toronto Metropolitan University (TMU) where her research focuses on the issues of ongoing and evolving consent in photographic representation and collaborative research practices. Vachon's work has been exhibited widely and featured in FOAM, PHmuseum, and the British Journal of Photography, among others. In 2018 she published RISE, a Canada Council for the Arts funded book project with the women of Champions ohne Grenzen, a football team for refugee players in Berlin. She is the Co-Director of SORCE (Scholarship on Research-Creation Expertise) and works as a graduate research consultant at The Collaboratory, an interdisciplinary research centre at TMU.
Linda Zhang (she/her) is an award-winning professor and researcher at Waterloo University School of Architecture. Zhang is also the inaugural Research-in-Residence at Toronto Metropolitan University Library. Her work straddles the line between scholarly research and artistic practice. By rooting her approach within progressive frameworks of pedagogy and community praxis, Zhang creates new standards for emerging scholars and artists.