Sales Have Ended
Ticket sales have ended
Thank you!
Sales Have Ended
Ticket sales have ended
Thank you!
Description
The Canadian Premiere of the Romanian Operetta
CRAI NOU / NEW MOON
by Ciprian Porumbescu
It is a deep, gloomy night in the Transylvanian mountains. Two runaway lovers wander the woods in search of shelter. Isolated in the dark heart of the evergreen forest, a village comes alive with laughter and song. It is the new moon making its way onto the sky, bringing about dreams of new love and happiness. Maidens and lads rejoice in its sight, chanting prayers to the mystical moon, who holds the power to reunite those in love.
This is the opening scene to the very first, and probably most celebrated, Romanian operettas: New Moon (Crai Nou) by Ciprian Porumbescu. Written in 1881, the work is a passionate attempt to bring traditional and folklore themes into the classical realm of operatic composition. Porumbescu used a libretto by a famous Romanian poet, Vasile Alecsandri, as well as his extensive studies in classical music, to create a joyful, condensed operetta, met with incredible acclaim at the time of its premiere.
The choir La Muse, from Montreal, conducted by Ioana German, featuring professional Romanian and Canadian soloists, will present the Canadian premiere of New Moon.
Please join us on October 22, 2016 for this magical representation of this well-loved Romanian operetta.
Soloists: Marina Negruta – soprano, Cristina Coatu – soprano (Brasov-Romania Opera), Liviu Iftene – tenor (Brasov-Romania Opera), Igor Antoci – baritone, Serghei Virticus – baritone, Jordan Delage – bass, Beguentch Gueldyev – piano
Ioana German – choir conductor
Dance Ensemble HORA Montreal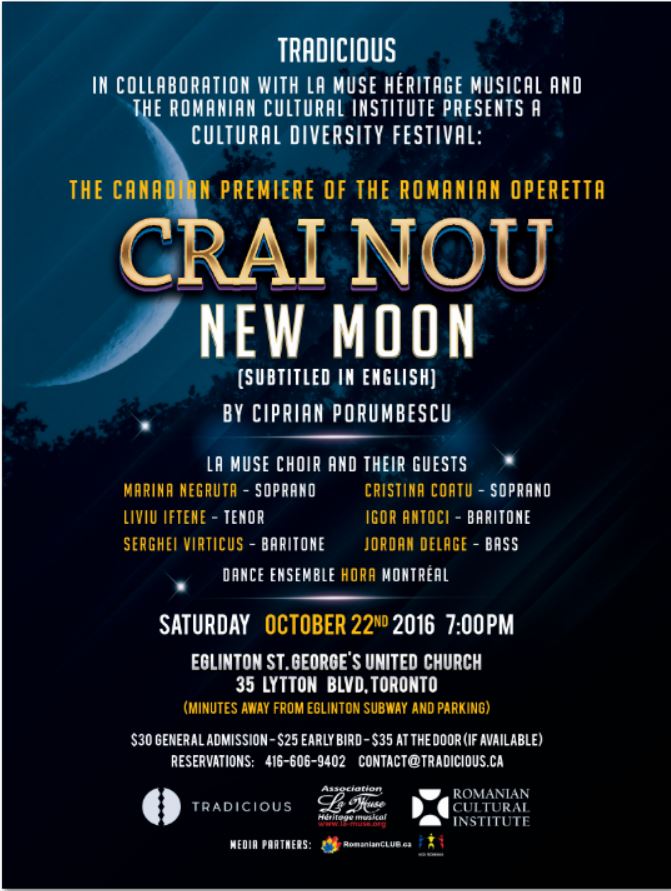 An event organised by TRADICIOUS in collaboration with La Muse Heritage Musical & The Romanian Cultural Institute.
Sponsors: Sorin Mitrea, Dr. Christina Oprescu-Havriliuc, Dental Clinic.
Media Partners: ROMANIAN Club, NOI ROMÂNII TV.
---
FAQs AND ETIQUETTE
TICKETS:
Early Bird and General Admission (GA) tickets refer to seating areas that are not assigned or reserved, and are occupied on a first-come, first-served basis.
Can I buy tickets at the door?
At-the-door tickets will be sold at the show's venue starting one hour prior to show time for cash sales only, subject to availability. The door price: $35, cash only.
Can I buy tickets by Interac e-Transfer?
Interac e-Transfer is a simple, convenient, and secure way to send and receive money directly from one bank account to another. All you need is access to online or mobile banking through a participating financial institution, and you can send money to anyone with an email address or mobile phone number and a bank account in Canada — without sharing any personal financial information. Call 416-606-9402 or e-mail us at contact@tradicious.ca to purchase tickets using this method.
Are there discounts for groups?
Yes. There are discounts for groups of 10 people or more. Please call 416-606-9402 or e-mail us at contact@tradicious.ca to purchase tickets for groups.
Refunds & Exchanges: Please choose carefully when buying tickets as no exchanges or refunds are possible except in exceptional circumstances. In these situations, refunds or exchanges will incur an administration fee. For more details please contact us.
PRESS Passes
We will be offering a limited number of press passes for interested journalists and prominent bloggers. Limited to one journalist/blogger per organization, the pass will offer access to the main event. The VIP lounge Meet & Greet is not included. Should you wish to apply for a press pass, please email us at contact@tradicious.ca.
TRANSPORT & PARKING:
What are my transport/parking options getting to the event?
PARKING: We are located at the corner of Lytton Blvd. and Duplex Ave. at 35 Lytton Blvd., one block west of Yonge St., between Lawrence Ave. and Eglinton Ave. On street parking is available in the neighbourhood, or in the municipal lot on Castlefield Ave.
TTC: The nearest TTC station is at Yonge and Eglinton (Eglinton Station on the Yonge Line). TTC buses go from Eglinton station north on Yonge Street. To reach the church exit the bus at Lytton Blvd and walk one block west on Lytton.
ARRIVING TIME:
When should I arrive?
Doors open one hour prior to the performance start time.
We encourage you to arrive well before the operetta starts, as latecomers may not be admitted into the auditorium until a suitable break in the performance so they do not disturb other patrons or performers.
What should I wear?
We advise dressing for comfort, but with flair.
What refreshments are available?
Non-alcoholic beverages with cash bar alcohol service, will be available at the concert. Please note that there are no bank machines located inside the venue.
DURING THE PERFORMANCE:
Can I bring food and drink inside the auditorium?
No, food and drink is not allowed inside the auditorium.
Cameras / recording devices
Using cameras, mobile phone cameras or any video or sound recording devices are strictly prohibited inside the auditorium during the performance. Recording images or sound can infringe copyright as well as distract the performers and other patrons.If you'd like to get a picture inside the auditorium, do so before the performance begins. For official photos of the production please take a look at our Facebook page.

If I leave the hall during the performance, can I get back in?
Unfortunately, re-admittance during the performance cannot be accommodated. We encourage you to stay in your seat until intermission.
Is there anything else I should know?
We ask that our patrons turn off cell phones and other electronic devices that may make noise during the performance.
In consideration of patrons with allergies, please avoid wearing strongly perfumed beauty products and fragrances.