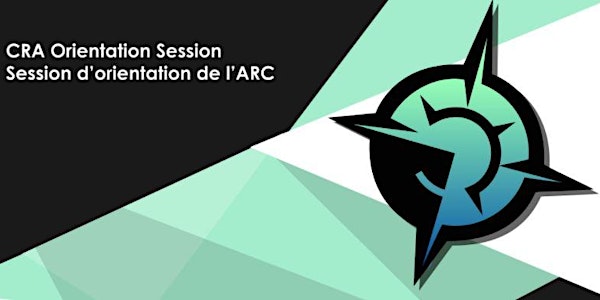 CRA's orientation Experience / Expérience d'orientation de l'ARC
Welcome to the CRA - Interactive Orientation Experience / Bienvenu à l'ARC - Expérience d'orientation virtuelle interactive
About this event
English - Simultaneous Interpretation with Closed Captioning : https://video.isilive.ca/craarc/2022-06-01/english
Français - Interprétation simultanée avec sous-tritage : https://video.isilive.ca/craarc/2022-06-01/francais
Floor Audio (as spoken) : https://video.isilive.ca/craarc/2022-06-01/floor
audio Original (tel que prononcé) : https://video.isilive.ca/craarc/2022-06-01/original
This interactive and dynamic session will be welcoming new CRA employees, at all groups and levels, to onboard you into the CRA. We will show you how we are more than taxes and how, at the CRA, you are part of a community with many resources available to support you. It's not for nothing that we are in the top 100 employers across Canada; it's because we care for you.
We are eager to announce that our second interactive session, entirely virtual via Webcast, will take place on June 1! We will also be using Slido for interactions and interactive activities.
So, get ready to be quizzed on your knowledge of the CRA by checking out the new online companion of the CRA's orientation experience. During this event, you will have the opportunity to connect and interact with various guest speakers and panel members who will be sharing insights on different hot topics and on some of the Agency's priorities. Let's not forget about the tons of fun and interactive activities. Everything is in place to foster a sense of belonging to the great community that is the CRA!
We look forward to meeting you on June 1, 2022 at 12:30pm EST. Save the date!
Please note that you must obtain approval from your manager before registering for this event.
****************************************************************************************
Cette séance interactive et dynamique accueillera les nouveaux employés de tous les groupes et niveaux et les initiera au monde de l'ARC. Nous allons vous montrer que l'ARC c'est bien plus que des impôts et comment il est facile d'y développer un sentiment d'appartenance et de communauté avec la grande variété de ressources offertes pour ses employés. Ce n'est pas pour rien que nous comptons parmi le top 100 des meilleurs employeurs au Canada. Nos employés nous sont très chers et c'est dans nos priorités d'assurer leur bien-être.
Nous sommes enthousiastes de vous annoncer que notre deuxième séance interactive qui se déroulera sur Webcast de façon entièrement virtuelle aura lieu le 1 jun 12 h 30 HNE. Nous utiliserons également Slido pour nos échanges et nos activités interactives lors cet événement.
Soyez donc prêts à tester vos connaissances sur l'ARC en passant un quiz duquel vous vous ferez poser des questions tirées du Compagnon virtuel de l'Expérience d'orientation de l'ARC. Nous vous encourageons fortement à le parcourir dès que vous en aurez la chance! Au cours de cette séance, vous aurez l'opportunité de connecter et d'interagir avec une variété de présentateurs invités qui nous partageront leur perspective tant sur des sujets chauds que sur certaines des priorités de l'Agence. Enfin, n'oublions pas la panoplie d'activités divertissantes et interactives qui y sera offerte! Tout est mis en place pour favoriser un sentiment d'appartenance à la grande communauté qu'est l'ARC!
Nous avons bien hâte de vous rencontrer le 1 jun prochain! Notez ça à votre agenda sans faute!
Veuillez noter que vous devez obtenir l'approbation de votre gestionnaire avant de vous inscrire.