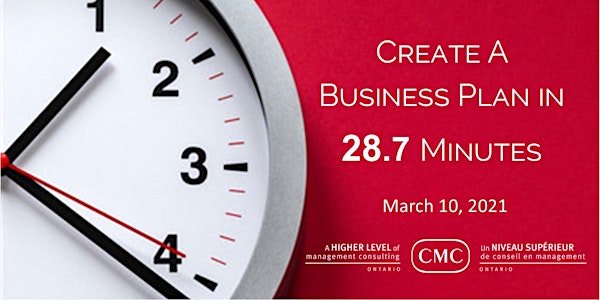 Create a Business Plan in 28.7 Minutes
James Burgess, bestselling author, will share his insights and secrets on how to build brilliant business plans in a matter of minutes.
About this event
Easily, Quickly Build a Business Plan in 28.7 Minutes
Join us for What's Up Wednesday, on March 10, 2021, where James Burgess, international bestselling author, will share his insights and secrets on how to build brilliant business plans in a matter of minutes.
James will address proven tools that enable business owners, presidents and department heads to get radically focused on their business intentions and to be radically accountable to do the work necessary.
Discover how days upon days, weeks and weeks, even months of Business Planning can be reduced to a matter of 28.7 minutes.
Why you should attend:
Learn how a Business Plan can be sustained indefinitely by creating synergies between the Business Owner, the Business and the Business Plan.
Discover how companies can incorporate business strategy through an entire Leadership Team to ensure that everyone walks the same route and speaks the same voice.
Receive FREE downloadable version of the international bestselling book CHAOS, How Business Leaders Can Master the Power of Focus.
Build your own Business Plan for 2021 easily and fast and for FREE with FOCUS Yourself; A 7-Module Business Planning Program.
This session is open to all CMC members and guests, we encourage you to invite others in your organisation to join us.
Presenter
James Burgess is the author of the international bestselling book, CHAOS; How Business Leaders Can Master The Power Of Focus.
He is a speaker, global business planning expert, Founder of FOCUS31an international management consulting practice dedicated to small businesses and creator of:
The FOCUS Accountability System ProtocolTM Business Planning Solution – a unique business planning program that is EASY, FAST, SUSTAINABLE.
The FOCUS31 DREAM Consulting Experience Licensing Opportunity for new business management consultants and coaches to accelerate their growth.
James is a Fellow of the Institute of Canadian Bankers. James is a Master Practitioner of Neuro Linguistic Programming, Time Line Therapy, and Neuro-Linguistic Coaching. He is also certified by the American Board of Hypnotherapy and NLP as a Hypnotherapy Trainer.
After graduating from the University of Toronto in 1983 with an Honors degree in Commerce and Economics, James joined the Canadian Imperial Bank of Commerce. James enjoyed 22 successful years with CIBC with the last 10 years as a senior leader of small business responsible for a portfolio of three quarters of a billion dollars with 30 direct reports, receiving the Chairman's Award on three separate occasions for performance excellence.
James founded FOCUS31 in 2006. FOCUS31 enables business owners. FOCUS31 programs; enable business owners to identify and focus on the right priorities, to think strategically and to improve the quality of their business decisions generating greater financial results through radical FOCUS and radical accountability.
Event Details
Who: Everyone is welcome from across Canada and beyond
Cost: Free to members and guests
Format: Online Interactive Zoom Presentation and Dialogue
Join us for an engaging lunch, brunch or breakfast session, depending where you are. It's a terrific opportunity to meet new people and socialize with your peers.
Login details will be provided after registration. We hope to see you there!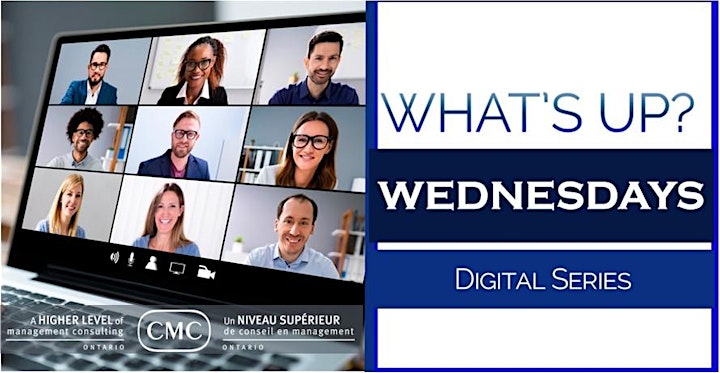 The Ontario Institute has a mandate to provide learning and networking opportunities to its membership. As part of our efforts in this area we are pleased to offer our WHAT'S UP WEDNESDAY SERIES crafted with consultants in mind.
On the second Wednesday of every month, we will hold, free sessions on areas of interest to the consulting community. Every event will be 1 hour long, beginning at 12:30PM Eastern time.
In order to create meaningful discussions on current issues, we will be inviting expert speakers and panels with diverse backgrounds and perspectives. We encourage everyone to show up and invite a guest to join the dialogue.
Coming soon to WHAT'S UP WEDNESDAY
April 14 – The Future of Consulting and Predictions for 2021 | A Conversation with Nik Nanos & Cara Wolf Registration OPEN
May 12 - Women in Consulting, Lyn McDonell, Dominque Dennery, Eva Maxwell, Sonya Gulati
Mark your calendar and stay tuned for more great opportunities to engage!