Description
In North America, the advantage keeps leaning in favour of those who are creative: The ideators, the problem-solvers, the innovators. If you have any doubt in your creative ability, the new workplace can be an intimidating playground. Jason Theodor's Create More Better Different workshop will define creativity, help you discover your Creative Type, and show you how to build a Creative Toolkit that plays to your strengths and mitigates your weaknesses.
Topics will include:
Creativity Defined
explore the three elements that make up creativity: Action, Connection, and Deviation
The Eight Creative Types
self-identify your type from 8 archetypes
discover your creative strengths and weaknesses
learn how to work with the right people to create the best work
Creative Toolkits
picks and dynamite: Learn about Action. Learn the tools for breaking through barriers of inertia, fear, doubt, procrastination, and distraction. Learn how to ideate quickly and push for a large quantity of ideas.
lassos and mortar: Learn about Connection. Learn the tools for finding focus, for uncovering understanding, for telling a bigger story. Learn how to connect ideas, how to stay true to the core while foraging in the fringes, how to look for quality.
lenses and blindfolds: Learn about Deviation. Learn the tools for thinking laterally, for breaking free from your defaults, for being an original, an outlier. Learn how to insert randomness, learn from serendipity, and find uniqueness.
After this session you will have discovered your Creative Type. You will know how to strengthen your creative weaknesses.
Whether you're a programmer, graphic artists, musician, entrepreneur, or all of the above, you will know how to act fast, find a focus, and disrupt old patterns of thinking. Leave with your own personalized toolkit to give you a creative edge in the age of ideas.
---

The workshop will be lead by: Jason Theodor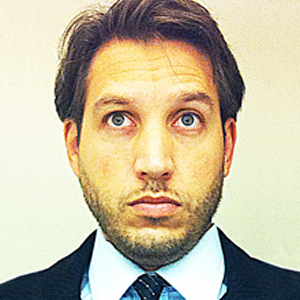 Jason Theodor is a Creative Director and Speaker who specializes in creative ideation, problem-solving, and innovation for brands in the digital space. He is a creative person who loves coming up with ideas, sharing them with others (preferably for money), and teaching people how to be more creative themselves. He is addicted to the internet and new technologies, always thinking about how people (and companies) can communicate better or in interesting new ways.

Jason has lectured at New York University, Rotman's School of Business, Ontario College of Art & Design (and others) as well as industry conferences in Europe and North America on the topics of digital brand storytelling, brainstorming, chaos, and the fundamental elements of creativity.

Since the mid 90s (pre-millenium) Jason has worked in the advertising industry first as a "new media" designer, Art Director, then Creative Director for a large swath of agencies, clients and brands including Yahoo!, General Motors, CitiBank, IBM, Kraft, Unilever, Nutella, BlackBerry, Ford, and many more. Jason Theodor is passionate about the generation & application of ideas, and inspiring others to live a more creative life.
Twitter @jted
Organizer of CREATE MORE BETTER DIFFERENT: A workshop to give you an edge in the age of ideas.
FITC stands for 'Future. Innovation. Technology. Creativity.' – four words that capture the essence of what our company and events are all about. We produce design and technology focused events worldwide which inspire, educate and challenge attendees. Since 2002, FITC has brought together like-minded professionals and students in Toronto, Amsterdam, Tokyo, San Francisco, Chicago, Seoul, New York, Los Angeles and many other cities. FITC produces a number of events internally and in collaboration with other event organizations throughout the year.
Who goes to an FITC event?
Digital Creators of all kinds…designers, developers, motion graphics artists, digital artists and everyone and anyone who creates things in the digital space. From technical to inspirational sessions, there's always something to choose from, regardless of what stage of your career you're in.
View a full listing of current and past events at fitc.ca/events