Kick Start Your Career and Enrich Your Online Development With Our Special Guest, Sacha Pinto
About this event
Join us as we ideate, create, and implement a Social Media Strategy that will allow you to show up authentically and with a purpose for yourself and future Clients.
Discover strategies that will help driven and determined professionals develop a strategy that will make them unstoppable in their career.
Event Outline:
Foundational Pillars of Online Success
Importance of Defining Goals
Mapping out Content Ideas
Creating an Editorial Calendar for Social Media
When: December 6, 2021
Time :1:00pm/est
Location: Online (Zoom Link will be provided)
With Our Special Guest:
Sacha Pinto,
Social Media Marketing Coach
Brought To You By:
BTBA
Behind The Business Agency
www.behindthebusinessagency.com
Tickets Are Now On Sale For Only $22.99 (for a limited time)
Reg Price: $35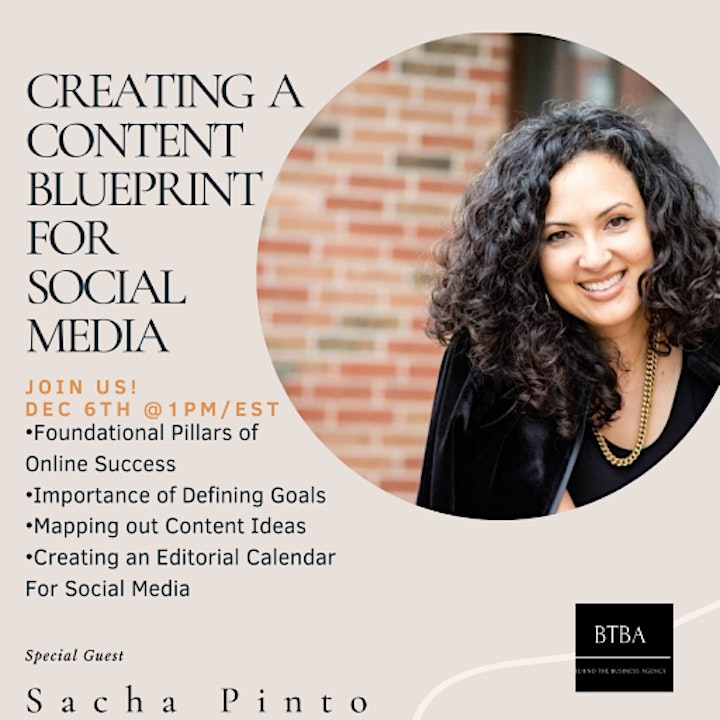 About Sacha
My name is Sacha Pinto, branding and social media strategist and educator. After being in the corporate world for over 20 years, and always having an entrepreneurial spirit, I decided to become an entrepreneur.
My first endeavor as an entrepreneur was supporting women who owned their own businesses as a licensed owner of a member-based organization, even though my original plan was to be a sales and marketing consultant. Through this experience, I learned a lot about myself and, of course, of all the amazing talented smart women pursuing their dreams.
One thing was glaringly evident, many of us shared the same insecurity, to varying degrees, of being in the spotlight of our own businesses. We pivot, pause, even resisted the idea of being front and center and owning up to our incredible talents and expertise.
I myself would pivot the direction of my entrepreneurial journey a couple of times, all while quietly supporting business owners in branding and marketing their business until finally got the courage to show my confidence in my knowledge, experience, and expertise.
I now help other business owners showcase themselves and their businesses by providing easy-to-follow strategies and training to help them brand and market their business on social media.
The vision of my business is to help entrepreneurs and small business owners gain marketing success on social media.
Date and time
Location
Refund policy