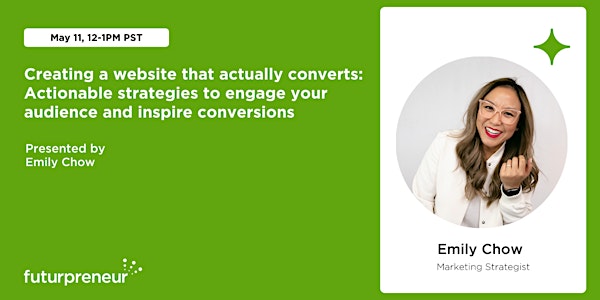 Creating a website that actually converts: Actionable strategies to engage
Join Emily Chow for a workshop on creating an effective website. Hosted by Futurpreneur.
About this event
How cool would it be to have a website that generates you leads even while you're sitting on the couch binge watching Netflix? This doesn't just happen by chance. Creating a website that actually converts requires a very specific combination of copywriting finesse, conversion design, and a user interface that your customers (and Google!) will love.
What You'll Get:
After attending this workshop, you'll walk away with very specific knowledge (and, a checklist!) of key copywriting tips, design principles, and web development best practices to help you create a website that evokes the exact emotions needed to make your ideal customers commit to the action you want them to commit to: Purchase, sign up, call you, book an appointment. My goal for this workshop is to show you all the things the most seasoned business owners wish they had known before they created a website of their own. Because, who has the time and money to waste building a website that generates you no leads, doesn't inspire conversions, and drives people straight to your competitors? Exactly. See you at the workshop!
Date and Time: May 11, 2022 | 12 to 1PM PST
Presented by Emily Chow
Emily Chow is a marketing strategist and copywriting unicorn that helps business owners reinvent the way they show up and stand out online! Because you all deserve to get seen, loved, and selling with your ideal customers. She does this through premium branding solutions, custom websites, email nurturing campaigns, marketing plans, and engagement strategies that keep you top of mind with your ideal customers.
And, her favourite thing to do? Creating strategic and tactical marketing and content frameworks that take the guesswork out of how to engage with customers. Say "bu-bye!" to your ad hoc way of doing marketing. She works directly with you to up level your marketing game and keep you focused on the tasks that actually contribute to the bottom line.