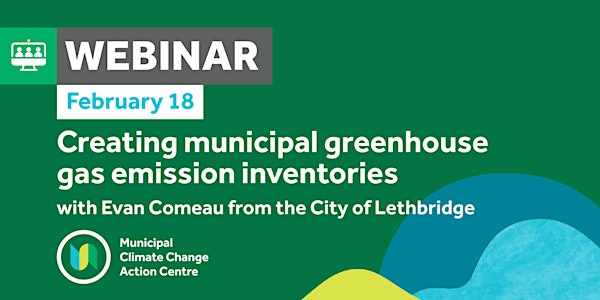 Creating Municipal Greenhouse Gas Emission Inventories
Developing a greenhouse gas emissions inventory and forecasting are the foundations of a robust climate change and energy strategy.
About this event
The Action Centre and Evan Comeau from the City of Lethbridge will discuss greenhouse gas emissions inventories in the municipal context.
We'll talk about:
the basic steps in to create a greenhouse gas emissions inventory,
how to identify opportunities for mitigation strategies,
creating a baseline to measure progress, and
how the City of Lethbridge updated their emissions inventory.
Evan Comeau's Biography
As the City's Environmental Sustainability Analyst, Evan led the recent update of the City of Lethbridge's recent greenhouse gas emissions inventory update. Lethbridge's inventory supported City Council's decision to set a corporate emissions reduction goal of 40 per cent under 2018's levels by 2030.
Municipal Climate Change Action Centre
The Municipal Climate Change Action Centre was founded in 2009 as a collaborative initiative of the Alberta Urban Municipalities Association, Rural Municipalities of Alberta, and the Government of Alberta. We deliver funding, technical assistance, and education to help Alberta municipalities, school authorities and non-profits advance actions that lower energy costs, reduce greenhouse gas emissions, and improve climate resilience.
Learn more at mccac.ca