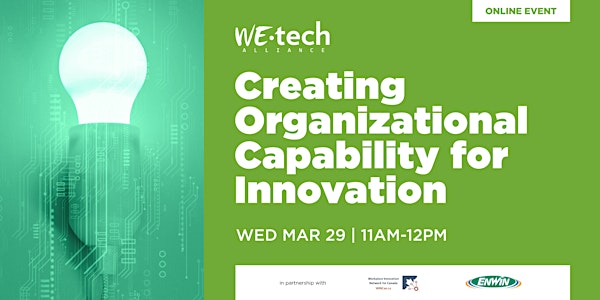 Creating Organizational Capability for Innovation
Join WEtech Alliance for an exciting event aimed at creating organizational capability in innovation.
Date and time
Wed, Mar 29, 2023 8:00 AM - 9:00 AM PDT
About this event
This event is designed for professionals and organizations looking to develop a culture of innovation and build capacity for creativity, problem-solving, and continuous improvement. Throughout this session, hear from researchers and experts to gain practical strategies and tools for fostering innovation within your team and organization. Don't miss this opportunity to learn from industry leaders and connect with like-minded innovators. Register now and take the first step towards unlocking your organization's full potential!
In this session you'll hear from:
Dr. Peter Totterdill, Founding Director of Workplace Innovation Europe, on the leading research on developing your organization's ability to allow for opportunities for all of your employees to become more innovative and to improve the quality of your employees work life.
Barry Leavitt and Rosana Kemsley from ENWIN Utilities on their ENnovation journey to bring workplace innovation to the employees at ENWIN Utilities. They will share their insights on what it takes to create the organizational capability to begin to install an innovation framework inside of your organization. They will take you through their journey, starting with Design Thinking as a baseline and growing ENnovation to become embedded in ENWIN's culture.
Who is this event for? Innovation Catalyst Alumni, regional industry, and academia (College and University). Leaders in organizations as well as human resource representatives.
This session is powered by WEtech Alliance, in partnership with Workplace Innovation Network for Canada and ENWIN Utilities.
Research project on Workplace Innovation for Quality of Work is supported by the Government of Canada's Future Skills Centre.
About the organizer
WEtech Alliance is a non-profit organization helping accelerate the footprints of innovation & tech-based companies in Windsor-Essex (#YQG) and Chatham-Kent (#CKONT), Ontario Canada.