Description
A Tiger 21 survey reported on by Bloomberg of high-net-worth investors representing $51 billion in assets showed they had an average of 33% of their portfolios in private real estate investments. Real estate investing is an increasingly favorable method of wealth-building, Investors who don't want the headaches of managing their own properties can choose private real estate investment trusts (REITs) or private equity real estate funds to diversify investment portfolios.
One of the most notable trends of the past decade has been an increasing interest in direct investment in real estate operations not publicly traded on a stock exchange.

Traditionally, private equity real estate opportunities have only been available to institutions, with the advent of private equity funds and other products, private equity is no longer the exclusive domain of ultra-wealthy individuals and pensions funds.
We will show you:
• What is Private Equities? Private VS Public REIT
• Pros & Cons in private equities compare to traditional investments.
• Global trend in asset allocations
• Demographic Trend in Canada
• How to increase value to buildings through various methods
• What is the expected return
• The process required to start
Our events are about EDUCATION: Our goal is to introduce you to options that can offer diversity from traditional investments like mutual funds, stocks, and bonds.
Presenters: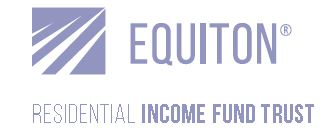 The Equiton Residential Income Fund Trust is a real estate investment trust that specializes in
acquiring income producing multi-unit residential properties and student housing in Canada. Equiton
currently targets properties within a 2-hour driving radius from Toronto, Ontario. Investors are projected to
participate in the yield from the rental income and growth in the value of the underlying properties.
What's in a Real Estate Private Equity Case Study?
https://www.youtube.com/watch?v=UtClU4WGrjQ