Learn from photographer, Youtuber, and educator Christian LeBlanc as he shares tools and insights for turning your passion into a business.
About this Event
When: Saturday January 30, 2020 | 5pm - 6:45PM EST / 2pm - 3:45pm PST
Where: ONLINE - Webinar
Cost: FREE - RSVP to secure your spot.
Join us on Saturday, January 30th for an online Socality x Canon Creator Lab workshop with instruction from educator, travel and adventure photographer, and YouTuber Christian LeBlanc (@lostleblanc) as he teaches a live online workshop on travel photography and creating your own success story. Christian will be sharing his advice, tools, and the experiences that have enabled him to build a multi-million dollar business out of his creative work. We hope this session will give you some practical insights and inspiration to support your own creative dreams this year.
This session will cover themes including:
Christian's story - from nothing to a thriving creative business
Deconstructing creative content and recipes for success
What does it take to make it in 2021?
The best platforms for growth now and why
Making money and building a creative business as an up and coming creator in the current market
Christian's current tools and gear setups
Q&A Session
& more
This workshop will include a combination of live instruction from Christian and a Q&A portion. Bring your questions!

About Christian:
My name is Christian and I'm a 27 year old Canadian living in Bali. A few short years ago, I was an accountant. On paper, it was actually a pretty exciting opportunity but truth is, this "dream job" was no dream of mine. I found myself trying to rationalize staying but it wasn't long until my passion for life started to disappear. In a few short months, I became unmotivated and drained. But it was also in this challenging life experience where I discovered that no amount of success would make me happy if I wasn't doing what I loved.
So, I quit. I sold everything I owned and bought a 1-way ticket to Thailand. I had no money, no skills as a content creator, but I did have one thing and that was unshakable determination.
I was going to find a way to make a living as a creator.
Over the last 5 years, I have made a ton of mistakes but I've made a few great decisions and the greatest of them all, was unconditionally chasing my passions.
Since quitting, I have built Lost LeBlanc into a multi-million dollar business, built an online academy that is home to thousands of creators, traveled around the world with loved ones, and shared it all with my community of 3 million people.
Push through uncertainty and self-doubt. Your dream life is waiting on the other side.
To see more of Christian's work, you can find him on YouTube, Instagram, or head over to his website at www.lostleblanc.com.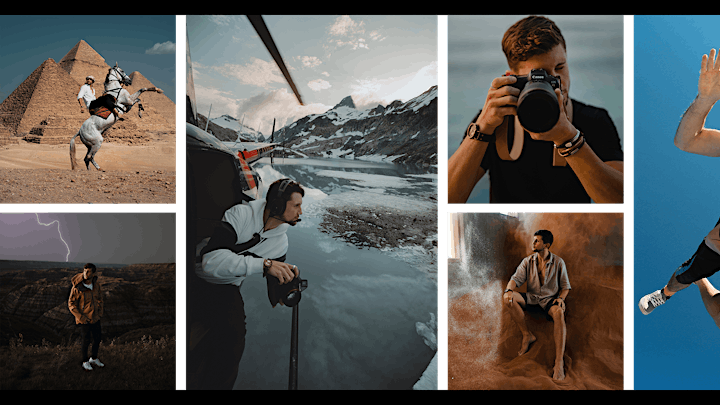 Who's this workshop for?
This workshop will be valuable for anyone looking to take their photography and creative business to another level, specifically as it relates to Youtube content creation, travel and adventure photography, personal branding, and commercial photography and videography. Whether you're a photographer, videographer, digital creator, model, blogger, or just getting started on your creative journey, these workshops provide an opportunity to connect with others in the community and learn something at the same time.  
—
Any further details will continue to be updated and communicated as we get closer to the workshop. RSVP to secure your spot.